Healthy, Wealthy and Wise: Report on the 2002 Survey of Croquet Players
At the end of 2001, members of the Marketing Committee were planning to take several initiatives. But they realised that the CA did not have a good enough understanding about its Associate Members, as well as those non-Associates who play at clubs that are themselves now full members of the CA. More information was needed before sensible marketing decisions could be taken, so a wide-ranging survey was launched with four main objectives:
To enable the Marketing Committee to better "package" croquet to appeal to providers of funding (notably Sport England), sponsors, media and potential providers of benefits.
To help it to generate more effective recruitment aids for clubs.
To help understand the profile of CA Associate members vs. non-members.
To provide the foundation for further marketing initiatives.
The study was conducted by Profundus Consulting Ltd. A mailed questionnaire, with "Freepost" replies, was chosen as being most appropriate and cost-effective. It was sent to 1300 Associates (from the CA database) and 950 non-Associates (supplied by club secretaries of 38 clubs).
The targeted response rate was 20%, but this was comfortably exceeded as a surprising 1022 (45%) responses were received - and they were a good fit with the geographic spread of members. The Marketing Committee is most grateful to all those who responded. Overwhelmingly they supported the aims of the survey and the way in which it was conducted.
During the next few months Marketing Committee members will be discussing the full results of the survey with the chairmen and members of other CA committees. Then actions will be taken in line with the original survey objectives. In the meantime, here is a summary of some of the key findings.
Profile by Sex and Age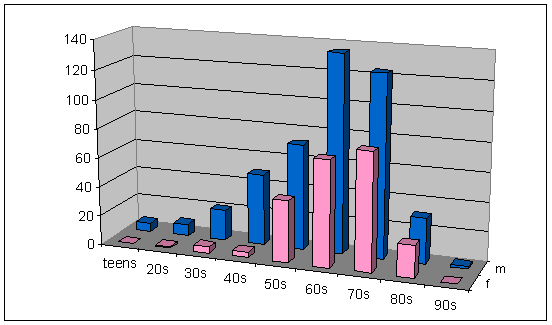 66% of players are men and 34% women.
As can be seen in the chart, players in their 60s and 70s numerically dominate croquet. The age range was from 12 to 91. The age patterns for males and females are similar, except few women take up the sport before they are 50.
This result might well justify the stereotype that croquet is mainly for more active OAPs!
Many other findings reflected this age profile. Notably 71% are retired. The fourth most read newspaper or magazine (after the Daily Telegraph, Sunday Telegraph and Times) was Saga - a magazine for the over-50s.

Croquet Players are Comfortably Off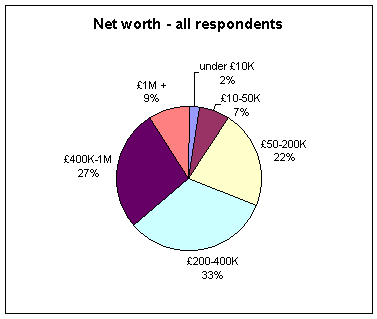 We asked for information on income and net worth. 23% of respondents chose not to answer the income question and a slightly higher proportion, 27%, chose not to answer the "net worth" question.
47 millionaires responded!
Indeed, the "net worth" profile of croquet is extremely high - consistent with age, occupations (dominated by qualified professionals and managers) and income.
Once Hooked ....
Once they join a club, players are generally hooked. The average length of membership across all club members is 10.9 years. This ties in well with an exercise undertaken by the Marketing Committee a year ago, where data from club secretaries enabled us to calculate that the average length of time a player belonged to a club was in the range eight to ten years (allowing for a few that switch clubs, this ties in very closely).
But what gets people hooked on croquet?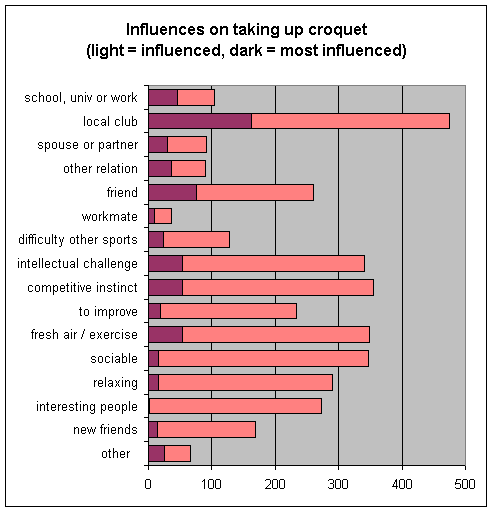 As the chart shows, the single greatest factor influencing players to take up croquet is the availability of a local club. The majority of respondents cited this as a reason, and as the single greatest influence it scored twice as highly as any other factor. Closely linked to this is the availability of croquet at school, university or work - "local" in a slightly different sense.
Consistent with the responses to another question ("What other people have you introduced to the game?"), we see that spouse/partner, other relation and friend (and to a lesser extent, workmate) are all significant influences, especially if they are taken together as "introduced by another person".
When the emphasis is put on reasons for continuing, rather than taking up, croquet, we see a shift. While having a local club remains important, it is less so - presumably once "hooked", players are more prepared to travel. Likewise, being introduced to the sport by others is less important (except for friends; many of their friends are now in the croquet club).
The "soft" influences are important for club members, particularly croquet's appeal to the competitive instinct and the desire to improve. Interestingly, too, "fresh air and exercise" becomes much more important - certainly with many older players croquet will have become the principal opportunity to enjoy an outdoor activity.
Croquet players often move on to croquet from other sports. This was explored. In general, team sports - such as football, rugby, hockey and cricket - yield few croquet players. Neither do golf, bowls and snooker. These are sports that are generally taken up instead of, or as well as, croquet. It is the racket sports - tennis, squash and badminton - that provide many croquet players. Indeed, 37% of croquet players are ex-tennis players.
This is an important finding for recruitment planning purposes.

Golf Croquet or Association?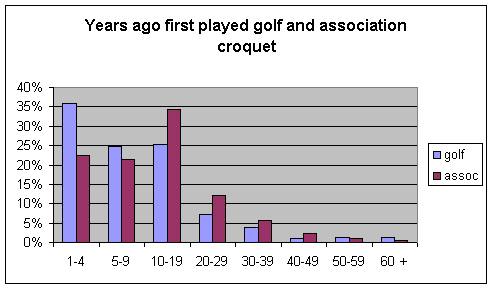 The chart raises more questions than it answers.
In the past four years 50% more people have taken up golf croquet than association. Could this be because of the greater prominence now given to this variant? One notion is that many players start with golf and move on to association. If that were the case, in an era of fairly stable player numbers, one would expect new recruits to balance those moving on.
However, going back ten years and more, association is higher. This might be because those taking up croquet and starting with golf either move on to association or give up the game - in which case they were not in the survey.
In fact, further analysis shows that almost half of all players are introduced to golf croquet at the same time as association and the results seem to suggest that golf croquet is not generally used to teach beginners before they "move on" to association.

The CA Needs YOU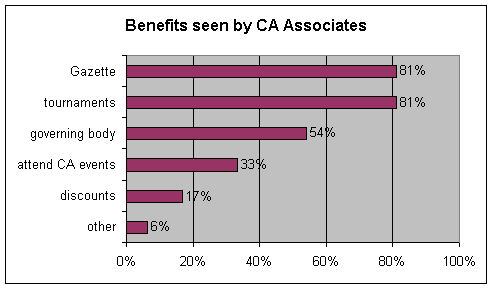 We asked CA Associates what they see as the benefits of subscribing, while non-Associates were asked for their impressions of the benefits (which, by implication, were insufficient for them).
Looking first at Associates, as can be seen below, being able to attend tournaments and receiving the The Croquet Gazette are seen as the most important benefits. However, interestingly the altruistic "contributing to the running of croquet's governing body" was also cited by over half of those who subscribe.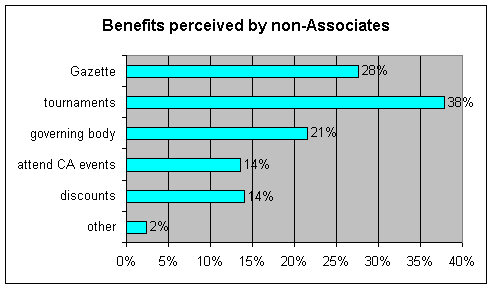 Turning to non-Associates, 43% did not answer. Some did not do so because they thought there were no benefits and some because they did not know. From a marketeer"s point of view these two reasons amount to the same thing: if you cannot explain the benefits you will never make the sale!
Clearly, the ordinary club player, with a handicap in double figures, has no interest in CA tournaments, nor in reading The Croquet Gazette. There remains little incentive to pay a £26 CA subscription. This is a challenge the CA has to face up to: how to increase the benefit of CA Associate membership.

Health & Efficiency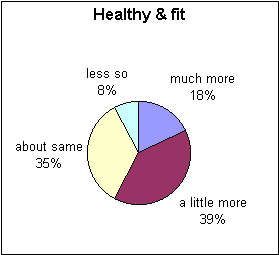 One question asked respondents how healthy and fit they regard themselves relative to others of the same age.
It shows that 57% think they are more healthy and only 8% less.
So, croquet is clearly a game for the healthier and fitter (typically retired) person, but does it help to make or keep you fit? Well, yes, it certainly seems to. At least, 54% of players think so, compared to only 3% who think croquet players would be better off doing something else.
When asked a similar question about their mental agility, 64% believe their mental agility is above the norm, and 63% are confident it helps to improve or maintain their mental agility.
To support Sport England applications we also wanted to know about disabilities. 10% had suffered from a cardio-vascular disease and 15% currently have other disabilities.
Jonathan Isaacs, Marketing Committee chairman, writes: We are most grateful to Kevin Carter for his help in compiling the survey questions and in analysing the responses. The CA is very fortunate when it can call on professional expertise from its members as in this case. The savings are considerable and it enables us to spend our budget in other ways that will benefit the sport.
The survey data was refreshed by the 2007 survey.