CA Diplomas
CA Diplomas recognise those club members who have given outstanding service to croquet and have been active in Club or Federation affairs over a long period. The Diplomas have nothing to do with croquet prowess and everything to do with the help given to other members.
To make a nomination, please refer to the CA Diploma Criteria.
Refer to the All-Time Index.
---
2021
Andrew Wimshurst - Nailsea Croquet Club
Andrew joined the Club as a beginner in 2012. He made rapid progress and won the High Bisquers Competition that season. Andrew is a natural ball player so both his AC and GC games improved rapidly. He has captained both AC and GC teams.
As a club member Andrew has become indispensable. He has been on the rotas for mowing and hoop setting for many years. More recently, he has taken on the task of arranging the rotas for all the lawn work, liaising with the team members and the lawn manager. On occasions, he set all the hoops for a tournament single-handedly - a huge physical effort.
During the Lockdowns, Andrew quietly took it upon himself to do all the essential permitted work on the hedges and ground surrounding the lawns. Again, some of this was heavy physical work and was largely unheralded.
Andrew is a member of the Lawns Advisory Group for the club. This involves much thought and discussion on the best ways to improve the lawns, including a major levelling project. His opinion is always valued.
On the Committee side of the Club, Andrew served as Chairman for 4 years and is currently Membership Secretary. In addition to the admin, he welcomes newcomers and generally helps members to take an active part in the club. Andrew has great diplomacy skills, and he is called upon if ever there is a dispute.
Andrew has also given his time as a coach. He visited Clifton College every week for two years, coaching groups of pupils and was instrumental in the College becoming a CA club. In 2019 he coached a group of beginners at the Nailsea club.
Andrew is a great sportsman, a hard worker, an innovator, a team captain, a coach, and a popular club member.
Margaret Eccles - Bury Croquet Club
Margaret had served as our Club's Secretary for over three years and was due to retire from this post when the Covid pandemic struck. Since then, she has undertaken '101' additional jobs as well as agreeing to continue as Secretary.
Her dedication and enthusiasm have kept the Club alive and functioning to the highest possible standards during these difficult times.
She has worked tirelessly whilst trying to maintain contact with each one of our 70 members on a personal level and help them with their countless worries and needs.
Government and Bury Council's stringent conditions needed to be followed at all times so Margaret stepped up and became our keyworker and first responder in every sense of the words.
Anything and everything to do with the club was arranged through her.
Distance - Timings - Locations and Protection became major issues that required careful and thoughtful planning and she stepped up in each case to arrange things.
She took control of a new online booking system, which has proven invaluable in keeping members safe and players limited in number in accord with Government Regulations at both of our venues at Whitehead Park and Coronation Park.
Due to her love of croquet and her caring, welcoming nature, we all became reliant on her to set up the introduction of all newcomers to the Club, which has resulted in a much higher intake for this time of year.
Margaret loves playing both Association and Golf croquet and is Captain of one of our Teams in the Northwest League, where she is also well respected.
Roger Sutton - Sussex County Croquet Club
Roger Sutton has been a member of Sussex County Croquet Club since 2012 when he took up croquet. From the beginning he has been a very active member, contributing a great deal to the club. He joined the committee and became Vice-Chairman. He has been responsible for starting up our very popular one-day tournaments, acting as Tournament Manager. Not only that he has run internal club competitions for a number of years, been a club handicapper, encouraged new members to take part in competitions, run corporate events including doing the catering, and more recently he has given an immense amount of his time to developing our plans for a new clubhouse. A skilful player himself representing the club, he has a can-do attitude. He has had a very positive effect on the club and his influence has transformed the competition side within the club.
David Bell - Leicester Croquet Club
David Bell joined Leicester Croquet Club in 2010 and since that time has been very active in all areas of our club development. He has undertaken various administrative roles, acts as both Federation and Club Equipment Officer, servicing and making sure mallets, trollies and balls, etc. are all in perfect order. As well as this David helps to mark out the lawns, setting hoops at the start of and throughout the playing season. He currently holds the post of Vice-Chairman.
As part of our ongoing development, David actively promotes our club, organising Learn to Play courses for new members and "Taster" sessions for local groups and businesses. He also coaches GC for those players wishing to improve their game and technique. In promoting our wider profile, David has built and maintains our website. This has led to many contacts from potential members and is an invaluable source of information to existing club members.
As well as taking on these roles, David takes his croquet seriously and is a very good, competitive player having improved rapidly to a minus 2 handicap. He not only represents L.C.C. in our East Midlands Federation league but also plays in national and other league competitions.
David is the sort of enthusiastic and hardworking member every club aspires to have. Leicester Croquet Club is very fortunate and values his contributions to the running of our organisation.
Linda Gavigan - Sussex County Croquet Club
Linda Gavigan was Chairman of Chichester Croquet Club before she joined Sussex County Croquet Club in 2014. An enthusiastic member who throws herself into all sorts of challenges and plays a very active role within the club as a committee member. Her main focus has been providing high-quality catering at the club and with excellent organising skills and getting a team together she has run an efficient service. In 2019 the club hosted the GC World Championship and provided food for 80 players from around the world over a 10-day period which was a full-time job for her. In fact, that year there were 80 catering days, and it has been a vital part of the income of the club. Apart from catering, Linda has taken on marketing responsibility, initially joining the team at the CA and now for the Southeast Croquet Association.
She has ensured that the club is given publicity through articles in local magazines and newspapers, and we have seen an influx of new members this year. Linda always sees a job through, and she takes on a wide variety of tasks to ensure the smooth running of the club.
Peter Wallace - Tyneside Croquet Club
Peter Wallace joined Tyneside Croquet Club about 25 years ago when his enthusiasm, willingness to help and good humour made an immediate impression on members. He soon volunteered for lawn watering and line marking, became part of the team that laid out the lawns each season, was frequently to be found working on repairs to equipment, fixtures and fittings on lawns and in the clubhouse and became a much-valued member of the Committee. When extensive lawn repairs were recently commissioned (from a company Peter introduced), it was he who travelled 10 miles from home each day to give the contractors access and stayed to lock up.
Peter's chosen game was AC and off a handicap of 9, was a frequent and useful member of club teams, winning crucial games and, with skill and sympathy, advising less experienced members on technique and tactics. He was also ready (sometimes at short notice) to turn out when needed for club GC teams.
With Peter's encouragement, his friends and family members joined TCC: one of his grandchildren, Jacob Carr, subsequently played GC for England. Beyond the club, his development of croquet was equally effective. Having persuaded nearby South Tyneside Council to repair a former bowling green, he recruited and coached members, arranged matches and became secretary of what is now a successful club.
When his wife, Caroline, died in 2019, Peter founded in her memory a ladies' golf doubles competition at Tyneside and endowed it with two impressive winners' salvers. Although his health had begun to fail and with near-constant joint pain Peter, until recently, continued to help with lawn watering but this season has decided to all but hang up his mallet and, although insisting on paying a full member's fee, his very welcome visits to our lawns are infrequent.
Nick Evans - Northampton Croquet Club
Nick Evans is a long-standing member of Northampton Croquet Club.
Over the last thirty years, Nick has served on our management Committee in various roles including a long stint as secretary. He was also our Club chairman for several years. He has managed to contribute to our Club whilst continuing to run his thriving model shop business in Northampton. Perhaps because of his practical skills, Nick, as equipment manager, is the person who the Club has been able to turn to for all jobs that regularly need doing such as mallet repairs, bisque stick making, building notice boards, and repairing our storage sheds after break-ins. Now that Northampton is without a permanent home, he, and his wife Jane, packed up and itemised all the equipment for storage.
An accomplished Association Croquet player, who currently plays off a 1.5 handicap, Nick has for many years been the mainstay of Northampton's Association teams. In what may be described as the Club's heyday, he helped to win the Longman Cup, twice, and the Secretaries Shield in the mid-90s when Northampton regular finalists. His tactical play is renowned and, as a result, his is the name that features most on the Club's Handicap and Advanced trophies. He is also adept at doubles play, especially when coupled with his wife, witness their success at the Barwell Salvers in Cheltenham in 2017.
Nick has also given back to the Club through his organisational skills by regularly running various Club competitions, knock-out tournaments, and the ladder and with the unenviable job of running teams in the East Anglian league. We would like his long unstinting service to Northampton Croquet Club to be recognised.
Paul Rigge - Northwest Federation
Paul started his croquet some 24 years ago at Bury Croquet Club. In 2002 he was involved in setting up the facility at Heaton Park in Manchester and in 2010 was on the team that organised the MacRobertson Shield there, being instrumental in getting television coverage of the event. In fact, he has been a television and radio presence representing the Northwest Croquet Scene on several occasions. He is larger than life and has had a very positive effect on croquet in the Northwest in the last 10 years. In 2012 Paul became Secretary of the Federation and served a three-year term. Since 2016 he has been the Federation Coaching Officer. His coaching is second to none for beginners, improvers and at an advanced level. Together with another player, he ran the "Advanced Pods" at Bury. He is willing to travel anywhere to deliver his help and advice to the Federation members. In 2017 Paul also volunteered to Chair the Federation, a post he also still holds at present. In 2019 he visited Stoneyhurst College and helped establish a new croquet club at the school, which is now a member of the Federation. He has constructed and maintained the websites for both Bury and now Pendle. For many years he has been Team Coordinator for the Lancashire team at the Counties. He has recently become a very active member of Pendle Croquet Club and despite the Covid crisis has coordinated and run no fewer than six competitions in 2020. 10 more competitions are scheduled at Pendle this year - all motivated and coordinated by Paul. He is active on the Tournament scene representing the Northwest countrywide. He works hard for the sport both on and off the lawns.
Nick Harris - Norwich Croquet Club
Nick Harris joined the Norwich Croquet Club in 1983. He has spent the next 38 years rendering innumerable and invaluable services to the Club. As a teacher by profession and a "minus" player, he moved seamlessly into coaching following his qualification in 1988, inculcating all-comers in the basics and the more advanced skills of the sport. As a keen gardener, he moved equally seamlessly (by bicycle) to and from his allotment and the lawns. Not only has he acted as the permanent supervisor of the ground contractors but also as hoop-setter-in-chief, line painter, weed remover, fence mender and general factotum. He has served tirelessly on the committee of the Club ever since September 1983. He was Secretary from 1987 to 1991 and, again, from 1993 to 1997; Chairman from 2001 to 2005 and Treasurer from 2007 to 2011. He was appointed as the Club AC Handicapper in 1988 and qualified as a referee in 1989. He not only plays in the Club tournaments but also manages them; does much of the catering and has used his skills as an artist and craftsman to make several of the trophies. He designed, and recently redesigned, the Club website, which he continues to maintain. Without his prodigious work, the Club would have been quite unable to function. In his spare time, Nick has always carefully scrutinised the Laws of the sport and has sometimes succeeded in convincing those in power to make amendments, the necessity of which they had failed to notice. In 2020 he was finally persuaded actually to play Golf Croquet. He does so with considerable skill (off a handicap of 0) and now represents the Club in the EACF Leagues in both forms of the sport.
Rob Edlin-White - Nottingham Croquet Club
Rob Edlin-White has been a member of Nottingham Croquet Club for 27 years. He is a great communicator and many people around the croquet world will know him as an active member of the Nottingham List community. Maybe what is less well known is how much time and effort he puts into the club.
As well as several stints serving on the committee and doing his turn with tournament catering, Rob has been involved with beginner coaching for years and is always an enthusiastic mentor to new members. He is a keen backer of the club's drive to become more diverse, helping with the school's outreach programme and our new Hoops 4 Health programme. In the chaos of last year when innovative ways of introducing people to croquet had to be found, Rob came up with the idea of croquet experience weekends so that an intensive introduction over 2 days would get them playing over the remainder of the summer. These have been popular, not only because they suit people who cannot make a weekly commitment to a conventional course but also because Rob makes sure that everyone has a really good time and that they bond as a group.
Social media was recognised as an important communication tool several years ago and Rob has developed and maintained the club's Facebook page. He also spent hours and hours during lockdown giving the club website a complete overhaul, including adding lots of pictures, many of which he has taken himself.
Lockdown also brought the need for a lawn booking system and Rob has taken on the management of that, including explaining and encouraging new members to use it.
Rob is a 'doer', always willing to give his time for the benefit of the club, its members and the sport.
David Brydon - Nottingham Croquet Club
David Brydon joined Nottingham Croquet Club in 1993 and very quickly his legal expertise was being sought with the endless negotiations with the City Council regarding long-overdue rent reviews. He steered the process through for getting the club's first longer lease which opened the door for Sport England funding and the installation of an irrigation system. When the adjacent bowls club became redundant David was involved in what turned out to be 6 years of protracted negotiations to get a new lease covering the existing croquet facilities and the bowls club. That was finally signed in April 2020 and gave the club security of tenure for 35 years and a formula for automatic rent rises. Perhaps, after 28 years, his legal skills will no longer be required!
David is keen to get people involved in croquet and he delights in organising Open Days and seeing dozens of people enjoying themselves. He is an enthusiastic helper in our school's programme, and he has introduced many beginners to the game through taster sessions and formal courses. His catchphrases such as 'there are 3 things to remember - stalking, stalking and stalking' remain with players for many years. He has been the club's marketer for many years, designing, erecting, and distributing the colourful banners and flyers that accompany many of our activities. He was an important member of the team organising the Women's AC World Championship and the U21 GC World Championship at Nottingham in 2015 and 2019.
Every club needs members to form the backbone and David, as a trustee, coach, master of ceremonies, legal advisor and marketer, has long been such a person. We have never succeeded in getting him on the catering roster though!
---
2020
Mike Oulton - Rottingdean Croquet Club
Mike joined Rottingdean Croquet Club in 1989 five years after its inauguration and, following his retirement from work, began to take an increasingly active role within the Club. With only one three quarter-sized court and members who liked to play social croquet, Mike saw the need for someone to train to be a coach and took it upon himself to be that person. He qualified to be a Club Coach in 2004 at Hurlingham Croquet Club. Since then he has provided weekly coaching sessions for both Association Croquet and Golf Croquet for members which, in turn, has inspired other Club members to qualify as Club Coaches, thus helping to raise the overall standard of play within the Club.
In addition to his coaching role, over his thirty years of membership, he has held varied posts of responsibility within the Club and has served on the Committee. He was Maintenance and Equipment Officer for over ten years maintaining Club premises, its equipment and the court. He served as Chair of the Club from 2008 to 2011.
Mike qualified as a Golf Croquet Referee in 2004 and since then has carried out Refereeing duties within our Club and for various tournaments at Sussex County Croquet Club. In 2004, directly after qualifying, he was called upon to be an On-Court Referee for the World Golf Croquet Championships held at Sussex County Croquet Club. Fifteen years later he was refereeing again at last year's World Golf Croquet Championships.
Over a thirty-year period, Mike has made a huge contribution to our Club and has worn a variety of hats in his efforts to promote the game both within the Club and the surrounding area.
Jane Hull - Kington Langley Croquet Club
Jane Hull is a founder member of Kington Langley Croquet Club set up 36 years ago in 1984. Jane was very much involved in getting the club off the ground and served on the Committee until 2011 in various roles including being Match Secretary from 1996 to 2011.
Jane was part of the team maintaining the lawns which included mowing for over 20 years.
She has been part of the successes the club has had over the years in the South West Federation Leagues, including success in the Secretary's Shield which was remarkable for such a small club.
In 2014 Jane was inaugurated as President of the Club. She is always ready to promote Kington Langley Croquet Club and the game of Croquet which is a very important part of her life in the summer when she enjoys travelling to different clubs partaking in CA tournaments. Through this, she has formed many friendships in the croquet world.
In 2017 Jane took on the monumental task of managing the Club's development when the club went from one and a half lawns to two full lawns. She was involved with interviewing contractors and then liaising with the chosen Contractor throughout the process which was a very big commitment for her and the club. Jane will be the first to say it was a team effort but without Jane's leadership, the development could have been far more difficult.
Jane is involved in essential fundraising by organising a successful Bridge Drive in the Autumn of each year and supports the fundraising done by other members throughout the year. Jane is always praising others for their achievements and it is time she receives some recognition for her years of dedication to the club she helped found and for raising the enjoyment of croquet.
Jean Cobbold - Cheam Croquet and Bowls Club
Jean Cobbold has worked tirelessly for this club since its inception over eight years ago. She was part of the working party set up to consider the feasibility of founding a croquet club in the underused Cheam Bowling Club grounds. It was agreed that the formation of a club should go ahead and Jean assisted with the practical and administrative tasks necessary, including defining a logo for club use. Jean volunteered to coordinate publicity and organised newspaper articles, posters and printing and distribution of flyers.
Jean arranged a taster weekend before the inaugural meeting to determine the interest in setting up a club. Jean's publicity efforts were well rewarded when 100 people attended and 40 signed up before the club even existed. Another 40 joined at the inaugural General Meeting in March 2012. At the meeting, Jean was formally elected as club secretary.
As secretary, Jean dealt very efficiently with the administrative tasks of the club and helped to set in motion a series of social and fund-raising events. Jean has given considerable practical support to
the club, including painting the white lines on the croquet lawn. To further support the club Jean became a qualified coach and helps to run the Public Training courses held at the club which gives potential members a taste of the game of croquet.
In April 2020, due to the Coronavirus movement restrictions, Jean rose to a new challenge and organised a virtual Annual General Meeting. At the meeting, Jean stood down from her post as secretary after eight years but said she will continue to support the club wherever needed.
Lilian Holdsworth - Littlehampton Croquet Club
Lilian first joined Littlehampton croquet club in 2001 and has been a stalwart member ever since, usually present at least 4 times a week and willing to volunteer for any task. In 2008 she became Chairman which office she held until 2012. She was elected President of the club in 2011, a position she still holds.
Under Lilian's dynamic Chairmanship the membership reached a point in 2010 when a waiting list had to be considered. She never misses an opportunity to recruit new members and, as one of our coaches, encourages them and keeps them under her welcoming wing indefinitely. In fact, Lilian is always very welcoming and encouraging to all our members and visitors all the time.
During our Centenary year in 2009 Lilian introduced the Littlehampton Centenary Cup when teams from clubs in West Sussex meet for a day of friendly competition. This has continued every year since and is the main event of our season. During this year she also curated a history of croquet exhibition for the town museum incorporating the club's history. Whilst both Chairman and President, in 2011 Lilian led the club through a divisive dispute which, although it caused her serious stress and required external mediation, was never allowed to interfere with routine club events.
Since 2008 Lilian has been a considerate and diligent unofficial welfare officer for the club: keeping in touch with sick and retired members.
As club President she gives quiet, sound advice to the Chairman and Committee whenever requested. Lilian is often seen sweeping out, washing up, or cleaning the toilet. She combines many public duties (including assisting the Lord Lieutenant) with her club activities, sometimes on the same day, resulting in dramatic costume changes to the surprise of new members!
Don Williamson - Southport and Birkdale Croquet Club & North West Federation
Don Williamson has been a stalwart member of Southport and Birkdale Croquet Club for over forty years, serving on the Committee many times including Chairman and Presidential roles. He has also taken a leading role within the North West Federation over the years as Coaching Officer and Federation Handicapper.
Don has introduced numerous beginners to the game and within the club has organised hundreds of coaching sessions for beginners and improvers, in addition to running club sessions on Laws, Handicapping and Lawn Etiquette. He has also developed an expertise in Lawn Maintenance and the high-quality lawns at Southport are a tribute to his enthusiasm and the incredible number of hours devoted to mowing and supervision. He also enjoys repairing and renovating equipment and many beginners have started their croquet careers with a reconditioned mallet from him.
Don has travelled extensively over the northwest to run coaching sessions at other clubs and advise on development and handicapping. He is an AC Grade 1/2 Coach and Examiner, a Senior GC and AC Referee and an AC Championship and Examining Referee. He has refereed at many tournaments and international events.
The contribution made by Don Williamson to Croquet in the northwest at both club and regional level is immense, his expertise is widely recognised and respected throughout the area.
Christopher Hague - Beckford Croquet Club
One day in 2012, Chris Hague, an accomplished croquet player, was playing tennis at Beckford when inspiration occurred to him that the adjacent field, owned by Beckford Village Hall, could provide a good croquet lawn. Chris approached numerous people in and around Beckford who agreed to join the club, and so Beckford Croquet Club came into being.
Now however the hard work began, and with nothing more than spades, rakes and wheelbarrows the lawn was brought into existence. Much work was needed, and Chris headed a team of volunteers to do the work. Chris's initiative and energy were enormous as he masterminded the project. He obtained equipment and support from the CA enabling the club to begin playing. An old concrete garage was given to the Club to store the equipment.
The club lacked a clubhouse. Once more Chris masterminded the difficult planning application system and identified and arranged the delivery of a self-build wooden "chalet" type building which has served the club extremely well.
From the beginning, Chris was chairman of the Club Committee, in which role he performed much of the physical and administrative work of the club and encouraged the development of croquet skills of the members. However, in 2018, with the load undiminished, Chris retired as chairman and was elected President of the club.
Chris's dedication to croquet and to the Beckford Croquet Club has been outstanding. His drive, initiative and leadership have transformed a piece of a meadow into a vibrant and happy club. He continues to make a significant contribution to the health of Beckford Croquet Club.
Martin Beacon - Nottingham Croquet Club
Martin Beacon has been a key member of Nottingham Croquet Club for many years, involving himself in a wide variety of aspects of the life of the club.
He has been our pavilion manager for several years - making sure that everything is in stock from milk, coffee, beer and wine to washing up liquid and toilet paper (even through the panic buying!).
He was on the organising committee and was Grounds Manager for both the AC Women's World Championship, which the club hosted in 2015, and the 2019 U21 Golf Croquet World Championships, onsite in the early hours, unfurling national flags, placing scoring boards, erecting marquees and fencing, washing chairs and doing emergency trips to buy large quantities of ice-cream when the weather suddenly took a turn for the better.
In 2013 he was involved in the planning for sinking our own borehole and installing the very successful water sprinkler system. He is currently working with our project manager to extend the irrigation to the recently acquired redundant bowling greens and is liaising with the contractor for their re-laying this autumn.
Martin personifies croquet - well mannered, a gentleman, always competitive but fair AC player, friendly, keen to pass on his skills to newcomers, keeps in touch with frail or ill members and former members, and always willing to lend a hand.
Adrian Kirby - Peterborough Croquet Club
Adrian is and has been the lifeblood of Peterborough Croquet Cub almost since our foundation. He has inspired many others to take up the game and improve. He is also a reliable person to turn to when something needs doing or a committee post is vacant.
When Peterborough Croquet Club was founded in July 2006 Adrian Kirby was one of the first new members to join having previously played with considerable success for the works team Thomas Cook Peterborough. November 2008 Adrian represents Peterborough Club at the Soham indoor Croquet the first time he represents the Club and then in April 2008 becomes Vice-Chair of the club from which point his house becomes the principal meeting and social venue for the club until he moved to smaller premises in 2016. In March of 2009, Adrian was appointed club captain, responsible for all club and external competitions a role in which he continues to this day. Adrian also became the lead person for setting up the lawns at the start of the season and subsequently for tournaments a role he has also carried out since 2009. In 2009 he also became the club handicapper another role that he continues to fulfil to this day. When the CA introduced coaching qualifications Adrian dutifully went off to be trained to ensure the club had at least one accredited coach.
In 2016, again the club was short on officers so Adrian stepped into the role of treasurer and sought out a new independent auditor for our books. In 2017 Adrian became an accredited Association referee as there were none in the club and then in 2018 though he rarely plays Golf Croquet he qualified as a Golf Croquet referee too.
If it were not for Adrian Kirby it is highly unlikely that the Club would have survived to this day.
David Hunt - Nailsea and District Croquet Club
David started to play croquet in 2002, after being leafleted outside his local Co-Op. He made rapid progress as a player and was quick to get involved in the life of the Club. In spite of the fact that David was still working, he volunteered to be on the mowing and hoop setting rotas and was always ready to help with other jobs, often providing his van for transporting bulky items.
Now retired, David is a pivotal and valued member of the Lawn Advisory Group. He is enthusiastic about trying new ideas and is always ready to provide effort in their implementation. He has taken responsibility for hoop-setting at the Club and works hard to maintain Nailsea's high standards in that area.
He designed and built a drill stand to ensure that the hoop holes were drilled vertically. As well as leading the positioning and accurate setting of the hoops, he extends his role to the painting of hoops in the winter and also to the harvesting and sieving of molehill soil. In addition to all his volunteer effort, David is invaluable to Nailsea managers. He will step in or out at the last minute to ensure that tournaments or club competitions have a suitable number of players. He is always willing to play Doubles with beginners and has recently begun to coach AC both formally and on an ad hoc basis. Over the years, David has been a reliable member of various League teams, both AC and GC, and has captained some of them. He is a formidable opponent in both disciplines and is particularly skilful at one-ball.
In short, David is a very good sport, a hard worker, and a much valued and popular club member.
Dr Adam Moliver - Cheltenham Croquet Club
Adam Moliver joined the Cheltenham Croquet Club in 2005 and, applying his clinical approach to the full, made rapid strides in reducing his handicap to single figures. But he soon understood that there is much more to being a full member of a club than just being proficient in playing the game and representing the Club, and looked for more ways in which he could contribute. And this he did; significantly and across the whole gamut of the Club's activities. One would hesitate to say that it is because of his background in old age psychiatry but he has the ability to pass on his love of the game to new members and rapidly forged a niche in introducing beginners to the game with to the effectiveness of his coaching. Pinny to the fore, he also became a regular inhabitant of the kitchen and a frequent provider of tournament lunches and teas. He is also a stalwart member of the hoop-setting team, ever necessary with the Club's (normally!) busy tournament schedule. He was elected to the Committee in 2013 and immediately took on the role of Chairman; an office he held until the Spring of 2020. As Chairman, he continually looked for ways to improve the image of croquet and the standing of the Club within the local community. He oversaw the creation of the Club's website, the provision of broadband within the Club and the move to an online lawn booking system as well as being to the fore in volunteering for the less thrilling maintenance of the club and grounds. It is obvious that Adam enjoys his croquet and the Club certainly benefits from this.
John Evans - Glamorgan Lawn Tennis and Croquet Club
John Evans has played croquet for a long time, starting at Stourbridge in the 1970s. He took a break from it on returning to West Wales and started playing again not long after Dyffryn Croquet Club was formed in 1986.
Our new venue has entailed a lot of work for the members of Glamorgan Lawn Tennis and Croquet Club. John has been at the forefront of that, from organising the initial cut of the very rough pair of lawns to the reasonable playing surface that we have at the moment. He has taken on the new club role of grounds officer, organising quotes for re-laying the lawns, purchasing of a new mower and other items. He is always keen to make the longish journey from home to the club to cut and work on the lawns.
As if this wasn't enough croquet to occupy his time, John has set up Llandovery Croquet Club from scratch and been a constant mentor to the new players at the club. He also helped and advised on the setting up of Mumbles Croquet Club. As you can see, John likes to keep busy - with croquet clubs!
David and Nancy Temple - Sidmouth Croquet Club
David and Nancy Temple retired to Sidmouth, took up croquet and proceeded to get heavily involved in all aspects of the game and the club over many years. They worked tirelessly, on and off the committee, developing the sport in Sidmouth and were instrumental in building the club's membership to practical capacity. They were particularly keen to support and mentor new members and always willing to coach developing players. Overall, they helped to make Sidmouth a welcoming, recognised croquet venue at home and abroad.
David was committee chairman for several years and represented the section on the General Management Committee [GMC] of this large, multi-sport club. His opinion was always sought and he is recognised as a man who 'get things done'. He masterminded the fundraising for the irrigation system which is still talked about by the GMC. No wonder that he is now the overall club president.
Nancy became a proficient player and then took up tournament management. She managed the open B-Level event for several years with an excellent balance of strictness, good humour and flexibility. She also ran internal competitions and, as social secretary, maintained a busy social calendar; ensuring the club 'worked' for all.
They were both club handicappers and reliable SWF league players. Both played in the intermediate team, captained by Nancy and David turned out for the advanced league. In all aspects the Temples participated; from the provision of teas to repairing shelters to the construction of the 'coffee cart'.
David and Nancy - a most effective team. Always willing to assist with sound advice and practical, hands-on help, from which the Club has greatly benefited.
Howard Bowron - Penrith and North Lakes Croquet Club
Howard Bowron has played a central and pivotal role in helping the club to develop from its initial roots when croquet was started locally by members of U3A in the early 2000s.
When Howard moved to Cumbria as an established croquet player, he came across the U3A players and soon joined in and helped paint a picture of the wider aspects of the game and its rules to those involved.
In 2007 they moved to our current location, Edenhall Tollbar, playing on two short lawns initially on a cricket pitch outfield. The standard of grass we are told was not great, so one of Howard's first jobs was to take charge of getting the two lawns into a better condition.
Howard, at members' request, took on the role of Chairman and Secretary and also continued with his quest to improve the playing surface, a passion he continues to directly contribute to today.
One member from the early days at Edenhall and still involved quoted "Howard has tirelessly built up the infrastructure and has always been a source of encouragement to new and existing players. His enthusiastic nature has meant that a lot of members have stepped up to challenges they thought were beyond their capabilities and as such established a vibrant and popular croquet club".
Over a number of years at the start of each season, Howard has run various coaching sessions for all classes of members.
Howard has been a staunch supporter of AC at all levels of skill and has been instrumental in setting up the club's short and full lawn leagues.
Howard encourages players to represent the club against other clubs as it helps to verify the handicaps that he is involved in moderating each year.
Ian Stratford - Budleigh Salterton Croquet Club
Ian has been a member of Budleigh Salterton Croquet Club for many years. His contribution to the Club is considerable having been a member for full terms on both the General Committee and Croquet Committees.
As a retired engineer, Ian was closely involved in the preparation for the design and supervision of a major building project to replace an existing pavilion that had gone beyond a safe state of repair. The new 'Middle Pavilion' is now admired for its sympathetic design, and held to be a tremendous asset to the club.
During 2019 he took the role of club Membership secretary where he was exposed to the various spreadsheets and paper records that had been used to manage all details of our 260 members.
Ian's task was also to convince a rather traditional club, and its management structure, that a step change was needed, that our rather 'mature' membership could be safely tutored and would be able to quickly adapt to the technology. This he and his small team have achieved.
During the Club's winter season the computerised system was introduced in stages to live operation and we are proud to say that it has saved a considerable burden of paperwork and volunteer time.
Ian's commitment to the club is undoubted and his work has set the club securely for the next generation of members. Importantly his work will be of interest to other clubs and he has already offered to be a point of contact for others looking to upgrade their systems. The Club has been very lucky to have Ian's skills so freely and willingly offered.
Des Honey - Cornwall Croquet Club
Since joining Cornwall Croquet Club in 2006 Des has become involved in all aspects of running the club including its recruiting and fundraising activities.
He has encouraged others to take part in croquet, always having time to give help and support through group and individual coaching for new and old members alike. He coaxes non-members to try croquet at specially arranged group sessions and never misses an opportunity to promote the game in other areas of his life. He is simply a very good envoy for croquet in Cornwall and the club as a whole.
When it comes to club competitions, Des's invincible IT skills have enabled him to prepare Swiss or American Blocks, knockout or handicap formats, or more or less any configuration, and then go on to act as manager.
Des soon became involved in other aspects of running the club, joining in lawn working parties and generally being a reliable pair of hands whenever needed.
Becoming a Golf Croquet referee added another achievement in Des' croquet career. He has also been a club committee member for nine years and served as Chairman for three of these. For five years he took the lead in ground maintenance and the care of various allied machinery.
Des is ready and willing to help in any way he can, often being the first to volunteer his services. Notable projects in which he has been involved include a successful application for a CA grant and negotiating a long term lease with our landlord. In conclusion, Des has played a strong part in the development of Cornwall Croquet Club, being well known in many clubs in the South West Federation and is also a great ambassador for the sport in general.
Howard Rosevear - Cornwall Croquet Club
Howard was farming in Cornwall when he heard about the game of croquet from his friend Trevor Bainbridge, whose brother was a keen player. He was introduced to the Chairman of Cornwall Croquet Club who was looking for a suitable permanent site for the club and agreed to rent some of his land for the purpose.
In 2003 Howard started work on providing two lawns and the following year the club was up and running at its current location. Howard's further involvement in the club's development resulted in a comfortable clubhouse and, more recently, a third lawn.
Throughout the years since then, Howard has retained a keen and active interest in all aspects of club affairs. He has honoured his position as club President by attending AGMs and committee meetings and supporting club social and fundraising events as well as hosting fund-raising events in his own home. He has been an active member of the club's South West Federation Golf Croquet league team for many years, playing in home and away matches and has taken part regularly in the club's own tournaments both as a competitor and supporter.
Howard promotes the game of croquet in other areas of his life, arranging taster sessions for groups in which he is involved and recruiting new members. Throughout all these years his commitment to and support for the club has remained strong. Only recently, during the COVID-19 pandemic, he has taken on the care of part of the club grounds and visited the premises every day to check on it whilst it was unoccupied during lockdown. In short, without Howard's involvement, commitment, help and support our club would not exist as it is today.
John Guy - Broadwas Croquet Club
John Guy joined Broadwas Croquet club in 2009, very quickly took to the game and joined the committee. During the ensuing 10 years, John has progressed to be responsible for coaching, refereeing and competitive play in many CA tournaments.
John has been instrumental in encouraging new potential comers to enjoy the game at Broadwas and become members.
John attended CA coaching courses and then set about passing on his skills and knowledge to our growing membership such that Broadwas Croquet Club has won many Federation, High Handicap and specific All-England competitions.
Broadwas has a Club day and Fun Friday when we invite potential new members to come along and have a game. John has a key role in welcoming new members and teaching them the basics before full-time membership. All members, both new to the game and those from other clubs, are issued with a handicap card by John before joining the club, enabling them to play on club days and competitively.
Without John's enthusiasm for members to play well and enjoy the game, we would not be a strong and successful club of 60 members, many having a handicap lower than 5.
Besides John's role as head coach, he is always available to help in many other roles within the club such as lawn maintenance, training on the art of hoop position and setting, and club administration.
---
2019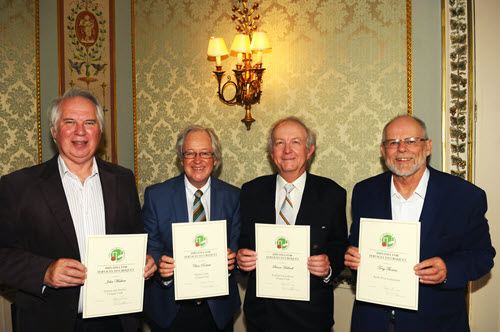 John Wallace (Nailsea), Chris Roberts (Phyllis Court), Simon Hathrell (Watford Cassiobury), Tony Thomas (Southport)
Chris Roberts - Phyllis Court Croquet Club
Phyllis Court Croquet Club wishes to propose that Chris Roberts be considered for the award of a Croquet Association Diploma, and we offer the following in evidence and for use as a citation
Chris Roberts joined Phyllis Court Croquet Club in 2006 and not long afterwards became, and remains, the backbone of the Club.
He brought the energy and enthusiasm for competitive play that he had enjoyed in a previous sporting career in rugby, and that positive force rippled through the well-established Phyllis Court club, at a time when it was centred on the social side of croquet.
Chris was quickly brought onto the club committee to oversee the courts (having been recognised as agile enough to set hoops!) and he soon used that position to champion for improved playing conditions and competitive opportunities.
He assisted Frances Colman, who shared that competitive vision, in introducing handicaps for all club members, and this then allowed for the introduction of classed competitions and tournaments for all levels of ability, and the establishment of two new Handicap League teams.
Chris qualified as GC Championship referee, graded GC and AC coach, and, over time, he and Frances became an experienced tournament management double-act at club, Federation and CA level.
Chris had a successful first stint as Phyllis Court Croquet Chairman 2011-13, with the mantra to 'provide something for everyone', and that saw more internal events arrive and CA fixture book tournaments return for the first time in decades, all the while taking care not to disturb the long-established social playing periods at Phyllis Court.
Chris became the Development Officer of the Southern Federation before being elected its Chairman in 2012 and he also took on the Editorship of the Croquet Gazette in 2013. He continues to perform both roles whilst playing to Championship Level in both croquet codes.
In 2012 Chris was brought on to the GC Tournaments Committee of the CA where he proved the doubters wrong with the introduction of the very successful B-Level Series in 2014 and he subsequently energetically repeated the same theme again in 2017 with the introduction of the C-Level Series, thereby establishing a production line for future GC talent.
A call back to the Phyllis Court chairmanship position came in 2016 and Chris has overseen the most successful on-court period in the history of the Club, topped by his captaincy of the Club to the final of the GC Inter-Club Championship Final in 2018.
Chris is immensely proud to have recruited 168 Phyllis Court players to membership of the CA, making the club the largest in the country by that measure. He maintains the highest level of commitment to croquet and shows no sign of slacking off as the years roll by.
As Chris ends his second period as club chairman, Phyllis Court Croquet Club commends him for the award of a CA Diploma for Service to his Club and the wider Sport of Croquet.
Anthea Carter - Dowlish Wake Croquet Club
Since 2007, when Anthea Carter joined the Dowlish Wake Croquet Club, she has worked tirelessly in the interests of the club. As a talented new player, it took only a year for her to win the Club doubles competition in 2008, join the committee as treasurer and play in league games. Her enthusiasm for the game and the players was unbounded.
By 2009, Anthea became the chairman of the club and she quickly became familiar with all aspects of the training schedule for members, the running of the club, and recruitment of new members, club and league competitions, external fundraising from Rotary and golf clubs. In fact, nothing escaped her attention and her encyclopaedic knowledge of all things croquet has stood the club and its members in good stead for many years. She is still a role model and mentor whose advice is sought on many occasions.
In 2015 she gained her club coach qualification and has consistently run coaching sessions at the beginning of the croquet seasons.
In November 2016, disaster struck when the pavilion was burnt to the ground in an arson attack. This was a testing time for everyone concerned with the playing field. Nothing deterred, Anthea, with dogged determination, organised a temporary portacabin to be used as a clubhouse, together with storage units for any equipment which had escaped the flames. With financial support from the Dowlish Wake Playing Field Trust, croquet was able to continue operating for the next two years without a break - while the new clubhouse was built. When the portacabin was removed, she determined to buy a marquee to give precious shelter for the members during the bad weather.
At a time when many would have given up after looking at the dreadful destruction and the enormity of the problems of those two years, Anthea's extraordinary organisational skills made it possible for the club to remain operating. She drove forward with determination and vigour to maintain the existence of the club. She encouraged fundraising, coaching and found new members, organised competitions and tournaments at a very difficult time.
One of her final acts was to persuade members to change the name of the croquet club to Dowlish Wake Croquet Club - previously called Dowlish Wake Golf Croquet Club, thus encouraging all aspects of croquet to be played. There is now burgeoning interest from members interested in Short Croquet and Association Croquet. Club members have attended coaching courses at Budleigh Salterton with further ongoing coaching organised at our club.
It was a sad day for the club when Anthea, exhausted but with a tangible sense of achievement, decided to step down as Chair. Dowlish Wake Croquet Club will be forever in her debt.
This committee unreservedly hopes that the Croquet Association recognises, Anthea's amazing achievements and awards her a Diploma in recognition of all her hard work.
Geoff Johnson - Watford (Cassiobury) Croquet Club
Since joining the club in 2008 Geoff has been an extremely active member. As Honorary Treasurer for the past 10 years, Geoff has ensured that the club has stayed on a sound financial footing. As well as representing the club in East Anglian Croquet Federation and National events at both AC and GC he has done much to encourage greater participation in these events from the general membership. He spends a great deal of time arranging GC fixtures and manages our GC B-Level and C-Level tournaments.
Away from these time-consuming front-line activities, he has been hoop setter in chief for many years indulging members' requests for dual settings for AC and GC and re-sets during the season. If there is a need to repair local damage to the courts, to remove worm casts or to organise watering during periods of drought Geoff is there to sort it out
Simon Hathrell - Watford (Cassiobury) Croquet Club
Simon joined Watford (Cassiobury) Croquet Club in 2003 and has been on the Club Committee since 2006. As AC manager he organises all the AC internal competitions and external fixtures including national competitions such as the Mary Rose, East Anglian Croquet Federation (EACF) league matches and friendlies against Oxford and Cambridge University. He does much to facilitate The National Schools' and Juniors' AC Championships which are hosted by Watford and still finds time to organise the Hertfordshire team in the Inter-Counties Championship.
As a strong player, he represents the club at both AC and GC. He organises and manages three AC open tournaments and two internal one ball tournaments.
Away from the court he orders plaques, locates suitable watering equipment and has been known to manufacture a plinth for a trophy.
As webmaster for both Watford and the EACF Simon has created and progressively developed websites that are the envy of many clubs. These are an asset from which all members derive benefit including a court booking system. Few appreciate how many hours of work this involves requiring expertise and close attention to detail.
Tony Thomas - North West Federation
Tony Thomas is a member of Southport Croquet Club where he has been actively involved, taking on many roles over the years. His commitment to the North West Federation, however, has been outstanding. In 2002 he set up the www.croquetnw.co.uk website and is still maintaining it to this day. 17 years of enthusiasm! This has been a valuable resource for all information relating to The North West Federation and its clubs. The site is always up to date with information ranging from National to Regional matters and all League results as they come in. Request for "publicity" for upcoming events at the various clubs is posted promptly. The website has become a valuable archive for all things croquet related in the North West. His photography catches the magic that is The North West Federation's Festival of Croquet. A unique and very special croquet event which again is a valuable archive for the future. Examples are inserted below but for full wow factor visit http://www.croquetnw.co.uk/?cat=31. Tony also ran the extensive North West Federation Leagues from 2009 until 2016 bringing in many changes which have improved the experience for all North West Croquet players.
John Wallace - Nailsea and District Croquet Club
John Wallace joined Nailsea and District Croquet Club in 1998, but despite having considerable ability he has been a full but non-playing member since 2000.
He has contributed greatly to the club since then. In 2002 he developed equipment to enable accurate and firm setting of the hoops. Well set hoops have become a hallmark of the club ever since and for some years he set the hoops almost single-handedly.
In 2011 he took over management of the lawns and improved them hugely. Not only did the quality of the sward improve but so did the drought resistance.
In 2016 he led the project to level all four lawns. Work started in September 2017 and was plagued by bad weather, the resulting problems having been documented in the CA Gazette. His presence at the club has been continuous throughout the whole project and it is because of this that we now have fine lawns on which to play. He has had help of course, but it has been his drive, determination and hard work which have brought us so far. Never one to be satisfied with a job that is less than complete, he still works and organises to produce an ever finer and smoother surface upon which we can all enjoy our games to the full.
Our club owes him a huge debt of gratitude for bringing us so far and believes that he has fully earned the award of a Croquet Association diploma.
Sue Norfolk - Weston-Super-Mare Croquet Club
We have one such person in our club, Mrs Sue Norfolk, who we feel warrants recognition.
Sue took on the role of Club Secretary in 2010. She has been, and still is, a tower of strength and, in addition to overseeing the club's administration during the past eight years, Sue undertakes work far in excess of what we would expect of a club secretary - including tasks such as the mowing of our lawns and outfield. Her example and enthusiasm is an inspiration to us all.
David Seed - Blewbury Croquet Club
When Blewbury Croquet Club's previous Lawns Manager was looking to retire ten years ago, David Seed took the role of assistant to learn the job, including mowing, aerating, weeding, and understanding the irrigation system. At the end of the year, the about-to-retire manager's verdict was: "I cannot stress just how lucky I think we are to have found someone as dependable and thorough as David Seed." David went on a grounds maintenance course, became our Lawns Manager, and, assisted by many other volunteer club members also attending to the machinery and grounds, directed the club's lawns care programme and put in untold hours of work himself, all to maintain the high standard of playing surface we're so proud of. One member recently observed that our courts were of a higher standard than the lawns he had been playing on in Florida.
David soon added Facilities Manager to his Lawns role. In 2014 he was named our Club Member of the Year. Last year he won both our GC handicap competition and our AC handicap competition, and this year he has finally stepped back from lawns and facilities management - in order to spend more time playing croquet.
We believe David's long hours and dedication over the past decade to preserve and improve our club's fine playing surface, so often commended by visiting players, amply merit the award of a CA Diploma.
Andru Blewett - St Agnes Croquet Club
St Agnes Croquet Club has just celebrated its fifth anniversary and therefore to put forward one of our members for the CA Diploma may seem presumptuous. But I am confident that Andru has achieved as much in five years as others might have done in longer periods of service.
Anyone who has been involved in setting up a new club will know that it requires teamwork and leadership. Leadership can be shown in many ways, not necessarily by office, speech-making or handing out prizes: the greatest of all attributes is setting an example - standards of hard work and enthusiasm.
Andru Blewett has been at the forefront of all our activities from the start. His zeal for the game has been matched by his hard work and commitment, both on and off the lawns.
Andru has served on the club committee from the beginning, now as vice-chair, but more importantly has taken the initiative in organising annual competitions against other Cornish clubs. He is also involved in the running of the in-house competitions. His latest venture is a Cornwall singles championship.
He also works with the 'greens' team, which includes maintenance of our ride own mower. He acts as one of our general handymen; he has made three wooden trollies for croquet equipment for each lawn. His strength in this area is that he often foresees problems before any of us realise there is one - from mole catching (humanely I might add) and wire-netting to keep out stray dogs.
As well as being one of the leading players and a regular member of the handicap team, Andru was the first, on his own initiative, to take golf croquet coaching and refereeing courses. He runs weekly coaching sessions for members, and it is no exaggeration that he has single-handedly raised the level of play in the club so that we can run two league teams.
In addition, he has been very active in promoting the game on our regular 'taster' days for the community, and with visiting groups. He has also been heavily involved with all our fund-raising activities.
It is fair to say that without Andru's exceptional energy, commitment and practical skills, the St Agnes Club would not be where it is today. It would be brilliant if this could be acknowledged publicly.
Roz Wright - Peterborough Croquet Club
Roz was a newcomer to our sport when she joined Peterborough Croquet Club soon after its inception in August 2006. She volunteered to join the club committee in its first year, and was immediately recognised as having the personality to be our chairman - a role she has continued to perform ever since, beautifully. For several years, all club members were happy to play almost exclusively Association Croquet - with alternate-stroke doubles found to be a good way of keeping the star players from monopolising time-on-lawn - but Roz led the way in stemming a later decline in numbers by promoting Golf Croquet. Under her enthusiastic leadership, the GC group has gone from strength to strength, numbering nearly thirty players by the end of the 2018 season. Roz still plays some high-handicap AC herself - a distinctive figure on court, with her dodgy-hip-induced rolling gait - but more importantly provides great behind-the-scenes support for AC events, with her teas and lunches acquiring a stellar reputation amongst our visitors in recent years. She also works hard in liaising with the park authorities and with the bowls club which shares our pavilion, two notable successes being the installation of a security fence and our inheritance of a disused bowling green, making us a two-lawn club (three, on the weekends we borrow the remaining bowling green for our tournaments). In our wider region, she has often run sessions where the public can have a go - for example, at Barnsdale Gardens in Rutland. She remains active off-season, having for years organised New-Year pub lunches that attract virtually a full turn-out of club members. We would be delighted if Roz's huge contribution to our club is recognised with a CA Diploma
Gerald Wynn - Cheltenham Croquet Club
Gerald was Director of Finance at a government agency based in Cheltenham so Cheltenham Croquet Club felt that with him as Treasurer its affairs were in safe hands. Gerald was treasurer for ten years but this is not a Diploma nomination just for time served
As Vice-Chair of the committee, he had to take over as Chair ( while still being Treasurer) during the illness and untimely death of the then Chair and hold the fort until a new committee member could be co-opted to take over. Cheltenham is a large Club so to manage two jobs was no small matter.
Much of Gerald's contribution was unrecognised by many members and perhaps by some on the committee. Renegotiating utilities contracts and insurance policies is not stirring stuff but is vital. Arranging and monitoring the work done by various contractors is also largely unremarked by most members.
His sound counsel and steadying influence before and while a new Chair took over was greatly appreciated by the whole committee. Without people like Gerald Wynn in the club.
Janet Salter - Dyffryn Croquet Club
Janet Salter has been playing croquet now since 2002. She is the epitome of a solid club player, being available for Golf and Association teams over all the years of her membership - grandchildren permitting! She has been the club's treasurer since her election in 2005, carefully overseeing the club's finances. Her skills at this important job have been at the fore in recent years, due to the turbulent times at the club, including an enforced move from our home of 32 years to new premises. Janet has been the person who has ensured that the club is not overstretching itself financially. She has been and continues to be a rock for the committee. She has proved to be an invaluable member of our club in her capacities as Treasurer, committee member and croquet player.
Jean Hargreaves - Bury Croquet Club
It's very difficult to summarise in a few words just what a dynamic and wonderfully caring person Jean is.
She is always willing to go the extra mile in order to help other people achieve their ambitions or complete whatever task is required.
For the last 22 years, I have had the joy of knowing Jean and witnessing at first hand her dedication to helping others and sharing her time and energy with everyone she comes into contact with, both young and old.
According to my records, Jean joined Bury Croquet Club in 1997 and her leadership skills and ability to communicate were immediately recognised when she was appointed as the Club's Press Officer later that same year. This quickly resulted in an immediate increase in our Membership and Press coverage. Croquet suddenly became the 'must play' sport.
Prior to Jean's arrival, our membership had been stagnant for years, but very noticeably as she became involved, more and more players signed up for membership, until such time as we had the largest number of teams entering the North West Federations Leagues. This reflects Jean's personal input into our Club's development.
Jean has held many Official positions in the Club since those early years and continues to play a vital part as a Qualified Coach, Events Secretary and Committee member as well as being the main organiser of our Tournaments.
On a national level, she is the Croquet Association's Safeguarding Officer, which reflect her love of young people and her desire to encourage everyone to treat and respect others.
Brownies, Guiding Groups, Schools, Church Groups, 'Spice-Groups', and many more now regularly visit our Club to play this wonderful game of croquet.
Four years ago it was decided we needed to expand Bury Croquet Club so as to accommodate all those newcomers, members and visitors who wished to play croquet.
The result is that we now have a wonderful additional facility in Whitehead Park. Bury where we have three superb full-sized lawns plus a large Pavilion in which we can play indoor croquet during the winter months or hold Corporate Events, etc.
Jean's influence and determination for us to succeed throughout the whole of this project has been a constant influence on our Committee's decision-making process ensuring that the refurbishment of the pavilion and re-building of the lawns was done to a very high standard.
It's always a joy to watch Jean when she is coaching croquet, especially when she is communicating with young people, her love of the game and the spirit of true human kindness pores out of her, no one is ever a failure, they always succeed in her eyes.
Jean Hargreaves's dedication and work ethic certainly deserve to be acknowledged by the highest honour available.
Jennifer Fugeman - Guildford and Godalming Croquet Club
It is no exaggeration to say that without Jennifer Fugeman, Guildford and Godalming Croquet Club would not be where it is today.
Jennifer served as secretary from 2009 to 2017. Not only is she an extremely diligent administrator, but she also devoted considerable energy to the introduction of club leagues and the management of club competitions. She was instrumental in the club's participation in promotional events such as National Croquet Day and initiated and organised social events for club members, including "Croquet by Candlelight". She has spearheaded the club's online presence including a lawn booking system which she continues to manage to this day.
In the absence of a Chairman in 2013, she effectively ran the club, and continued to play a critical role over the next four years, during a particularly challenging time.
She developed the club's resources, fundraising and sourcing storage facilities, equipment and the relocation and development of new lawns.
In 2014 she undertook her biggest project - obtaining planning permission and fundraising for, then project managing, the construction of our new clubhouse. Tapping into any organisation which might be prepared to donate to the cause, she filled in application after application. She researched and resourced everything from the clubhouse shell to the fittings for the toilet - always ensuring that the club got the best possible value for every pound. As a consequence, we are now able to host major croquet events and have a thriving croquet community.
We are very grateful to her for all the time and effort she has dedicated to the club and would like to see her contribution recognised by the CA.
Marion Williams and Anwen Lloyd Williams - Llanfairfechan Croquet Club
They are daughter, Miss Anwen Lloyd Williams and her mother, Mrs Marion Williams.
Anwen has handled the Club's "Lawn Bookings Calendar" for the last 20 years and has dealt with our visiting groups ensuring that they enjoy the experience and want to come back again for more. Her time and effort ensure a revenue of approximately £1,500 annually which in turn pays for the grass cutting throughout the year. The fact that we only charge £3 a head shows how many non-members pass through her hands.
Her mother, Marion, until recently played her part in coaching the visitors but now, at the age of 90+, she prefers to sit and watch the visitors enjoying themselves on the lawns.
Anwen is our Golf Croquet Captain and our current President whilst Marion was our President during 2002-2005.
They have both been members of the Llanfairfechan Croquet Club since 1992 and being in the baking trade in the past, we have all enjoyed their cakes and puddings at our money-raising events throughout that time. Marion's "summer pudding" and Anwen's tiramisu are to die for!
Rob Weeks - Budleigh Salterton Croquet Club
Rob has been a member of Budleigh Salterton Croquet Club since 2004. He has been Estates and Grounds Manager since 2005.
He is a stalwart of the club and a major contributor to its success. Although he has a very understated approach he has been instrumental in bringing Budleigh Salterton Croquet Club to be recognised as one of the premier croquet clubs with a sufficiently high standard of lawns and facilities to host the European Golf Croquet Championships and Association Home Internationals.
The current quality of the lawns and grounds is mainly due to his stewardship and dedication. He oversaw the development of the lawns through the installation of all the watering facilities some 14 years ago, since when he has managed two groundsmen ensuring that their work continued to win the praise and appreciation of all players and visitors. When the groundsman is on holiday it is Rob who is up first thing in the morning to mow the lawns and prepare them for play. With the groundsman, he has never been shy to roll his sleeves up to help use and maintain the various mowers and other equipment. In every respect, he has been a team player.
As if this was not enough Rob has also involved himself in coaching (He is handicap 2 GC player having converted from Bowls at an early stage). Over several winters he ran a very successful and well-managed GC training course. This inspiration and encouragement of others has resulted in the GC League teams doing well.
In 2018 he was a key member of the Pavilion Development Group to design and monitor the construction and also monitor the financial arrangements of the new pavilion - replacing an old but unsafe building. With his attention to detail - and with the support of Ian Stratford, also on PDG and General Committee, the building has won universal acclaim for its sympathetic design and layout.
Before that Rob also project managed the refurbished clubhouse kitchen in 2011. Since then many caterers have been very impressed and complimentary on the type of equipment and the design. Many forget that on top of his many other skills and contributions he was also the leading spirit on the kitchen.
Rob does not seek official recognition for his efforts though we have tried several times. However, a CA Diploma would be a very fitting recognition of his commitment to Croquet and the club.
Trevor Gill - Charlton Croquet Club
Trevor's enjoyment of croquet began at college in the '60s. During his time as a teacher and ultimately Head Master at East Bridgwater Community School, he passed on his enthusiasm to his pupils on field study courses and continued to play Association Croquet with a small private village club in Stawell, Somerset, for 20 years.
When Trevor moved to Charlton Horethorne his enthusiasm for croquet continued so, in 2006, he founded the Charlton Croquet Club, playing both Association and Golf croquet (in its infancy then, which Trevor had the foresight to learn as a way of involving and interesting more people). The Club initially had 40 members, many of whom were village residents but none of whom had played before. The club played on a neighbour's lawn, punctuated by a large tree, on which Trevor taught every member to play from scratch - no mean feat! The facilities were somewhat limited and Trevor organised the use of a garage and shed adjacent to the lawn for the storage of equipment, mowers etc.
After a few years, and recognising the need for the Club to have a more permanent home and also to improve its facilities, Trevor and his wife, Ann, purchased the land and subsequently leased it to the Club for £1 per annum. This enabled the Club to apply for grants to allow the lawn to be developed into a now three-quarter-size level lawn - with no tree! Trevor and Ann also purchased a neighbour's large summer-house which was moved and is now the clubhouse.
Trevor has been and is still involved in all aspects of the Club and its upkeep and his role and contribution is recognised by the Committee appointing him and Ann as President and Vice-President of the Club respectively. The Club organises an annual Finals Day for the club competitions in both Association and Golf croquet. Trevor initially donated an antique mallet as the main prize but has gone on to use his technical skills to make, in wood, three other trophies for presentation.
The membership of the Club has steadily increased over the years and now numbers in excess of 60. In 2010 Trevor undertook a coaching course with Cliff Jones and became an officially recognised CA coach which enabled him to pass on greater skills in a more official capacity. Trevor is responsible for inducting new members and is currently leading a weekly Association Croquet coaching morning. He is also more than willing to help any member on an individual or collective basis. One of Trevor's inductees is Jonathan Powe, now of England fame.
His passion for coaching continues and is not just limited to Charlton Croquet Club. In partnership with South Somerset District Council, he has given a series of lessons to Kingsdon Croquet Club, a new start-up club, which he continues to support on a regular basis.
All the above demonstrates Trevor's love for the game of croquet and his continued involvement with the Club he founded - Charlton Croquet Club.
---
2018
Diploma Group (L-R): Mike Huxley (Guildford and Godalming), Steve Fisher (Harwell), Mike Russ (Cheltenham), Charles Waterfield (Middlesbrough), David Guyton (Chester), Douglas Gurney (Roehampton), Richard Field (Bishop Monkton), Klim Seabright (Cheltenham), Jill Catt (Dogmersfield), Quiller Barrett (President of CA), Sylvia Steer (Bowdon), Mike Steer (Bowdon)
Peter Stansfield - Northampton Croquet Club
Peter Stansfield has been a member of Northampton Croquet Club since the year after its founding in 1987.
In his childhood, he became fluent in French and Spanish since his father, a banker, was posted to Canada and South America and he attended a French-speaking school. His first job was with a firm of grain importers, later he sold Panther motorbikes, but at 25 he decided to follow in his father's footsteps and joined Barclays Bank. He settled in Northampton after being asked to set up Barclaycard here. He joined the Club after he retired from banking and so became an ideal person to act as Club Treasurer, a role he filled from 1988 to 2007.
Peter has been a stalwart of the Club, not only in his role as treasurer but also in organising and running several of our annual club events. Most noticeable is the Annual Fun Day, where new games involving croquet appear each year. Forfeits for running a hoop might include playing the next shot backwards, playing on one leg etc.
Now in his eighty-eighth year, and with his with Association and Golf handicaps of 4 and 2 respectively, Peter still makes himself available to play regularly for the Club in both league and cup matches, A fairly slow player who takes extreme care with his shots using a technique which involves casting several times, he remains one of the most difficult of players to beat for he never gives up.
Klim Seabright - Cheltenham Croquet Club
Klim was formerly the Secretary of the CA. On leaving that post he became Club secretary at Cheltenham resigning that role in 2017. He has been very effective at getting good publicity for the Club and for the game in the local media and this in turn has led to new members.
He was very involved in negotiations to ensure that catering for lunches at Cheltenham's many tournaments was provided, overseeing the introduction of an outside caterer.
Klim is very involved in coaching- especially of beginners and is a qualified coach and CA handicapper in both GC and AC. His tricks and tips for coaching have been very helpful to other coaches. He is a Graded coach and CA handicapper for both GC and AC.
In 2013 he was asked the by the WCF to go to India to introduce croquet to young beginners.
He has also been involved with various initiatives with the local health and care community to bring croquet to sheltered housing and to healthy living schemes and has also managed to teach croquet to a Duke of Edinburgh Award candidate. He has managed to get croquet into a schools activities week in Summer 2018.
As with so many who keep croquet alive his work has often been unseen.
Mike Russ - Cheltenham Croquet Club
Mike Russ is the sort of member that every club wants, and indeed needs, if its infrastructure is to be sustained. Since he joined the Club Mike has been the member we turn to when something needs fixing. Highly practical and extremely competent he can, and does, turn his hand to almost anything. Our veteran doors have been keep secure with the fitting of new locks and handles, broken mallets are returned to the rack repaired ready for another season and, for years, Mike has coaxed the Club clock to keep turning, renovating the inner workings and, last year, overseeing the fitting of a new face. As befits a retired engineer with a background in machine design, Mike is always willing to try out new ways to solve old problems. He experimented with many different materials to produce corner pegs that were not attractive to the young fox cubs. He has also made skewers, hoop clamps and measuring bars for the hoop setters as well as height-of-cut gauges for the mowing team.
But Mike is not only a doer. He has the priceless gift of engaging with even the most hapless beginner, ensuring that their contact with croquet is always a positive experience. For many years he helped with coaching and acting as a referee at our annual High Bisque tournament.
The saying is that a volunteer is worth ten pressed men - the Club is indeed fortunate to have, in Mike, such a volunteer.
Jill Catt - Dogmersfield Croquet Club
Jill is a founder member of Dogmersfield Croquet Club, which was formed in 2005 at the request of the local Four Seasons Hotel. She was the first secretary of the club and only stood down recently. Throughout this time, she was also social secretary, a position that she relinquished at our AGM this March. Dogmersfield is only a small club with half a lawn on which we play golf croquet and so our emphasis has been on the social side despite playing in two leagues, being on the border of the Southern and South East Federations. Jill has excelled in both positions with annual events such as barbecues and skittles evenings expertly organised. She has made our annual fun afternoon on the last Thursday in September her own. Every year she introduces new croquet games; pirates, race round the lawn, wheelchair croquet, time trial, skittles, clock golf to name but a few together with her legendary teas, to which those fortunate enough to have played a friendly match in our beautiful walled garden can attest (we have to play all league matches away). She is normally the contact for new members giving them a warm welcome and although we have only 39 members 40 people came to our annual dinner last year, expertly organised by Jill of course.
Dedication, encouragement, friendship, inspiration; we commend Jill to the committee to be considered for a CA Diploma.
Charles Waterfield - Middlesbrough Croquet Club
Charles Waterfield has been a key member of Middlesbrough Croquet Club since its foundation 30 years ago.
He has guided the Club through two changes of venue; as Secretary he always keeps an eye on the good order and running of the Club; he does those unglamorous jobs like marking the white lines and liaising with the authorities and ground-staff of Albert Park where we play; he is a strong player, yet unselfishly he is always ready to fit in with doubles or singles games so that everyone enjoys Club days; he gives time to coaching new players and arranges the appropriate tests to ensure they have the correct handicap; and he manages internal Club tournaments and external weekend tournaments.
Living some distance from the lawns, he often makes a special journey just to mark out the lines or to tidy the cabin before a tournament. On the wider front he manages the CA team in their annual match versus the SCA; and he is a strong supporter of Croquet North and of the CA. He has been the Croquet North Federation Representative for nearly two decades, and he sits on the CA Publishing Committee.
All these jobs take time, which he gives unselfishly and unstintingly. Such commitment and loyal service deserve recognition.
We recommend him to the CA for a CA Diploma.
Jenny Biggs - Ashby Croquet Club
Every Club should have a "Jenny Biggs"!
Jenny organises our "taster sessions" for groups of people such as Girl Guides, Lions Club, Women's Institutes, etc. She has a group of willing club members who help supervise these sessions. Jenny often prepares supper for the visiting groups. She has a friendly disposition and is always bright and cheerful. Jenny welcomes new members and includes them in general play. Jenny assists in our "Learn to Play" courses. She manages the "C" golf croquet team for Ashby Croquet Club in the East Midlands League. She includes new and inexperienced players boosting their confidence, her ethos is to do one's best but enjoy and have fun. She is a willing volunteer for club working parties; nothing is too much trouble for her.
She has been a committee member for several years. She is renowned for being Ashby Croquet Club's caterer at events played at the Club. Her meals are legendary!
Martin Wroughton - Ashby Croquet Club
Martin is a warm, friendly member of our Club. He welcomes new members and visitors putting them at their ease and including them in games. He is a Golf Croquet coach - he simplifies Golf Croquet for beginners until they have developed basic skills then starts to introduce more formal coaching. He gently helps them develop and understand the game.
Martin instigated our Winter Croquet League on Sunday and Wednesday mornings enabling members to play in the winter. This proved very popular as Sunday Carvery was booked for after the playing session. He acts as one of the hosts to visiting corporate groups that book evening sessions at our Club. He manages some of Ashby's internal competitions and the Ashby "8" Level heat. He is a member of our Golf Croquet "A" team in the Federation of East Midlands Croquet Clubs league and often plays to represent Ashby in competitions.
When not playing croquet, he is Ashby Croquet Club's groundsman working tirelessly preparing the lawns for us all to enjoy our croquet. He maintains the mowers and other appropriate machinery. He encourages Club members to join working parties to help spring clean before the start of the summer season.
He has been a respected member of the Committee for several years working on development, advertising and promotion.
He belongs to a local history group where he helps with collecting artefacts and articles. He gives talks on the work of the group and local topics. Martin also looks after his granddaughters on a regular basis.
I don't know where he finds the time for all of this!
Mike Huxley - Guildford and Godalming Croquet Club
Having joined Guildford and Godalming as a novice in 2001, Mike quickly discovered the delights offered by the game, winning his first AC Handicap Tournament just two months later. His newfound passion led to the beginning of a long and deep involvement in the running of the club.
He qualified as a Club Coach and Grade 1 Association Coach. As Chairman from 2004 to 2013, he grew the membership from 20 to around 50 by deploying the skills developed over a lifetime of enthusing and encouraging his students. He still runs regular coaching sessions, particularly aimed at introducing newcomers to the game and club. He has been a tournament manager since 2013.
Re-elected as Chairman in 2016, his commitment to the club remains undimmed. Always willing to lead the way in everything from organising working parties to improve the club's facilities, to developing strategies for increasing publicity, he will turn his hand to almost anything (re-fixing the loo seat being one of his specialities!). His commitment to the wider game is exemplified by his genuine desire to regenerate interest in AC.
As a player, he has represented both Surrey and Middlesex in GC and AC Inter-County championships respectively. He was also awarded the CA Merit award for a Triple Peel. He represents the club in league matches and regularly participates in tournaments.
Basically, he is an all-round good egg, and our club would like to see this formally recognised.
Douglas Gurney - Roehampton Croquet Club
Douglas Gurney personifies what croquet is all about; a good-humoured, octogenarian player of GC and AC who, despite using a mallet that has seen better days (the handle is bound up with insulating tape) is amazingly accurate at hitting-in over long distances.
He thoroughly deserves a CA Diploma, not for his undoubted croquet playing talents, but because, since joining Roehampton to play croquet over 30 years ago, at different times he has served as both Captain and Chairman, is a qualified handicapper for both GC and AC, and is a meticulous manager of competitions and tournaments. This includes organising AC events throughout the winter months where, often in bitter cold and with winds that rock the balls, he remains positive and cheerful. He has always gone out of his way to welcome and encourage newcomers to the section, patiently showing them the ropes.
In short, Douglas Gurney has played a key role, over many years, in helping croquet at Roehampton to flourish as well as being a superb ambassador for all that is best in croquet.
The CA Diploma was surely invented to thank people such as Douglas Gurney.
Mike and Sylvia Steer - Bowdon Croquet Club
Mike and Sylvia Steer joined Bowdon Croquet Club in 1996 and 1997 respectively and have both made a valuable contribution to the club. They have both been captains of several club teams and on winning teams in both Longman Cup and Sylvia in the Secretary's Shield team. They have used their knowledge and skill to help with coaching on Taster Days and Beginners' Courses for many years.
Sylvia's keen interest in gardening and cooking has meant that she would often be seen tidying the borders and helping with catering for tournaments and other club events. She is also responsible for the ordering and distribution of club white clothing.
One of Mike's greatest contributions was in his role as editor of 'The Bowdon Clang', a quarterly 'magazine' devoted to keeping members informed of not only what was going on within the club but in the world of croquet in general. This was a huge commitment; which Mike undertook from January 2002 until October 2010. His latest projects have involved making videos of major National events held at Bowdon, which he has posted on YouTube
Over the years Mike and Sylvia have welcomed many visiting players to stay at their home. They have also supported tournaments both in the UK and abroad over many years, most recently on the Isle of Wight.
Frank and Janice Moir - Bowdon Croquet Club
Frank and Janice have been members of Bowdon Croquet Club since 1999. Both have successfully played in class and knockout events. In addition, they have represented Bowdon in club teams competing in the North West Leagues. Frank has also been a past member of Bowdon teams that have been successful in CA competitions.
Frank and Janice have regularly helped with:
Supporting Coaching on Taster Days and Coaching Courses.
Tournament catering
Social events.
Providing accommodation for visiting players, some International, coming to Bowdon for Tournaments.
Maintaining the Clubhouse - from emptying the dishwasher to cleaning out the huts and ensuring the bar doesn't run out of beer.
In addition to the above, they have provided floral displays outside the clubhouse in both summer and winter.
Frank and Janice always make themselves available to offer friendship and support to new members whilst also concerning themselves with the welfare of sick and older members. They have made an invaluable contribution to the promotion of croquet and the success of the Bowdon Club.
David Guyton - Chester Croquet Club
I would like David to receive a CA diploma for services to Chester Croquet Club. David was Chairman of Chester Croquet Club from 2004 to2015. During this time he oversaw major changes in the Club, the lawns and the public Park in which the club is situated. David has been an outstanding leading member of the club over many years. His notable achievements are
Bringing a comprehensive management system to the club during a period of major expansion. Not only were roles managed to meet the needs of the club but he established a culture of willingness amongst members to do" their bit for the club" As well as Chairing the Committee for 11 years with all the normal duties that requires he initiated an annual planning evening where all members can raise issues and put forward ideas for the future of the club in a highly democratic manner. He continues to publish and manage a comprehensive annual calendar of matches and events.
New clubhouse and 25-year lease. In 2008/09 we had a new clubhouse which made a huge difference to all the members and potential members. David was instrumental in persuading the outgoing City Council to provide this clubhouse. He then painstakingly negotiated the long-term lease to secure tenure for the club.
Liaising with the Local Authority, a role he still performs for the club. This is probably the most thankless and frustrating task a club member can undertake. David has sent hundreds of emails to the relevant council officials not just ensuring that the council fulfils its obligations to the club in lawn maintenance but driving officials to install a lengthy new fence. David tracks down the correct officials and councillors, organises meetings, explains the issues, and forces them into action by never giving up pestering. A prime example this year has been lawn watering. The lawns have been in grave danger from the drought without a sprinkler system. Over months officials have been stalling, giving excuses and doing nothing. David cut through all their objections, organised members to provide a working party to help the grounds-people and finally achieved daily watering of our lawns.
Club Website. David taught himself the skills required to build a new website for the Club. He has completely authored the club website and is still a major contributor to regular updates. This required many dozens, if not hundreds, of hours dedicated to the single task.
Contribution to the North West Federation and the CA. David has ensured that the club has played a full regional role. Under his encouragement, the club hosts NW and National tournaments each year. David produced a new data protection policy for the club which was then taken up by others in the North West. He co-authored the note on roles within the CA to stimulate a more thorough approach to effective governance.
Steve Fisher - Southern Federation
As a key member of National Development Officer Dave Gunn's 'Federation Working Party on Marketing', Steve took on a lead role in the design and development of a free of charge, centrally hosted and administered club website template.
This offering aims to help the nearly one hundred clubs that currently have no web presence, to 'get online' and improve the effectiveness of their marketing to potential new members.
Steve led the selection of appropriate design software and hosting environments, the testing of early versions of the template and is currently supporting an eleven-club pilot with a view to a full launch later in 2018.
Plans for a Federation version of the template are also in hand.
The project has consumed many hours of Steve's time and his efforts are much appreciated.
Richard Field - Bishop Monkton Croquet Club
I would like to nominate Richard Field of Bishop Monkton Croquet Club for a CA Diploma. I have been a member of the Croquet club since its inception in 2008, and have seen it grow and thrive under Richard Field's leadership. His determination and enthusiasm have never wavered and has enabled the Club to benefit the lives of the 61 members who regularly use the greens. I believe he has given exceptional service to the club. In 2008 Richard Field founded, on rough agricultural land with no facilities and borrowed equipment, the now successful 61 member club with its excellent lawns.
As Chairman since its inception, he works tirelessly, often behind the scenes, to make the club what it is today. He is lucky to have the full and active support of a hard-working committee. Amongst his most obvious achievements have been spearheading fundraising for a new clubhouse, raising £17,500 for ground improvements after continual flooding, and raising membership.
The club plays in the Yorkshire Federation League and hosts two tournaments. Richard edits the village website which includes a comprehensive croquet section and spearheaded moves to gain Royal recognition for the ground, safeguarding Croquet here in perpetuity.
Stewart Newman - Sapcote Croquet Club
As per your article in the June/July 2018 Croquet Gazette I wish to nominate Stewart Newman for a CA Diploma. As there is a restriction of approximately 100 words it is difficult to list every job that Stewart carries out on our behalf but he has created a very friendly and social Club and we think he thoroughly deserves recognition.
Four years ago Sapcote Croquet Club was operating with just four "active" members and we decided to close.
Stewart arrived and brought with him 16 U3A members most of whom are now full members
Due to age and ill health we lost our Chairman and Groundsman. Stewart now carries out their duties.
Has Introduced our first Constitution/website.
Has gained Club Coach Status.
Is working towards his Grade 1 AC badge
Has rebuilt our storage area and made new kit carriers
Introduced AC both outdoors/indoors(winter) - 12 players taking part
He is our first honorary President.
We are celebrating our 30th Anniversary this year all thanks to Stewart
James Hawkins - Development Committee
As a key member of National Development Officer Dave Gunn's 'Federation Working Party on Marketing', James has produced an excellent 'easy to use' guide that aims to help the large number of clubs with no social media presence to make a first step by creating an effective Facebook page. Facebook is an excellent way to reach the much sought-after demographic of 30 to 50 year old's, something that should be of interest to many clubs as they look to increase and broaden their memberships. James also supported the club website template offering by producing a similarly 'novice focused' set of documentation to help newly appointed club webmasters get to grips with the possibilities.
The many hours James has invested in these projects are much appreciated.
---
2017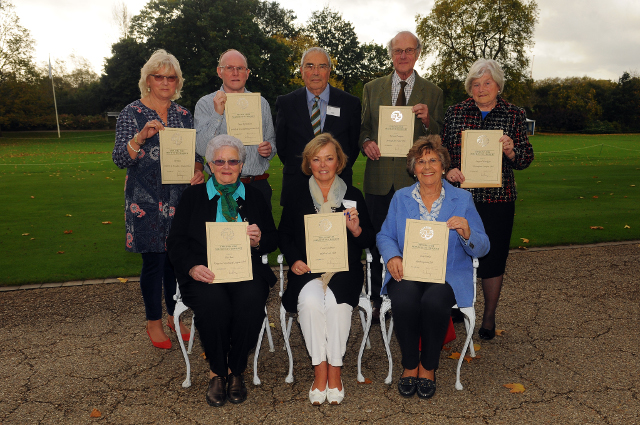 Diploma Group (L-R): Mo Boys (Camerton and Peasedown), Tony Mrozinski (Guildford and Godalming),
Quiller Barrett (President of the CA),
Michael Finnigan (Nottingham), Irmgard Finnigan (Nottingham),
Tess Burt (Kingston Maurward),
Frances Colman (Phyllis Court), Jean Oades (Roehampton).
Mo Boys - Camerton and Peasedown Croquet Club
Following several years at Lansdown Croquet Club, during which the membership doubled and outgrew the facilities, Mo Boys spearheaded the creation of a new Club at Camerton and Peasedown which launched in 2012. She has been an inspirational Chairman: her phenomenal hard work and commitment have resulted in the establishment of an inclusive, friendly membership. She has dedicated time and skill to coach players in the Club and, for over a decade, throughout the South-West Federation. She has pioneered the development of AC within the Club and achieved significant personal success.
Beside croquet, her artistic talents and practical skills are diverse: she designs wonderful posters for our activities and created our Club logo. As a skilled carpenter she has made numerous ingenious storage facilities for equipment. She organises and leads our monthly work party maintaining the Club grounds, equipment and buildings.
She has played a prominent role in our outreach to the local community, inviting groups from different organisations to spend an afternoon or evening experiencing croquet with us. She has devised various croquet-based activities for use at local fetes.
Camerton and Peasedown Croquet Club would not be known as it is today for its welcome and hospitality without her dedication and inspirational example.
Tess Burt - Kingston Maurward Croquet Club
Tess Burt has given outstanding service to croquet for almost thirty years, both at her home club but also further afield. Her primary contributions are extensive coaching, enthusiasm and encouragement for club and AC and GC game development, and raising interest overall. Tess sets high standards vis-a-vis match discipline and fairness; she is a qualified GC referee.
Tess joined KMCC in the late 1980s, about the time the club was founded. She took up AC shortly afterwards. In the 1990s she was an active member of the KMCC Committee, and has frequently represented the club at the SWF AGM.
She coached extensively both at KMCC and at East Dorset Lawn Tennis and Croquet Club, where for many years she ran an annual tournament for GC high handicappers. She also coached the Somerset WI ladies, who now run an annual, regional tournament. Tess also regularly held coaching and training sessions at Denham College in Oxfordshire (the WI's UK educational establishment). She helped set up the Wareham croquet club.
Tess continues to be an enthusiastic and selfless ambassadress. Having celebrated her 80th birthday, she is still playing in UK tournaments, is captain of the KMCC GC Level-Play Team, and runs an annual Dorset WI competition.
Frances Colman - Phyllis Court Croquet Club
Frances Colman has been at the heart of the Phyllis Court Croquet Club for the last nine years, during which time the club has transformed from a generally social-croquet-only club into one where a competitive element now runs through all levels of ability.
Frances' potential as a croquet organiser was spotted quickly and she was invited to serve on the Club's committee in only her second year in the sport, willingly accepting the Golf Croquet brief.
She has organised beginners training that has seen over half the Club's current 150-strong membership pass through introductory classes. She quickly introduced GC handicaps for all members where previously there had been none and this then allowed competitive play in ability-based classes to be brought in. By the start of her second year in the post, the number of season-long competitions had doubled, the first Singles play one-day tournament had been introduced, and, thanks to Frances' encouragement and enthusiasm for competitive play, members flocked to fill everything new that was offered.
Under Frances' stewardship, competitive GC has blossomed, producing regular CA tournament circuit players and Club teams that have reached Inter-Club competition semi-finals, and a final in which she captained the team.
Irmgard Finnigan - Nottingham Croquet Club
Michael and Irmgard Finnigan are stalwarts of the Nottingham Club; Michael since 2001 and Irmgard since 2007.
Irmgard is a highly valued club member who will retire from her task of catering coordinator at the end of the 2017 season. She has transformed the club's catering in recent years, gaining praise on a regular basis on the quality of the club's tournament catering, with splendid and varied meals with just that extra touch. Many are in her debt for such gourmet delights.
Irmgard has served on the committee for several years and currently heads a working party putting forward plans to refurbish the pavilions. A good GC player, she has organised federation league matches for many years and is now learning to play AC.
Michael and Irmgard both starred in a short video made earlier this year, talking about how croquet helped to improve their relationship and the enjoyment of doing something together in their senior years. It can be seen on the Nottingham website.
Michael Finnigan - Nottingham Croquet Club
Michael is a highly accomplished woodworker who has used his skills to design, build and maintain lawn huts, hoop trolleys, stop boards, kitchen work surfaces, cupboards and trophy bases. He's also the man to call when repair work needs to be done: he's particularly renowned for over-boarding hut floors and clearing blockages in the toilets! He instigated a range of club clothing, served on the committee for many years (where he still helps with never-ending rent reviews) and has been known to do a mean barbecue in August Week. He is an AC referee and a stalwart member of the many Longman Cup, Secretary's Shield and Mary Rose Teams.
Michael is always an eager volunteer, who just gets on with the job in hand, and a true gentleman to the core.
Philippa Fortescue - Lym Valley Croquet Club
Philippa has worked tirelessly for the Lym Valley Croquet Club for over ten years. She has held the posts of Hon. Secretary and Hon. Treasurer, and at times both roles, for a number of years and has been an enthusiastic supporter of the club, helping to recruit and teach new members, publicising the club, and helping to maintain the appearance of the lawns with her gardening skills.
Ron George - Cornwall Croquet Club
Ron joined Cornwall Croquet Club at its first Open Day in July 2005. Soon becoming the only expert in Golf, he had little choice but to assume the roles of its Manager, Organiser, Publicist, Handicapper, Coach, Referee and Lord High Everything. He took on the role of club Chairman in 2008. These roles were in addition to playing a full part in Club practical matters such as lawn improvement, fencing and general maintenance despite living at a considerable distance from the Club.
His great enthusiasm for the game and the club has him playing in various South West Federation GC and AC leagues. Ron qualified as a GC referee in 2007 and in 2011 he was a referee at Hurlingham for the Golf World Championships.
In 2014 he was instrumental in the formation of a new club, at his home in St Agnes, where he was Chairman until March 2017 and is now President.
Peter Gunn - Merton Croquet Club
For more than twenty years, Peter has worked tirelessly for Merton Croquet Club. He has been Club Captain, and has served two five year terms on the Committee, first as Secretary and later as Chairman of the Club. During this time he regularly hosted the club's annual barbecue at his home. During the winter he keeps us on our toes with social events, including imaginative quizzes.
He has been Club Coach for many years and almost half the members have learned their croquet skills from him. He is very supportive and encouraging to all members. Now he is mentoring two new Club Coaches.
Currently he the Club's Handicapper, Fixtures Secretary and Competition Organiser. This means that he organises the Club's internal leagues as well as many club competitions, especially in spring and autumn. For several years he has organised the heats for the Charity One Ball in spring, introducing many to One Ball and raising hundreds of pounds for charity thereby enabling several players from our small club to progress to the finals.
Diane Kemp - Winslow Croquet Club
Twenty five years ago Diane Kemp got together a group of fellow WI members to play croquet in her back garden and this was the origin of the Winslow club.
As interest and expertise grew, she badgered and cajoled Winslow Town Council into making available a plot of land at the corner of the sports field and building a small store.
Twenty five years later, the club is still there and going from strength to strength.
She has coached most club members, mostly with patience, but sometimes with exasperation, encouraged us to play friendly and league matches and made sure players had the confidence to join in competitions such as Ladies Day at Thames Valley. She has also introduced inventive club competitions. She has continued to fundraise for improvements to the lawn and store and encourages office holders to continue to develop the club.
Now in her 80s, she only gave up her role as chairman last year and still plays with as much focus and skill as ever. She now makes sure some of the original members with mobility and sight problems get to play once a week on a short lawn and continues to organise her beloved club competitions to encourage all club members to learn and improve.
Peter Kenward - Colchester Croquet Club
Peter Kenward has been a member of Colchester Croquet Club for a number of years and always represents the club in the best possible manner in the many internal and external competitions in which he has played. However the reason for his nomination for a diploma is the hours of work he has put in to make the lawns and grounds some of the best in the country. He has personally tended the lawns, supervised the contracted groundsmen and ensured our neighbours are minimally inconvenienced. He has worked tirelessly to ensure the lawns are ready for play during competitions and received many expressions of thanks from external competitors for making the competitions memorable for the quality of the playing surface.
Additionally he is often to be seen carrying out essential maintenance to buildings or machinery, including the dishwasher or changing a light bulb! In short, Peter Kenward is essential to the smooth running of Colchester Croquet Club and the maintenance of its renowned good lawns.
Janet and John Leech - Rottingdean Croquet Club
Thirty five years ago John and Janet Leech were sitting at a meeting of Rottingdean Preservation Society who, having stopped the building of houses on the picturesque large walled garden of the home formerly owned by Rudyard Kipling, were considering what use might made of the area.
The Chairman put forward the suggestion of using it as a croquet lawn and asked the question "Is there anyone who would be interested in exploring the development of this area as a croquet lawn?" Janet Leech, who knew nothing about croquet at all, raised her hand.
Janet and husband, John, promptly went on a course at Loughborough College to learn how to play Association Croquet and returned to Rottingdean and formed Rottingdean Croquet Club which is now a thriving Club with 53 members and a long waiting list.
Janet and John have held various positions at the Club over the years and are both still honorary members with Janet being our President. They still both attend as many events at the Club as they can.
Rottingdean Croquet Club exists as a direct result of Janet's decision to raise her hand and, and both she and John have given dedicated work to the Club over thirty five years.
Vaun and Eunice Legerton - New Maldon Croquet Club
Some years ago Vaun and Eunice Legerton, together with a small group of like-minded croquet players, recognised that there was a potential demand for people in the Maldon area to experience and develop the game of croquet. As a result of their labours, Maldon Croquet Club was founded in 2011 with Vaun elected as an inspirational Chair. Vaun and Eunice were at the centre of the fledgling club's applications to play on local playing fields and for funds to procure essential equipment.
Vaun and Eunice recognised the importance of developing a club which welcomed all regardless of ability but which encouraged a sporting and competitive culture. To that end they presented the Legerton Trophy to the Club to be played for by all members on the annual Club Day which they have organised every year.
They continue to play very regularly on roll up days, encouraging members of all abilities and regularly referee and time-keep at the Club's matches with visiting clubs showing a very clear understanding of CA rules.
Tony Mrozinski - Guildford and Godalming Croquet Club
Put simply, Guildford and Godalming Croquet Club would not exist without Tony Mrozinski. He founded the club in the mid 1980s, borrowing some space from the local rugby club, and served as its first chairman for about 20 years. The club has evolved over time and now features four lawns and a clubhouse, Tony being actively involved in every development.
He is a prodigious mower of lawns. A conservative estimate would put the distance he has walked behind a mower, over more than 30 years, at around 4,000 miles - it could well be much more. Added to that are the white lining, hoop setting, general grounds maintenance, etc. That speaks of commitment of the highest order. His regular tournament management activity and the fact that he maintains low handicap performance in both Association and Golf forms of croquet are evidence of his input to the club across the whole spectrum of its activities.
The club has acknowledged this contribution locally by appointing Tony as Hon. President.
Rita Nunn - Southern Federation
Rita has served on the Federation committee for over ten years as Treasurer, a task which is far from straightforward given the infrequency of meetings and the different ways member clubs handle their finances. The Federation is particularly indebted to Rita, who having first retired before the start of the 2016 season for more family time, answered a distress call to return, when her replacement as treasurer sadly passed away within months of taking office. Rita didn't have a moment's hesitation in helping the Federation out in its hour of need by taking on the Treasurer role again for the remainder of that year.
Rita has also been an equally vital part of her own club, Winchester.
Not only has she over the years served on the committee as Chairman, Treasurer and Secretary, but has also devoted much time to coaching beginners and managing tournaments at Club and Federation level.
Jean Oades - Roehampton Croquet Club
Jean joined Roehampton Club in 1989 to play bridge and croquet. She immediately became an active club member, not only playing croquet and encouraging other people to do so, but tirelessly volunteering to do all the small things that make a club a success. She became a committee member in 2006 and served as club captain for three years, 2009 - 2012, responsible for everything to do with playing and equipment. She was busy, not only organising all the internal and external matches, but also promoting golf croquet. It was not uncommon to have over 50 players enter an event. Undaunted, Jean would always use the format that was best for all the entrants, never taking the easy option. Once she cheerfully organised an event with 11 American blocks, followed by play-offs.
Jean played a key role during the design and building of the new pavilion. She advised on the interior fitting of the pavilion and, after it opened in 2010, she ensured that the building ran smoothly.
Jean is one of those people that every club needs; enthusiastic, kind and cheerful. If croquet had saints, Jean would more than qualify.
---
2016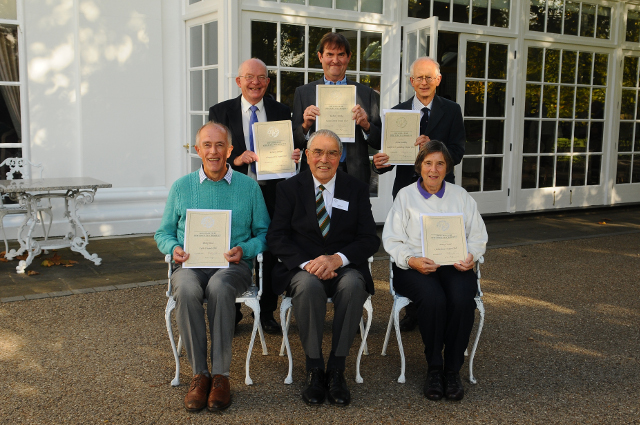 Front (Left to Right): Peter Dowd, Quiller Barrett, Penny Crowe; Back: Richard Henkins, Richard Brooks, Arthur Linley
Philip Bass - Fylde Croquet Club
Philip joined Fylde Croquet Club in 1997 and has proved invaluable to the development of the club at its new site within South Shore Tennis Club. The Club started with three neglected tennis courts and one small 12' by 10' shed. Flooding was a major problem. Philip more or less single handedly dug a 68 yard ditch to drain water from the blocked underground clay pipes to a culvert in the road. He supervised the dismantling and erection of a new larger shed bought from eBay and designed, supervised and, with help, built a very secure awning which has withstood the coastal winds admirably. Recently he has plumbed water into one of the sheds. Philip also maintains the machinery and has designed and built a tiner from an old mower.
Philip mows, strims and maintains the lawns and surrounding areas. It is hard to convey the effort and graft Philip has put into the club. Being able to advertise and run a CA Tournament with no fear of cancellation due to weather, having suitable facilities to cater for visitors and to know the lawns are the best we can offer requires confidence in the club and Philip has provided us with all this.
Richard Brooks - Sussex County Croquet Club
A regular on the tournament circuit, Richard is a leading GC player and SCCC's GC Captain. He has always been very encouraging to up-and-coming GC players and has organised a Monday afternoon low handicap session at Southwick for many years which has greatly contributed to the club's strong performance in the SECF leagues.
Putting his engineering background to good use, Richard has for many years led Southwick's lawn lay-out and hoop-setting team and he has built a bespoke hoop-lifting device which was featured in the Gazette. Richard has also put in many days' work in flattening the approach areas to hoops before the recent lawn renovation programme.
Penny Crowe - Cheltenham Croquet Club
Penny Crowe joined Cheltenham Croquet Club in 1992 and in 1998 she became Press Officer, a post she held for nine years, three of which overlapped with her position as Secretary of the Club. The club lacked a proper health and safety policy and Penny set about correcting this omission. The template, which she designed, is still used today. She also introduced the club's Accident Book and also a system for reporting health and safety matters.
In 2002 Penny became a club coach and also a referee. Many club members owe their start in the sport to Penny's careful coaching. She has also refereed many tournaments. In spite of all that she was already contributing to the club, Penny next volunteered to manage many of the club tournaments including the popular Croquet/Bridge Tournament. Penny has also volunteered to help with tournament teas, reports to the local newspaper and reports for the CA Gazette on many occasions.
Lorna Frost - Bowdon Croquet Club
Lorna Frost joined Bowdon Croquet Club in 1997 and quickly established herself as a very capable and able manager of many things. She joined the Club Committee in 1999 and in 2007 became its Chairman, a post she still holds.
On the sporting front, since 2000 she has successfully managed the weekly club summer midweek competition with a flexible format system that caters for between 2 and 40 players. The fact that the competition has become so popular with the membership is testimony to its inclusiveness and her personal friendly approach. She has also found time to manage other Club events and numerous CA Calendar annual events including the "May Handicap", "Northern Week" and "B Class Tournament" held at the Club over the years.
If this wasn't enough to keep her busy, she has undertaken the role of Captain of various club teams, has played a prominent role in coaching at the Club, assisted with coaching within the North West Federation and providing and organising catering at Club events which has met with much acclaim from visiting players, officials and spectators.
Lorna continues to do all of these things in a friendly and jovial manner with a resultant valuable contribution to the sport, especially the Club.
Richard Jenkins - Hamptworth Croquet Club
Richard Jenkins set up the GC Winter Series in 2009 and as was highlighted in a Gazette article, he grew something from nothing. Initially the winter series was two lawns for eight players but increased rapidly with popularity to four lawns for 16 players on both days of a weekend each month through the winter. It is now booked fully, well in advance, as players find it so beneficial to have a competition through the cold dark days of winter.
Richard has managed the tournaments brilliantly, coping with extreme weather and also the vagaries of the Hamptworth Club House. He is attentive to players' needs and tries tirelessly to provide a good day. He has now completed over a hundred tournaments.
The successful winter series led onto the C-Level Spring and Autumn competitions from which the B-Level competition was born. Richard then managed the first National B-Level GC competition at Hamptworth in 2013.
Richard thoroughly deserves public recognition for his dedication and committed hard work for the game of croquet by setting up and running the GC Winter Series.
Betty King - Norwich Croquet Club
Betty joined the Norwich Croquet Club in the late 1980s and was one of a small small group of players who kept the club running, serving on the committee and taking turns as secretary or treasurer. Betty was involved in the Short Croquet Country Houses initiative in the east. Betty then ran a GC course at the WI's Denman College, also running courses for the WI at Norwich and began to build a Golf Croquet Section for the Club. Through her dedication, these small beginnings grew into a thriving section that now outnumbers the AC players. As a GC referee, club coach and handicapper she enthusiastically organised the Club's GC matches, internal tournaments and managed the league teams for many years. She began the 'Spring Lunch' with its fund raising raffles.
Without her efforts in building up the Club's membership and funds over the years, when problems with a sudden increase in the cost of Lawn hire began, a smaller club might well have folded. However, with the help of a CA Grant and the strength of the members, mainly recruited by Betty, Norwich Croquet Club has survived. Now in its new location, Norwich Croquet Club, once again, has a real future.
Norwich Croquet Club elected Betty King an Honorary Life Member some years ago as a mark of the respect the members have for all her work and the many efforts she has made for and on behalf of the Club over more than 25 years.
Arthur Lindley - Guildford and Godalming Croquet Club
Since 2009 Arthur Lindley has made a genuinely massive contribution to the development of the club, concentrating on the improvement of the condition of the lawns - this going hand in hand with the need to relocate three of the four lawns, two being freshly laid and one being converted from a redundant bowling green. He researched all aspects of lawn care and maintenance and was the driving force in implementing a lawn improvement programme. The results of this have attracted much positive comment from visiting players, notably during Tier 3 of the recent GC World Team Championship.
Arthur's commitment goes further: he masterminded the construction, by club members, of a robust and well-designed 80m fence to separate the croquet lawns from the rugby pitches and hundreds of metres of much-needed rabbit-proof boundary fence. He is in charge of the club's growing collection of equipment, servicing and maintaining usable items, sourcing replacements for redundant items and keeping everything ticking over. Despite all of these activities, Arthur still finds time to be an active AC player - in club competitions, matches and CA tournaments, and manages an AC winter club competition for which he made the trophy. He is universally liked and respected for the impetus he has given to change at the club as it had to adapt to new circumstances and for his extraordinary level of commitment.
Eileen Prodger - Sussex County Croquet Club
Eileen works very much behind the scenes at Sussex CCC. She spends time in the Club's gardens throughout the year keeping the borders bright and cheerful and also helping with the major gardening tasks in the winter.
She is part of the catering team and cooks up excellent meals as well as providing home grown fruit and vegetables from her own garden. She also makes jam for sale to help the club funds.
Eileen is a regular face at the Club's golf croquet roll-ups, plays in league teams and a great supporter of Sussex CCC in all areas.
Walter Sanders - Middlesbrough Croquet Club
Walter has been a member of Middlesbrough club since its inception in 1988. When the club moved from Ormesby Hall to Prissick base in 1998, Walter was instrumental in ensuring there was adequate storage for the club's equipment within the existing pavilion. When the club was on the move again to Albert Park in 2006 it acquired a burnt-out wreck of a portacabin container to use as a secure equipment cabin near the lawns. Again Walter organised a team of club members to refurbish it and produce a highly versatile storage and clubhouse which has been nicknamed 'the Tardis' because of its ability to provide so many facilities. Walter maintains all of the club equipment, repainting hoops and pegs annually as well as the Tardis when repairs are required. Without his stalwart efforts, the club would be much the poorer.
It should perhaps be added that Walter also organises an annual four-day visit in early December to Cober Hill (near Scarborough), transporting all the club's indoor carpet croquet equipment and setting it up in a hall, for members and friends to enjoy during their stay.
Mike Tracey - Nailsea and District Croquet Club
Mike started to play croquet in 2006. He quickly became involved in Club life in a wide variety of activities. He became team captain, organising the squads for the league teams; became the hoop-setting team leader and became club chairman for three years. He then took on the role of treasurer. Mike has produced detailed spreadsheets which gave the Committee a much deeper grasp of the accounts. He is now a qualified AC referee and he manages the annual C Class Advanced Tournament at Nailsea.
A few years ago, Mike ran bridge classes for beginners, forming a group who play every week making a valuable contribution to the Club coffers. As if all the above were not enough, Mike offers his house and refreshments for Committee meetings, his garden and barbecue for fund-raising parties and has also organised quizzes. When his wife, Liz, produces a spectacular tournament lunch, Mike is always there to act as assistant. Mike takes a full part in all Committee discussions and constantly has the best interest of croquet and the Club at heart. He has been the driving force on many issues and his contributions to the set-up and maintenance of the Club website are typical of his integrity and determination.
---
2015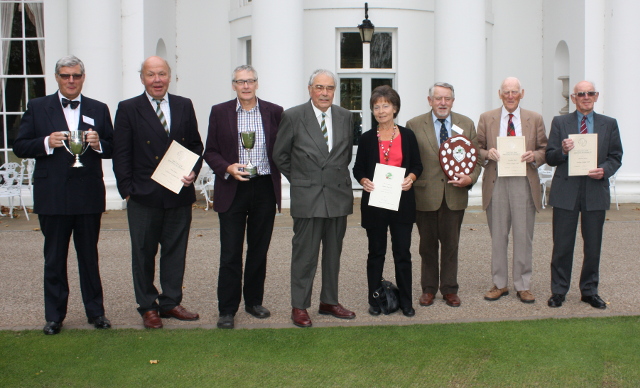 L to R: Brian Wilson (Camerton and Peasedown), Chris Sheen, David Warhurst (High Wycombe), Quiller Barrett, Janet Hoptroff, Brian Shorney (Budleigh Salterton), Stephen Read, Bernard Jones
(Photo: Chris Williams)
Russell Barter - Cheltenham Croquet Club
Russell is one of those invaluable members who quietly goes about his business, spots a problem, and immediately does something about it. For many years now Russell has patrolled the lawns ensuring that litter is cleared from pavilions and liaising with the club cleaner to ensure the club is in pristine condition when members and visitors arrive. He also supervises the annual spring clean. It can almost be guaranteed that Russell s name will be at the top of any working party list. There he will be, immaculately dressed, shovel in hand, clearing club boundaries or repainting a pavilion.
Russell oversees the afternoon sessions of social Golf Croquet and is the captain/organiser for the South West Federation GC handicap team. He persuaded Cheltenham Croquet Club to be proactive about the re-birth of Golf Croquet at the club, which was last seriously played in the 1960s. Mainly through his enthusiasm, the club now has a core of about thirty Golf Croquet players. He has recently attended a course for those wishing to become a coach. Russell is a quiet man with energy and enthusiasm. He has made a major contribution to the club, not only with his time but also with material from his own resources. He celebrated his 90th birthday last year.
David Haslam - Colchester Croquet Club
David Haslam joined Colchester Croquet Club in 1980, was Chairman 1997-2003 and again from 2005-2009. He served as Secretary from 2001-2003 and has been Tournament Secretary since 2013. David has always done much more than expected of any office holder and spent many years keeping an eye on the care of the lawns. His speed of play is legendary following his being taught to play during his lunch hour from his work at the nearby Examination Centre! He has now moved to live near his daughters in Ely but remains a Far Country member and returns often to manage tournaments.
Bernard Jones - Woking Lawn Tennis and Croquet Club
Bernard has been a member of WLTCC since 2002 joining at a time when the club played almost 100% association croquet. At the same time, there was an influx of new players who were keen to try out Golf Croquet, Bernard was persuaded to become ' golf captain' and started arranging club sessions and organising handicaps. At the end of 2003, he was invited to join the Croquet Section committee and in 2004 he took over as section secretary. He retired from that post 10 years later having never missed a meeting! Bernard worked conscientiously as secretary with the committee duties sending constant reminders of all the social events, of which there are many. Bernard also compiled 3 or 4 newsletters a year to keep the membership in touch with croquet matters. He has been a peerless secretary over the last ten years and was much appreciated by the whole membership. Bernard qualified as a coach and has spent many hours over the years coaching both AC and GC encouraging all beginners to appreciate the pleasure of both games. Bernard continues to be a strong member of the coaching team at WLTCC.
Paul Pristavec - Dyffryn Croquet Club
Paul Pristavec joined Dyffryn in 1988 and in the past 27 years has given inestimable service to the club. He has organised the club s fixtures for many years and has been Chairman twice. The club secretary since 2007, Paul is at the centre of the club s organisation which goes without a hitch, and he has proved adept at liaising with the club s new landlords, the National Trust. He is also very generous with his time to help lay-out lawns, assist with the obligatory open days which the club has to provide as part of its lease, and takes part in many fixtures himself as a team member. His contribution is Dyffryn has helped the club for more than a quarter of a century.
Stephen Read - Fowey Croquet Club
Stephen Read joined the Fowey Croquet Club in 2003 and then the Cornwall Club a year later. He was immediately involved with the upkeep of the club machines at the latter club and has devoted hundreds of hours to equipment and grounds maintenance. He has made himself indispensable as maintainer and operator of the lawn-maintenance equipment used for the expanding club facilities. It is true to say that, had it not been for Stephen s experience and devotion, the club would have been hard-pressed to keep the lawns in their current fine condition. He is a member of the club Technical Committee, to which he contributes much good advice and information. He has been known to make parts for mowers and other devices and finds many useful items through the Internet. He is a keen photographer and can always be seen recording croquet action for posterity. He and his wife have produced and maintained photographic records of the club s many activities. He is always keen to help with the development of new players to the game and encourages them to extend their experience in various ways. He somehow manages to find time to play both croquet codes and has achieved a very-good level in each. He has, and still does, represent the club in several Federation Leagues and has entered several CA Tournaments.
Richard Sanville - Ashby Croquet Club
Richard Sanville was one of the founder members of Ashby Croquet Club and was a member of the winning Secretary s Shield team in 2010. He has been the club Treasurer for over fifteen years and has performed that role with the utmost efficiency. He has also designed the club website and has maintained for around 10 years. He is the driving force behind the organisation and execution of the club s learn-to-play courses and as a result of his efforts the club has gained many new members. Richard is always pleasant and cheerful and is a driving force behind the success of Ashby Croquet Club.
Chris Sheen - Colchester Croquet Club
Chris Sheen joined Colchester Croquet Club around 1976 as a young, professional chartered accountant. He quickly established himself as a most competent player of what we now call AC. Following the retirement of the club treasurer at that time Chris was appointed Treasurer in 1983 and served with distinction for 30 years without a break.
During that time he managed the club s finances through a period when the club was struggling. Chris resigned as treasurer in 2014 and was then elected Chairman of the Club, a position he still holds. Over recent years Chris has done much to promote Golf Croquet and he is now in the ranks of the senior GC players in the country.
Fred Smith - Church Stretton Croquet Club
Fred Smith founded the Church Stretton Croquet Club in 1992. He invited anyone in the town interested in playing croquet to meet at the Long Mynd Hotel. Around fifteen people came and Fred explained that the hotel lawn was available, the West Midlands Federation would loan the necessary equipment, and that he had obtained a copy of the Constitution and By-laws of another croquet club which were adapted for Church Stretton.
Fred organised a working party to get the lawn into a playable condition, persuaded the hotel to keep the lawn mown, marked it out, and play soon started. He arranged a monthly ladder, a knock-out competition plus club afternoons. By the time the hotel reclaimed the lawn for building purposes in 2005, the club had become well established and the success of the Club in its early years was entirely due to Fred s initiative. Without Fred s enthusiasm the thriving Club as it is today, with two lawns in the town park would not exist. Fred still continues to coach beginners and remains an active member of the club.
---
2014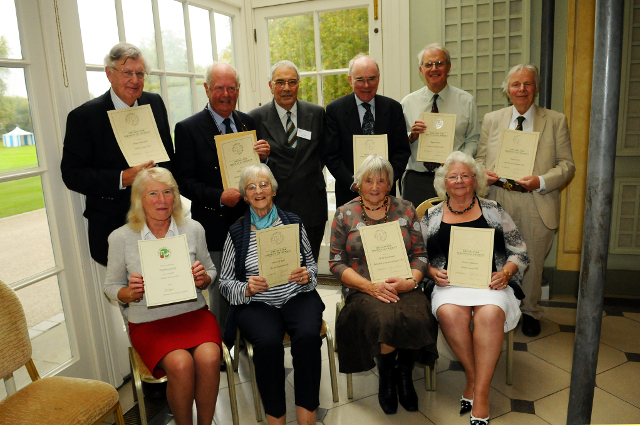 L to R: Brian Bucknall, Daphne Gaitley, Richard Stevens, Bronach Reid, Quiller Barrett, Colin Gregory, Cheryl Stephenson, Roger Wood, Sylvia Thomson, David Tutt
(Photo: Chris Roberts)
Brian Bucknall - Phyllis Court Croquet Club
Brian Bucknall has been at the heart of Phyllis Court Croquet for 37 years. He was co-opted on to the Croquet committee in 1977, elected to serve the following year and became its chairman two years after that. He looked after AC competitions and social events for more than five years and, after a brief respite, returned to the committee in 1992 as Secretary and again looking after all things AC.
He then took on the Chairman's role for another three years in 1998 and saw membership numbers reach then record levels. At that same year's AGM, Phyllis Court doyen 'Smokey' Eades recognised Brian's contribution over the previous 21 years, probably not reckoning on his near doubling of that service in the seasons to come. Two further five-year stints as AC organiser followed in 2002 and 2009 and, although AC numbers have dwindled in later years, he has been unwavering in his championing of the code. He has devoted countless hours to coaching AC beginners and improvers over many years, often at the expense of his own on court playing time.
Eileen Buxton - Ashby Croquet Club
Eileen is a long-standing member who despite problems with her health is always bright and cheerful. She has been on the Ashby committee for many years including a few years as chairman. She has been a major contributor to the East Midland Federation committee for well over ten years and is currently the chairman.
She is a qualified GC coach and at both Ashby and other East Midlands' clubs she has worked tirelessly to help numerous players to improve their game. In short, she would be a worthy recipient of a CA Diploma.
Colin Gregory - Letchworth Croquet Club
Colin Gregory has been an exemplary club secretary for Letchworth Croquet Club since 2009 and is invaluable to the committee by keeping an eye on future deadlines and events, as well as calmly resolving many issues before they become crises. He communicates well with club members via a regular newsletter and has produced an informative booklet for new members to help them in their first few months.
Colin has, for many years, organised a series of Fun Doubles GC tournaments for club members and local community groups which have become keenly contested highlights of the club calendar, raising thousands of pounds for the club and involving both AC and GC players. These sessions involve up to 28 players on just two lawns several times a year and, by careful seeding, provide a great way to get inexperienced players feeling comfortable with a gently competitive format.
Colin is also an enthusiastic supporter and player in the inter club matches and provides a warm welcome for visiting teams. His efforts are an essential component in fostering an enthusiastic and welcoming environment within the club and his organisational support has enabled the Club to develop efficiently and effectively.
Roger Hayes - Bath Croquet Club
Roger Hayes joined Bath Croquet Club in 1996 having honed his considerable croquet skills at Woking Lawn Tennis and Croquet Club where he had been a committee member. He was elected to the Bath Croquet Club Committee in 2004, replacing Bob Whitaker as Chairman in 2006, a post he has held since. With others he has been instrumental in the Club's long-running and still ongoing lease negotiations with the Bath Recreation Ground Trust, which are of critical importance to the future of the Club.
His enthusiasm for the game and how it is played at the Club continues undiminished and in his role as chairman he has always held the interests of the Club above all else, emphasising the importance of good coaching and encouraging competitive play, both in AC and GC. He has been the Club's AC Handicapper for some years and is now a CA Handicapper. He is also currently Chairman of the South West Federation.
Julie Horsley - Sidmouth Croquet Club
Julie Horsley has been a member of Sidmouth Croquet Club since 2007, prior to which she was a member of Budleigh Salterton Croquet Club for 14 years. Whilst at Budleigh she served on the committee from 1999 until 2005 and was secretary from 1999 to 2003. For the last eight years she has been an outstanding secretary of the South West Federation, a role which she now seeks to relinquish.
In addition to these roles Julie has managed CA tournaments for the last eleven years. On average she manages six such events per year, mostly in the south and west but also further afield. She manages with great efficiency, charm and when required with a firm hand. She is invariably asked back and is under constant pressure to take on more such commitments. In addition Julie manages some of Sidmouth's internal events as well as being an active playing participant and referee. She acts as mentor and adviser to other club members who take on tournament management duties.
Derek Humphrey - Northampton Croquet Club
In his early life, during World War II, Derek took a liking to croquet without any instruction. He therefore devised a unique method of play, whereby he placed the top of the mallet handle firmly in his right armpit to keep good control. Later he was conscripted as a Bevan Boy for the coal mines.
After retirement in 1992 and no further play meanwhile, he joined the Northampton club, only to find nobody placed the mallet under the armpit. Changing his stance, he emerged as a good player reaching a handicap of zero and going on to win a range of our trophies. However, the justification for nominating him for the CA Diploma lies in his years of quiet service, organising club events and handling as many as thirty visiting groups for evening events each summer, bringing in considerable funds. He has regularly handled a paint brush or hammer and remains a cheerful and encouraging adviser and player.
Phillip Joseph - The Hurlingham Club
Philip Joseph, a retired successful bookseller, became Chairman of Croquet at the Hurlingham Club in 2005. During his three-year tenure, he oversaw and encouraged a considerable growth in the number of members taking part in both Golf and Association croquet.
Not content with his significant achievement at Hurlingham, Philip also established a croquet club in Hyde Park, which attracted a new set of players to the game. Unfortunately bureaucratic problems led to the demise of the club, but a few of its members went on to succeed in national tournaments.
Jeremy Marshall - Kingston Maurward Croquet Club
Jeremy Marshall has been Chairman of the Kingston Maurward Croquet Club, Dorchester since 1992. He was elected when the Club was in debt, threatened with closure, and struggling with fewer than 20 members. Today, 22 years later, KMCC is thriving with some 50 members.
Any Chairman needs a good committee and Jeremy has always created a good atmosphere, and been very approachable. He has steered the Club with energy and enthusiasm through various stages of development (one example, erection of a small Club House). He has also set handicaps, programmed events, organised coaching sessions and scheduled league matches within the South West Federation.
At all times Jeremy is bright and cheerful and leads by example. He is generous with his time, always ready to give help and advice to new and existing members on their game. He sets keen hoops, organises Club Fun Days and fund raising events for the Public, Local Organisations, and Wedding Parties.
It is through Jeremy's guidance and drive that Kingston Maurward has become a successful and friendly Croquet Club.
Alan Reeves - Bakewell Croquet Club
Alan approached the District Council, who managed Bakewell Recreation Ground, to discuss the possible formation of the Club and the provision of space for two half-size lawns. The Council were not at all helpful and it was only after Alan contacted his MP that progress was made and the embryonic Croquet Club provided with the lawns.
Alan contacted the Federation of East Midlands Croquet Clubs for assistance in borrowing hoops, mallets and balls as well as the provision of coaching. He applied to "Sport for All" for a grant and this was successful and enabled the purchase of hoops and mallets for the Club With the Club attracting more members Alan successfully applied to the District Council for two full-size lawns. These had to be located within the cricket outfield, and this met ongoing and somewhat irrational resistance from the cricket club. Alan was instrumental in addressing and resolving these issues. The club is now in its tenth year with nearly 40 members. It would certainly not be so successful without Alan's vision and persistence despite all the opposition over the years.
Bronach Reid - The Hurlingham Club
Bronach Reid is a naturally kind, gentle and caring person and those characteristics have been very apparent and influential in her croquet activities. Having played croquet for many she was firstly on the Hurlingham Club Croquet Committee, then becoming its chairman from 2002-2005. During this time she was influential in the South East Federation, encouraging members to play outside the club. Within the club she put much energy into recruiting new players, especially women, at a time when the number of croquet playing members was woeful and started the process of rebuilding the section into what it has become today. In her enthusiasm she posted notices in the wrong places in the club and was gently rebuked by the Secretary! This was all happening at a time when the AC v GC debate was at its height which required gentle handling by Bronach, especially at Hurlingham.
She has devoted much energy to teaching croquet where her personal qualities made her a popular and effective coach. Her encouragement of the low bisquers to take a more active part in club activities has raised the standards of play at the club in both games and made Hurlingham a stronger croquet club. In conclusion her "kind, gentle and caring" manner has done much to both attract people to croquet and for the reputation of the game.
Graham Rosser - Wellington Croquet Club
Graham Rosser joined Wellington Croquet Club in 1993, almost immediately playing for the Club's B-League team and captaining it from 1994 onwards: he played continuously until 2009, retaining the captaincy throughout, the team achieving a marked and consistent measure of success, thanks to his dedicated coaching, advice and encouragement and to his own steady play. Graham also took over the Chairmanship of the Club in 1994 giving it the leadership, organisation and hands-on physical work, all inevitably entailed in running a small club; his period as Chairman ended in 2006, by which time he had served for 13 years. He was made an Honorary Life Member in 2010.
Three highlights stand out from all that Graham did for Wellington Croquet over 17 years:- superintending the successful move of the Club in 1999 to its present location at Oake; stepping down as Chairman, turning over a thriving club, with a small but viable and enthusiastic membership and on the playing side, passing on a standard of play, largely attributable to his personal efforts, that immediately led from 2010 onwards to the club displaying enough skill and confidence to enter the South West Federation's Intermediate Competition besides continuing in the B-League.
Wendy Rosser - Wellington Croquet Club
Wendy Rosser joined Wellington Croquet Club in 1993, soon afterwards playing for the Club's B-League Team: she played continuously until 2011. Her handicap quite rapidly went down to 12 and she soon displayed the skill, dedication and patience necessary to pass on her knowledge and understanding of the game, by giving unstintingly of her time in coaching, advising and encouraging other members, as well as setting a fine example by her own standard of play.
Wendy served as the Club's Publicity Officer for four years, 1995-98 followed by service as the club's Secretary for the next 13 years 1999-2011: as well as numerous tasks and responsibilities of that post, she continued to cope with the Club's publicity as before. Ever a tower of strength, both on and off the lawn, across 19 years, she was made an Honorary Life Member in 2013. Wendy has played a significant part in the recruitment and retention of members, in her match and coaching skills, and in her conscientious and detailed administration of the Club over many years. Her contribution to the continuing success of the Club has been immense.
Brian Roynon - Nailsea and District Croquet Club
Brian and his wife, Brenda, joined Nailsea and District Croquet Club in 2004 and quickly became members of Golf Croquet League teams. Brian also captained the B League team, combining this with mowing the lawns and maintaining the club's large poster boards. After only two years, Brian became Chairman, and continued on the committee thereafter. He is responsible for club property and is often to be seen with a hammer or a paint brush, repairing or renovating buildings or equipment. Fire-extinguishers, electrical installations, lawn machinery and a myriad of other items fall under his watchful eye. He observes the need for projects such as replacement flooring and oversees the work of contractors. Brian also liaises with the professional lawn consultant and supervises all the work done on the lawns by the Club members as well as creating the rotas and doing much of it himself.
Brian also contributes to social occasions, being a willing shopper, delivery man, raffle organiser and compere. Along with Brenda, he organises and takes part in social visits from local groups, teaching them GC with patience and good humour.
Brian's handicaps steadily improved: he plays in the AC Federation League team and a GC League team as well as being captain of an AC Intermediate League team.
Cheryl Stephenson - Chelmsford and Bentley Croquet Club
Cheryl joined the Club in 1991, soon after its inception, and played a major part in the levelling of the lawn in Central Park - the turf removed by hand and Cheryl herself paying for a lorry load of topsoil. In the interests of the Club she subsequently studied (self-funded) and obtained an NVQ level 2 in lawn care at Writtle College, whom she persuaded to make land available to accommodate two lawns. She, with three other members, worked unstintingly on the new lawns and the Club moved there in 1997.
In 1998 with membership in decline Cheryl persuaded the Committee to introduce members who wished to play golf croquet. She has been generous with her time, has served Committee, coached, and helps and encourages new members. She is known the "Fairy Godmother", as tools and equipment appear from nowhere and recompense is flatly refused.
Cheryl is the Club's "head gardener" working on the surrounds, trying to improve the standard of the lawns and organises the annual top-dressing party. She has recently produced a laser map of the lawns. In addition to all this she makes a really good knickerbocker glory and pears in red wine dessert.
Richard Stevens - Hamptworth Croquet Club
Having started playing croquet at home with a group of friends, Richard Stevens founded Hamptworth Croquet Club in the early 1980's by persuading the promoters of a new Golf Club to make room for croquet. After a false start when the original company failed, the new Golf Club owner was invited to a "croquet soiree" and he had such a good time that two laser-levelled courts quickly appeared. Under Richard's Chairmanship and vision two more courts followed in 2010, with a striking cantilevered pavilion built between the lawns, followed by a 5th court in 2012. Now Club President, Richard has throughout been ambitious for Hamptworth and has been very much the main force in driving it forward to become a very significant venue for tournaments in southern England. Hosting the Solomon Trophy in 2011 was a particularly proud moment for him. He has had the vision to ensure the club's succession for the future by stepping back two years ago from the day to day running of the club, whilst retaining an active interest as President.
Richard Stevens is a person of great charm and tenacity without whom Hamptworth Croquet Club would not exist. He is an excellent ambassador for croquet both at home and abroad.
Vivian Thomson - Phyllis Court Croquet Club
Vivian Thomson joined the Croquet Section of the Phyllis Court Club in 1999 and enjoyed it so much he decided he wanted to put something back into the sport. He joined the Committee in his 2001 and set about introducing many new golf croquet competitions and tournaments, and in so doing, brought enthusiasm for competitive GC play to a club that hitherto had seen the code only as a social pastime.
He became the Chairman of the Croquet Committee in 2002 and a year later, oversaw the provision of the Club's croquet pavilion. He successfully fought off a possible loss of one of the Section's courts to bowling, and he also took control of all league and friendly matches, increasing the number of both. Vivian encouraged Phyllis Court players to attend courses to become coaches and referees, and achieved badges for both himself.
In latter years, Vivian re-joined the Club's committee as GC Handicapper and coach, and it is in the field of coaching that he has perhaps most excelled. He has encouraged many players to experience croquet beyond the gates of our club. Phyllis Court wish to recognise Vivian's contribution to both their club and all things croquet.
Julian Tonks - York Croquet Club
Julian, a founder member of York Croquet Club, joined the initial planning group in 1987 and, from the start, fulfilled a wide range of Committee roles in turn: chairman, secretary, treasurer, match secretary, in fact, as he puts it, "everything except social secretary". Regionally he has been Yorkshire Federation secretary, treasurer, and an active Development Officer, while nationally he has served on the CA Council and CA Development Committee (a role he particularly enjoyed) and chaired the Investment Committee.
Julian is a much loved and greatly appreciated member of York Croquet Club. He is also much respected by other players for his warmth, approachability, fairness and commitment to croquet.
David Tutt - Letchworth Croquet Club
David Tutt joined Letchworth Croquet Club in its founding year of 1987 when the club had no existing croquet players but David was a quick learner and, from the early stages, he started coaching newcomers. In 1989 the club team won the Longman Cup at its first attempt; David playing a key role in that victory. Year in, year out, David has worked tirelessly to introduce and coach newcomers in AC and GC, with unfailing courtesy and infinite patience. He also undertook the training of GC coaches for the East Anglian Croquet Federation.
David has embraced the recent CA guidance and, for this year's beginners' course, he coached Garden Croquet rules. At the course end, eight new members joined, all playing AC. Some existing GC members attended the course and they, too, have continued to develop their new-found AC skills.
David instigated a witty, informative club magazine "The Peeler". Visitors to the club website often check in to read back issues. For 27 years David has been at the heart of the club, which has only two lawns but over 70 active members, and has been a major influence in its growth and continued success.
Roger Wood - Compton Croquet Club
Roger joined the Compton Club in 1971, and served as committee member, secretary, Vice President and trustee. He created and maintains the club website; expertly lays out and repairs the lawns; sets hoops for tournaments and has managed internal club competitions for 11 years.
His introduction to croquet was as an astronomer at Herstmonceux. He has managed two test matches, a World Team Championship and annually the "South of England" since 1985, a past winner in 1977. He and Roy Wallis started the annual COWhorn tournament in 1978. He continues to play off scratch, captaining Sussex for an incredible 39 years. He has won the South of England Week's Class Ionides Cup for the last three years and was awarded the CA Silver Medal in 2012.
In all his roles, he demonstrates a self-effacing optimistic manner with efficiency, generosity, enthusiasm and encouragement to all: hence the respect with which he is held in our club, Sussex and the CA.
---
2013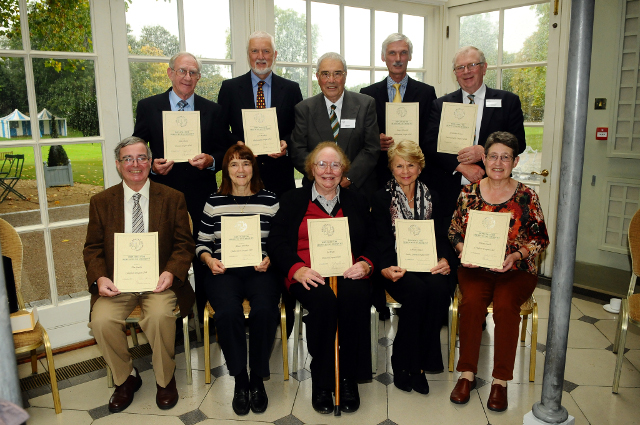 L to R: Tim Smith, John Munt, Alwen Bowker, Les Bowker, Jo Munt, Quiller Barrett, Craig Edwards, Chrissy Isaacs, Jonathan Isaacs, Hilary Smith
(Photo: Chris Roberts)
Les and Alwen Bowker - Cheltenham Croquet Club
Soon after joining Cheltenham Croquet Club as full members in 2006, Les and Alwen agreed to take over the management of the Bar, sourcing new and interesting beers with the result that visitors to Cheltenham commented on the good range of beer at the club. They also arranged training and support for members manning the bar. They spearheaded a innovative plan to move the bar and create a lounge area for members: they set about demolishing and rebuilding the bar and undertook many of the construction tasks themselves. Everyone comments positively on all the new arrangements.
Alwen and Les have introduced speed croquet at the club which is now a popular winter activity. When Alwen is not on a ladder re-proofing the five wooden pavilions or painting clips and other lawn furniture, she can often be found mentoring new members of the club, assisting at open days ,plant sales and any other task which require a willing volunteer. Les has managed the Intermediate and other Federation teams for the club. He is a calm and knowledgeable coach for players new to the game and often acts as mentor until new members have settled into the club.
Susan Edwards - Cheltenham Croquet Club
Aware of setting the precedent of a posthumous award, Cheltenham Croquet Club would nevertheless wish to formally recognise Susan Edwards' significant contribution to the Club with a nomination for a CA Diploma. Susan's introduction to croquet was watching the final stages of the MacRobertson Shield at Cheltenham in 1996 and she immediately set about trying to attain the same standard. Her commitment to excel did not blind her to the progress of others and she could be seen offering quiet and discreet coaching to those who struggled with the finer points of break play. She also made a point of recognising and encouraging the efforts of other members away from the spotlight of mainstream club activity. But it was in the role of Club Chairman that Susan made her presence felt in a highly significant and lasting fashion. She ensured that the Committee dealt not only with day to day issues but also addressed any longer term problems of the Club without losing sight of the needs and best interests of all club members.
Her determination to continue acting effectively and decisively through the later stages of her final illness was inspirational.
The CA Diploma was Presented Posthumously to her husband, Craig Edwards.
John Handy - Kenilworth and Nottingham Croquet Clubs
John has been a member of Nottingham for over twenty years and Kenilworth for 15 years. At both clubs he has taken an active part club management and sharing his enthusiasm for the sport with members and visitors. At Nottingham he was and efficient treasurer for six years from 2005 to 2011, and organised the movement of club funds and activity to the Charity Aid Foundation bank where they remain to this day. His time in this role is remembered for his obliging and helpful nature, "nothing was too much trouble". At Kenilworth, John was a key committee member in launching the club on its growth to its current strong position and, as Club Secretary, he organised the club's systems on a more efficient and user-friendly basis. He handled all the admin, including member communications and renewals. He also represented Kenilworth on the West Midlands Federation, before moving on to represent the Federation at the CA. John is a referee in both codes of the sport and an active coach. He encouraged the growth of Golf Croquet and managed tournaments at both clubs particularly B-Level to encourage more competitive play. He also donated trophies to both clubs and at Kenilworth, members still compete for the Pindi Cup and the Secunderabad Cup, trophies won by his mother as a Tennis player in India.
Zoe Hawkins - Ramsgate Croquet Club
Zoe Hawkins has been a stalwart member of the Ramsgate Club since its earliest days. She became an essential part of the smooth running of the catering department. Her "Coronation Chicken, Lemon Meringue Ice Cream" and lasagne were renowned! She certainly helped to build up the club's reputation in staging Open Tournaments.
Zoe also served on the committee for many years and provided the club with a marvellous archive of photographs of the club's history. Advancing years and failing health have forced her to retire from active service in the Club and she certainly deserves recognition for her past work.
Jonathan and Chrissy Isaacs - Sussex County Croquet Club
A well-known figure in croquet circles, Jonathan Isaacs was introduced to croquet in 1984 joining Sussex County Croquet Club the following year. He became Chairman of the CA Marketing Committee in 1999, Chairman of the CA Management Committee circa 2002, and then Chairman of Council in 2005 for two years. He helped organise the Golf Croquet World Championships at Southwick in 2004, and had been involved in marketing at SCCC for some time and became Chairman in 2008. The Croquet Academy at Southwick, which goes from strength to strength, was entirely his idea, and he set up and launched it. More recently he helped introduce the concept of the Southern Challenge to the SECF. Jonathan stepped down from the Chairmanship of SCCC in 2012, but was obliged to reassume the position in 2013. He is still a driving force at club, regional, and national level, and is currently head of Marketing for the CA, where he was made a Vice-President in 2011.
Chrissy Isaacs does not play croquet, but has supported Jonathan wholeheartedly and immersed herself in the social life of the Club. She has masterminded the catering at Southwick for the last five years, was a driving force behind the redesign and equipment of the kitchen, and is a very able cook. It is thanks to her that the themed dinners have become so successful and the club's reputation for good food is her legacy.
Paul Miles - Medway Croquet Club
Paul Miles has been a stalwart of the club for at least 18 years. His closeness to the club ensured that he learned rapidly (started at 16, down to 6 and has been down to 1). Once he was experienced, he would undertake weekly coaching for members and newcomers and would help on the club's committee and would be the first at the club to set out the equipment for visiting teams.
Neil Morrison - Swindon Croquet Club
Neil is ever-present at the lawns on club afternoons running improver sessions for members and is a lead coach on the beginners' courses. From the day he joined, Neil has been involved with the club's "Taking Croquet to the Community" project. In 2012 the club introduced 16 plus groups to the sport in over 50 events and Neil turned out for 90% of the events introducing over 900 adults and children to the sport. When the club was asked by Swindon Borough Council how could the cost of the lawn maintenance be reduced, Neil grasped this as an opportunity to improve the club's facilities and played a major part in putting a development plan to take over the maintenance and increase the number of lawns from two to three. Neil played a major role in putting together successful lottery applications for funding bids to raise the money to buy machinery and a club room. He also negotiated with contractor, the council, etc. to ensure that everything was in place by 1 April 2013.
Neil had the vision and assembled all the component parts for Swindon Croquet Club to have its first clubroom in its 27 years and has made an outstanding contribution to the club and residents of Swindon.
John and Jo Munt - Preston Croquet Club
We are fortunate to have John and Jo Munt, who have dedicated themselves to ensure we have a club that is welcoming, friendly and a joy to belong to. John is our Chairman and Jo a member of the committee, but their greater benefit is their willingness to help others; John in arranging monthly social events and organising club games and matches: Jo with her catering expertise, preparing the food for many events and especially the excellent teas for visiting teams. We owe both of them a debt of gratitude.
David Parkins - Medway Croquet Club
David Parkins joined Medway in 1992, shortly after its start. As a land surveyor, his services were, and are, invaluable in finding suitable sites, measuring accurately, identifying slopes, etc. Moreover, David looked after newcomers, members who wanted coaching, and organised the Kent team in the Inter-County Championship. In addition, he is the most experienced of the Club committee, during which time, he once reduced his handicap to scratch.
Hilary and Tim Smith - Compton Croquet Club
Hilary and Tim came to Eastbourne from Nottingham with the new millennium bringing their wide-ranging croquet experience with them, and this has proved invaluable to the running and well-being of Compton. Members and visitors alike have benefited from their devotion in a range of contributions that makes daunting reading. Tim has just relinquished the post of treasurer after more than a decade of meticulous record-keeping, ably assisted by Hilary as membership secretary. Hilary took on the task of organising tournament catering and the rotas for club teas; Tim had charge of stocking and running the bar; and between them, they supplied lunches for most of the major calendar events. One might think that this was enough for anyone, but not for Hilary! For many years she has been lead coach for both beginners and improvers, and club representative and GC league contact for the SE Federation. She studied to become the club's only referee and has recently begun to manage both internal and CA tournaments. To fill her "spare time" she helps keep the flower beds weeded and makes dozens and dozens of jars of marmalade and jam to swell club funds. Their joint efforts are hugely appreciated by club members and richly deserve wider recognition.
---
2012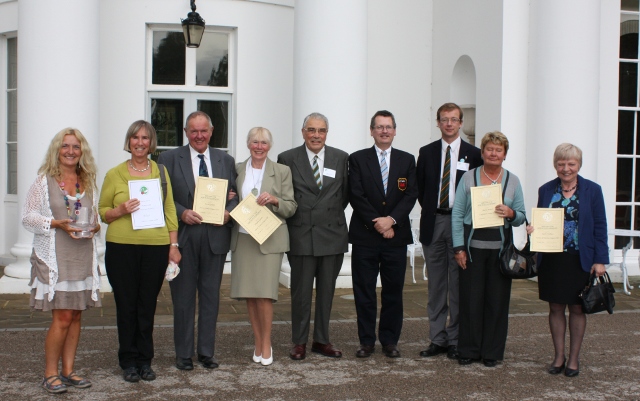 L to R: Sara Anderson, Frances Low, David Gaitley, Daphne Gaitley, Quiller Barrett, Chris Williams, Ian Lines, Maryse Roberts and Kathy Wallace
(Photo: Elizabeth Larsson)
Mike Davis - Bristol Croquet Club
Mike Davis joined the club in 1994. He briefly moved away from Bristol but the club was very pleased to see him back in 2000. From the outset, he has been one of the first members to volunteer in any groundwork that needed doing (e.g. cutting the rough grass and hedge cutting) and took charge of any work required on repairing the shelters and handrails. He also helped to repaint the clubhouse and led the research into installing a watering system. His other contributions include looking after the BBQs at the club's annual event and serving on the committee for six years. Probably the biggest task undertaken by Mike was helping to improve Bristol's clubhouse during the closed season of 2002/2003. Many hours were spent knocking down walls, putting up the false ceiling and wallpapering - his commitment was unwavering. Sadly, Mike died in late September 2012.
Jim Wilson - Bristol Croquet Club
Jim Wilson joined the club in 2000 and almost immediately started helping around the grounds and clubhouse. For over ten years he has assisted with painting, putting up new handrails by the two sets of steps, repairing the shelters and many other small but essential tasks which needed attention. He has always been a regular at the club's work days at the beginning and end of the season. Another of his skills was making cakes; his banana cake very often found its way onto the tea table at CA Tournaments and various match events. His main contribution was assisting with the improvement of Bristol's clubhouse in the autumn and winter of 2002/2003 when many hours were spent building two new changing rooms and enlarging the social area to give more room for the winter table tennis, bridge and Scrabble sessions.
Dennis Shaw - Ramsgate Croquet Club
Dennis approaches 90, he can look back with pride on nearly 30 years of service to croquet at Club, County and National level. Dennis, together with his wife Eileen, started the Ramsgate Club in 1983. The Club grew rapidly, soon outstripping the two makeshift lawns in Montefiore Park. With patience and perseverance, Dennis delicately negotiated with Thanet District Council a transfer to the Club's present site in 1987; this included a substantial subsidy towards lawn and ground maintenance. The Ramsgate Club has four purpose-laid lawns, an irrigation system and a fully equipped Clubhouse serving just over 100 members. In 1987, Dennis resurrected the Kent County team which has competed, every year since, in the Inter-County Championship. He captained the team for 20 years. Notwithstanding his local croquet administration commitments, Dennis served on the CA Council for 12 years, serving on the Laws, Handicap and Tournament Committees, chairing the latter for three years. With all these responsibilities, Dennis still found time to play the game, which he did to a creditable standard.
Maryse Roberts - Cheltenham Croquet Club
Perhaps not every visitor to Cheltenham will be familiar with the name of Maryse Roberts, but they will have unknowingly benefited from Maryse's attentions as House Manager. Cheltenham Croquet Club is always busy and more so during tournaments, of which there are at least ten per annum. As house manager, Maryse had to ensure that the facilities could copy both during and after events - probably least glamorous facet of the role of House Manager - the lonely figure doing the rounds of all the bins and huts when the prize giving is over and the crowd dispersed. Maryse coped with the World Championship at Cheltenham in 2005, ensuring that catering was provided from 7am breakfasts right through to suppers. Recruiting volunteers for catering duties is becoming harder by the year, but Maryse has devised and introduced innovative ways of making sure that a good service is delivered. Organising the annual Club spring clean is no pushover either. Husband Graham has been an immense support, especially in the remodelling of the kitchen. The Club is immensely grateful to Maryse for her long and valuable contribution.
Kathy Wallace - Nailsea and District Croquet Club
Kathy Wallace joined Nailsea and District Croquet Club in 1998 since when she has become a skilful player through many hours of practice and competitive play. Alongside her own game, she has also worked hard at coaching, encouraging and retaining new members and having been Publicity Officer for the Club, Kathy doesn't miss any opportunity to spread the word about croquet. Kathy plans, organises and manages an extensive programme of Association Croquet competitions for the Club, cajoling members to get their matches played in time for Finals Weekend which, rain or shine, is always a triumph of organisation. She also assists with Nailsea's Open calendar (providing some lovely lunches) and runs the popular B-Level Advanced Singles Weekend. This year she has taken on the role of Club Secretary which she is tackling with her usual enthusiasm and determination.
Roger Berkeley - Nottingham Croquet Club
Roger Berkeley spends much time on matters for the membership. He wears many hats but probably that most noticed is in maintenance of stores to keep the club in milk, tea and coffee, bar supplies and in looking after all aspects of the pavilion. Less obviously, Roger has undertaken many official duties and is now the Club treasurer, having been a committee member for some years. He has been particularly associated with club communications and maintaining membership records, as well as encouraging and welcoming new members. He also finds time to act as treasurer for the East Midlands Federation. Despite being a long-standing AC player, Roger has been very active in the introduction of Golf Croquet to the club which has resulted in a big increase in membership. He has been instrumental in arranging coaching sessions for both newcomers and improvers and makes sure that all players feel at home in the club.
John Low - Sussex County Croquet Club
Somebody said that behind every great woman is a great man. This is certainly the case with Frances and John Low. John Low has been a long established member of the Sussex croquet fraternity. Apart from being an excellent croquet player John's IT, administrative and managerial talents have been a great asset to the club. John took over both the Club and Academy websites and has developed them as important information and communication centres for members, visitors of the club and students of the Academy. Through the use of technology John has acted as Tournament Secretary for SCCC and assisted his wife Frances in the administration of the Academy from its creation to the present day. John has also proven to be an excellent tournament Manager and over the years has been involved in managing tournaments at club, Federation as well as National CA level held at Southwick. His seemingly calm approach has helped make many tournaments at SCCC a huge success.
Daphne Gaitley - Sussex County Croquet Club
Since 2002, David and Daphne Gaitley have made an outstanding contribution to the development of Sussex County Croquet Club. Daphne's proven ability as an excellent coach has not only helped SCCC develop as a competitive Croquet Club but enabled the club to develop a thriving golf croquet section. Daphne's coaching talents greatly helped in the creation and development of the Croquet Academy with Daphne being one of the lead coaches. Her talents did not end there: she was a long-established member of the SCCC Management Committee and would always lend a hand from the most menial to the more complex tasks faced by most clubs. Daphne sat on the CA Coaching Committee and was the SECF Federation Coaching Officer. Her contribution to coaching has helped to ensure that competitive croquet is alive and well in the South East.
David Gaitley - Sussex County Croquet Club
) David Gaitley's practical talents are there for all to see. David undertook the project of modernising the Sussex CCC canteen and bar. He masterminded the project from design through to final implementation and this has helped to improve SCCC's ability to act as a host club for major CA and Federation tournaments. His talent as a beer connoisseur is evident. David ran the new SCCC bar and has developed a range of beers that would be the pride of many a CAMRA pub. His building talents are also to be seen as he undertook a second major project to rescue the storage room which was on the verge of collapse. The club now has a storage facility which should last for many years. His many talents as a designer, carpenter, electrician, bar manager are all on view.
---
2011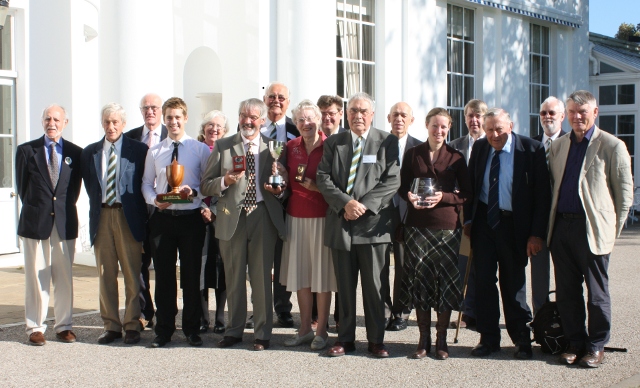 L to R: Robert Laver, David Collins, John Robinette, Nick Cheyne, Edme Robinette, John Small, Bill Arliss, Barbara Young, Brian Christmas, Quiller Barrett, Peter Pullin, Gabrielle Higgins, George Collin, Roy Smith, Ian Wilson, George Noble
(Photo: Elizabeth Larsson)
Bill Arliss - Sussex County Croquet Club
William, commonly known as Bill, joined SCCC in 1989 with his wife Pamela. They quickly became prominent members with rapidly reducing handicaps. In the early 90's Bill was elected to the SCCC Management Committee where he took responsibility for club competitions and hoop setting. During his time on the Committee he recognised the potential of Golf Croquet and actively developed it at Sussex CCC. In 1998 he became Chairman of Council of the CA where he continued his active promotion of Golf Croquet. In spite of the heavy workload involved in his CA responsibilities, Bill continued as a loyal and hard-working member of SCCC developing GC coaching, managing tournaments and in 2004 heading up the organisation for the GC World Championships which were hosted at the club. It has been said that behind every big man is a strong woman. In Bill's case this has proven to be very true. The support Pamela has given Bill throughout his croquet venture cannot be understated. Their support towards SCCC over the last 22 years has made a significant impact on the club's success as a major croquet venue.
John Barber - Broadwas Croquet Club
Since its inception in 1998 John Barber has dedicated himself to the betterment and furtherance of Broadwas Croquet Club, giving freely of his time and much else beside. When he was appointed Club Captain (and Head Groundsman!) he firstly created one lawn in the outfield of our village cricket pitch (next to his cottage) and with just 10 members things got under way. His tireless devotion fostered increased membership and by 2004 this stood at 31, and the club had three excellent lawns. But John wanted more, and by 2007 the club had four full-sized lawns with 45 members. Broadwas Croquet Club now has 53 active playing members and the club has become recognised throughout the South West Federation and beyond.
Over the years John has always tried to encourage good club management practice, resulting in the club becoming ever more active in all areas of open competition.
As captain, John created a happy and harmonious membership. In 2009 he finally relegated his captaincy and ostensibly 'retired', but he is still there for everything and everybody. in 2010 the club was finally put on the CA map by winning the prestigious 'Murphy Shield'. John Barber's dreams had finally come true!
Eric Bevan - Kington Langley Croquet Club
Eric Bevan joined Kington Langley Croquet Club (KLCC) when he and his wife Irene moved to Wiltshire from Kent in 1991. In the intervening years it has been clear to KLCC members that Eric is not only a very accomplished player of both Association and Golf Croquet, but also a very patient and skilful teacher of the tactics and techniques of both disciplines, being a qualified coach. He is a long-standing and valued member of KLCC's Committee; he is a past Chairman of the Club and is now its President.
With secretarial help from his wife, Eric has organised all of the Club's internal events and competitions in meticulous detail for many years, and is often a 'hard-to-beat' competitor. He usually provides the refreshments (and sometimes token prizes) for 'fun' events himself.
Eric is now over 80 and in indifferent health, but he still turns out when he can to coach at, and to participate in the Club's twice-weekly sessions. He also continues to represent KLCC in some South West Federation League (Association) matches and when needed also in SWF Golf Croquet League matches - a true stalwart.
Eugene Matthew Brady - Auckland Croquet Club
Eugene has been a member of Auckland Croquet Club since its start in 1998, was club competition secretary from 2000 until 2002 when he became club treasurer, relinquishing the post in 2010 but continuing as a greatly valued committee member. He was also founder and first editor of the club's newsletter. His technical ability and skill have been instrumental, as both player and team manager, in Auckland Croquet winning the Croquet North Golf Croquet League Championship on eight occasions. With his expertise he has achieved personal success in Croquet North Golf and Association Championships.
He has endless patience and willingly coaches and encourages new and established members to improve their game. Eugene devotes a tremendous amount of time and commitment in keeping the club going, cutting grass, white lining if necessary and opening for play. He liaises with our landlords, Durham County Council, attending meetings and ably representing the club when required. Now treasurer for Croquet North and manager of the Golf Croquet League and Golf Croquet Championships, he is an excellent ambassador for the game of croquet in the North East.
Cliff Cardis - Swindon Croquet Club
Cliff Cardis joined soon after the birth of the Swindon Croquet Club 1986 and volunteered for the Secretary's position, a position he held for twenty years. He carried the club through many turbulent times and the move from a one lawn to a two-lawn club from Lydiard Park to Moredon Playing Fields.
Cliff gained his Coaching Badge in the 80s and has spent many hours/weeks/months over the years coaching beginners and improvers. Hardly a week goes by without a phone call from Cliff to arrange a match and he is not shy to winkle out a high handicap player for a game where he shares some of his experience to feed the newer player's enthusiasm for the sport. He delights in passing on the finer points of the game to the clubs up and coming members. Cliff is always keen to make sure the hoops are set firmly and correctly and withdrawn with the lifter made to make sure the holes are not damaged on withdrawing the hoops. Both gauge and lifters were made by Cliff.
After Marie, Cliff's first love is his music - he is a long serving choirmaster touring many local venues throughout Swindon. S.C.C are very lucky to have such a long-term keen player prepared to share his admin, engineering and coaching skills and his enthusiasm for the game.
Neil Chalmers - Norwich Croquet Club and the East Anglian Federation
As an Executive Officer of the East Anglian Croquet Federation for eleven unbroken years, Neil put immeasurable energy into supporting the Federation's activities, promoting the game and in recruitment. As Coaching Officer he arranged coaching and training courses and as Equipment Officer his organisational skills brought immeasurable benefit to both the clubs and Federation. He established a large stock of used equipment and transported it around the Eastern Region to promote the game. As Indoors Organiser he organised and managed winter croquet at Soham Sports Centre where he revised the playing formats and updated the equipment.
Concurrently Neil served on the committee of the Norwich Croquet Club, as Secretary and lately as Chairman. His balanced wisdom, patience and diplomacy have steered the Club through their recent difficult years. He helped establish the present venue at Eaton Park, relentlessly establishing improved facilities, promoting the game and expanding membership.
Neil stood down from office with the EACF and Norwich Club in 2010 but continues as a Grade 1 Coach and CA Referee, organising Club fixtures, and has been recently been enjoying great success in CA Tournaments around the country.
Brian Christmas - Shrewsbury Croquet Club
Brian Christmas is one of nature's natural gentlemen and a stalwart of Shrewsbury Croquet Club. He was a founder member over 25 years ago when he played in a demonstration match at Attingham Park, the local National Trust mansion, to attract members. Initially, he was one of the few players who knew how to set out the lawn and paint the lines and have more than a basic knowledge of the rules; he was much sought after for tactical advice. Brian has been on the club committee for as long as anyone can remember and held the positions of Chairman, Secretary, Coach and Captain the latter being his current responsibility.
He has single-mindedly fought for greater recognition of Croquet in Shropshire, including writing match reports for the local newspaper, and in recent years has been instrumental in persuading other groups to try the game. More lately still he has worked with the County Council's Sports Liaison Officer to introduce croquet to schools. Above all he has always been keen to share his knowledge and enthusiasm and is never more pleased than when a player he has taught achieves a lower handicap than his own.
In addition to his untiring work for Shrewsbury Croquet Club, he is also the chairman of the West Midlands Federation - a position he is clearly proud to hold.
George Collin - East Anglian Federation
In November 1985, George Collin became a member of the steering group that was set up to form the EACF and after being instrumental in drawing up the Federation's constitution, was duly elected treasurer, a post which he has held to the present. Since 1985 there have been more than 80 meetings of which George has only missed one. George, through careful and diligent management, has nursed the Federation's accounts and it is due to his considerable effort that they are in a healthy state at the present time.
George has also been a long-serving member of the Wrest Park Committee for many years as groundsman. Although he does not mow the grass, he organises the scarifying, fertiliser application, marking out and hoop positioning. He liaises with English Heritage ground staff to arrange spraying for weed control. George acts as RoT at most Wrest Park events and when not in play he can often be seen teasing out lesser Trefoil with a cheese knife. He will be retiring as EACF treasurer at the next AGM.
David Collins - Dulwich Croquet Club
David joined the Croquet Section of Dulwich Sports Club in 1990, having previously been a member of Eden Park. In our view he has given outstanding service to the Club during the 21 years he has been a member. He served on the Committee and was President (=Chairman) from 1995 (taking over at short notice after Stephen Badger's death) to 2003. He was responsible for the introduction of coaching sessions which he led for many years, some of which were 'open' and was an official handicapper. He was highly instrumental in bringing Association Croquet back to Dulwich after many years when only Golf Croquet had been played, although he was and is an enthusiast for both forms of croquet. In addition, he was the 'maintenance' man who helped keep the old croquet pavilion going until we moved to accommodation in the Squash Building. He has been a regular attendee at Club Afternoons and Evenings, always welcoming new members and visitors and inviting them to join him in a game, offering advice when deemed appropriate. As a player, he had a very low handicap and took part in many League and other Matches in addition to Club Tournaments. In addition, has raised much-needed funds for the Club by arranging corporate events at Dulwich. Club member Simon Carter writes: 'I began playing at Dulwich over a decade ago, as a novice. I enrolled on David Collins' coaching programme. He was an inspiration to me. His patience and encouragement meant that I grew in confidence and skill and have gone on to play at every level of the game. Undoubtedly, I owe that success in a large part to David'
Janet Davies - Chester Croquet Club
When Janet Davies moved to Chester in 1994, she found a rather demoralised club of about 20 members, many of whom were not actively playing, and struggling to muster teams to play in regional league matches. She was quickly co-opted onto the committee and become membership secretary in 1995 and then treasurer from 1996 to 2000. In 1996 the club's old wooden pavilion and all its croquet equipment were destroyed by arson and she took the lead in making an insurance claim and replacing the lost equipment. In the following year, in place of previous ad hoc and rather limited arrangements to introduce new members, she took the initiative in advertising, designing and running a beginners' course which has been held successfully annually ever since. She was elected secretary in 2001 and led plans to relocate the lawns in the local municipal park and increase the playing area from two to four full lawns. These were opened in 2004 by which time membership had risen to about 45. The increase in numbers and emergence of several good players enabled the club to expand participation in NW league matches. The next challenge of planning for a replacement pavilion involved over seven years of resolute discussions and campaigning with the local authority. The new pavilion was eventually approved and installed by the beginning of the current season. By this time, the beginners' courses and the growing popularity of golf croquet saw membership increase to 107 in 2010 and a widening range of successes in NW leagues and tournaments. This considerable transformation in the fortunes of the club has been due in no small measure to her determined and unflagging efforts over many years.
Iris Freeman - Southchurch Park Croquet Club
In 2001 Iris Freeman started a croquet club in the Southend area: she found an outdoor ground, local radio helped to advertise, and so the club was formed. Iris arranged a National Lottery grant for the purchase of outdoor and indoor equipment and she found a church hall with storage, so play in the winter keeps the club going all year round. Five years on a new outdoor ground was needed and Iris, with her determination, found a new area, and so the club grew. Social events and holidays were organised by Iris for what has become a really friendly club. After 10 years and some health problems Iris stood down as chairperson, but still plays a very active role in the club. Iris is held in high esteem by all members not only for her commitment to croquet, but also for her concern for all its members. Iris is a true organiser and friend and the Club would like her to receive recognition for her years of service to the club, and for forming a croquet club that so many enjoy.
Kevin Ham - Dyffryn Croquet Club
2011 is Dyffryn's silver jubilee year and Kevin is one of a handful of founder members still active in the club. For the past decade he has taken on the thankless task of organising and managing all internal club competitions and also runs a beginners' course. Unlike many clubs, Dyffryn played practically no competitive golf croquet for the first 20 years of its existence. Kevin took up golf with the same enthusiasm that he has for Association, however, representing Wales several World Championships, and in 2007 he persuaded three other members to form a team with him in the SWF Golf League and they ended the season as champions. Since the Kevin has run a regular golf club evening and has succeeded in retaining many members for whom Association was proving too much of a challenge. One of croquet's real characters, Kevin has a heart of gold and works tirelessly for the Club. Every club should have a Kevin.
Ros Key-Pugh - Lansdown Croquet Club
Ros Key-Pugh has been an enthusiastic member of the Lansdown Croquet Club for nine years. During this time she has worked unstintingly for the club, serving on the committee as Treasurer, Development officer and now Project Manager. When the club went 'Golf play' only, Ros was active in initiating the handicap system and from that progressed to qualifying as a coach, coaching our members and several other clubs in the region. This has helped all those involved to improve their standard of play, become coaches themselves and given them confidence to take part in competitive croquet. In the past five years, as development officer, Ros has put enormous energy and skill into looking for a new site for the club negotiating with planners, landowners and other sports clubs - no easy task as flat land is at a premium in or near Bath. She investigated 12 sites, had planning for one refused and another backing out at the last minute. Ros was not defeated and started again with the result that the club has a new home at Peasedown St John.
Freda Knight and Doreen Taylor - Reigate Priory Croquet Club
Over the past twenty or so years, these two ladies both being non-playing wives of Members, have, almost single-handed, managed the social side of the Club. Both have made extensive and continuing contributions to many facets of the social scene, including lunches, teas and dinners, BBQs, walks, outings and the boring side of ensuring the supply of drinks, biscuits, milk, coffee, tea, sugar, clean towels and very importantly, toilet rolls!
Both ladies have served for very many years as Social Secretary, Doreen for much of the nineties and Freda for the noughties and beyond. In addition to 'managing' most of the catering, and doing much of it too, both have introduced new ideas into the social calendar and also helped the Club in other ways.
Doreen added winter walks to keep the Members in touch over the closed season, introduced the Club's Xmas Cracker, a December event in fancy dress that has run for the past fifteen or so years. She also managed to purloin the Tennis Club's cast off kitchen that serves the Club exceedingly well to this day. Doreen also manages to find time for a little gardening to fill in any spare moments.
Freda, along with husband John was, and still is, a mainstay of the annual BBQ, buying the meat, organising the salads, desserts and BBQ chefs. She recently introduced Club lunches that have been so successful that members turn up purely for the lunches.
Martin Kolbuszewski - Cheltenham Croquet Club
Martin started to play croquet in the mid-1970s and joined Cheltenham Croquet Club in January 1994. In 1998 Martin 'volunteered' to take on the role of Minutes Secretary. He has never failed to produce immaculate minutes, accurate summaries and helpful action notes for the members of the committee. He is the 'quiet man' of the club with a dry sense of humour. Martin's knowledge of the work of the committee can best be described as encyclopaedic. He always seems able to recall decisions that have been made in the past and to guide the committee through the necessary process of any action or change. This is a most useful asset for any Chairman or Secretary wishing to keep a committee 'on task'.
When Martin places his pencil beside his pad the committee knows that this is a sure sign that no further discussion need take place on a particular item and that the business of the meeting should move on. Martin is retiring from his position as Minutes Secretary after thirteen superb years of service to the committee. Martin's playing style is distinctive. If one is watching someone with a flat cap, a cigarette and a total lack of follow-through then that can only be Martin. Martin has also proved to be a most able Tournament Manager both for the club and Croquet Association.
Robert Laver - Sydenham Croquet Club
Robert has been a member of Sydenham Croquet Club for around eight years, and Secretary for around five. He fights tirelessly for the croquet cause in the face of the bigger tennis section. He constantly challenges their calculations and is steadfast in his support of the section. In addition, he has assumed responsibility for supervising the groundsman, and over and above that, he frequently takes on the mowing of the lawns in the absence of the groundsman. He often volunteers to drive the older members to their matches and helps every time with tea. It is no exaggeration to say that the club simply would not exist without Robert.
Basil Lawrence - Enfield Croquet Club
Following an Enfield Council-run croquet course, those attending were offered the chance to form a Club. Subsequently Enfield Croquet Club was formed and its first Chairman in 1991 was Basil Lawrence who remained in that post until 2009 when age and the ill health of his wife Joan forced him to retire from the game. Essentially a self-taught player who, until 1999 when his protege Ken Pickett equalled his 14 handicap, was the leading player in the Club. Basil was a hands-on Chairman and also Club captain for a number of years. As Chairman he battled with the local council, improved our lawns, was the prime coach for all newcomers, chief enthusiast and match organiser, also recruited members and introduced golf croquet to Enfield. The sort of leader who painted the clubhouse, built the hoop remover and then spent his winter refurbishing the club mallets, hoops, trolleys and the like.
Always smiling, always there with a friendly word or timely advice. The high esteem in which Basil is held resulted in the Club committee honouring him as a life member and creating the post of Club President which he still is as he celebrates his 90th birthday this year.
Mollie McBride - Chester Croquet Club
Mollie McBride joined Chester Croquet Club in 2000 after attending the annual beginners' course for association croquet. In March 2001 she joined the committee, on which she still serves, and spent four years as publicity officer significantly widening contacts with the local press, radio and community newsletters. She became an association croquet coach in 2002 and a golf croquet coach in 2003 and initiated the popular 'rabbits' sessions for association newcomers and golf croquet sessions which are now a well-established part of the club's activities. These have resulted in a rapid increase in membership, an improvement in the club's financial position, and have strengthened our reputation with the local council (the club's landlords) as a successful and broadly-based community organisation. The club now has three regular and well-attended golf croquet sessions each week, one of which she still leads despite now being over 80 and suffering from deteriorating eyesight, and she organises one or two golf croquet training days each year with visiting coaches, an enjoyable and instructive croquet gymkhana, and an annual fundraising event for the Samaritans. At the same time, she retains her interest in association croquet, thus encouraging the more adventurous golf croquet players to try association croquet. Her enthusiasm, commitment and friendly encouragement are widely appreciated by all club members.
John Munro - Southern Federation
John has been a member of Blewbury Croquet Club for many years, usually holding office in the club. In 2006 however, he was elected to the Southern Federation of CCs committee in order to take over as Federation Development Officer. In October he took up his position and became a valuable member of the CA Development Committee. He has a great deal of patience and enthusiasm that has proved to be a perfect combination for new clubs. Better-established clubs have also appreciated his depth of knowledge, especially when negotiating their way around applications for grant aid from the Development Committee.
John has been most conscientious and it is not thought that he has missed a Development Committee meeting or a Federation Committee meeting since he was elected. The work that he has done on behalf of the CA and the Federation has been quite exceptional. He recently moved to Gloucester and joined Cheltenham Croquet Club but continued as Development Officer. Despite the extra travelling he still continued as always. But he decided to retire from the Southern Federation this year. He well deserves his work to be recognised with a CA Diploma.
Peter Pullin - Sussex County Croquet Club
Peter has been a member at Sussex County for nearly twenty years having joined in the early nineties. He quickly developed his skills in the association game while reducing his handicap to 1, and became Captain of some of the teams. He soon joined the management committee and over several years made a great contribution in re-organising all the Club's own competitions as well as organising the teams for external matches. He made sure that all members were aware of the range of 17 separate competitions, conditions of entry and then collected the entries before devising the draws and blocks as appropriate. This was followed up by considerable chasing and coaxing to ensure that games were completed to a timetable culminating in the now distinctive event on our calendar, namely 'Finals Weekend'
The Club is well known for its Winter Working party of which Peter has been a key figure, particularly with work on the Club's many trees, for which he provided scaffolding, ropes and sawing equipment to complete the tree surgery. His woodworking skills have also produced a variety of bird tables, bird boxes and chopping tables for discounted sale on Open days to raise funds for the Club. Peter has remarried during his time with the Club and he and his wife Jill regularly undertook the catering for some of the Coaching courses with Peter also serving on the catering sub-committee.
His contribution to the maintenance work around the club has been exemplary with repair and refurbishment of the 12 shelters on the lawns and to the new secure store; the latter involving a full range of building work skills.
Clemency Reade - Kingston Maurward Croquet Club
Clemency Reade was Secretary of Kingston Maurward Croquet Club for 15 action-packed years until last summer. During this time she kept all 43 members in ruthless but friendly order and ensured that every aspect of the club was in good running order. This ability to keep an eye both on the club as a whole as well as on everyday detail was probably due to her previous experience as a hospital theatre sister.
Although the Club has an active committee, maintaining four leagues (South West), social events, also hosting many outside groups including wedding parties, it was Clemency who invariably took the initiative and delegated the various duties and tasks to ensure that everything ran smoothly - which they invariably did!
Newly acquired computer skills enabled Clemency to use her canny communication abilities to keep all members well informed through her regular newsletters (wittily illustrated) - chatty yet very pointed! Her knowledge of events and activities outside the club also ensured that members were constantly made aware of competitions, tournaments and coaching to further their expertise. Largely thanks to Clemency, membership has now risen to over 40 from just 26. Her contribution to the club has been invaluable and a hard act to follow.
John and Edme Robinette - Bury St Edmunds Croquet Club
John and Edme Robinette have been members of the Bury St Edmunds Croquet Club since it was established 25 years ago. Throughout that time, John has served on the committee in many capacities, including treasurer and chairman. He was the force behind the club buying a new clubhouse, monitoring its development and ensuring that every need was fulfilled. His carpentry and design skills have frequently been evident in providing ramps for hoop trolleys (which he also mends), mallet racks, shelves, lean-to sheds etc. His knowledge of lawn maintenance and the mechanics of mowers is vital to the care of lawns where he works tirelessly marking out the lawns, clearing leaves, cutting grass, moving hoops marking lines and performing the multitude of tasks required to keep a club viable.
Edme is the Club Handicapper, runs tournaments, organises social events including trips to international events and is supportive of all club activities. She is very helpful to members and her knowledge of both AC and GC enables her to offer advice and support to all. She is the referee-on-call whenever she is at the ground and she is a point of reference for any croquet decisions. Both have supported the EACF and frequently hold meetings in their house. They have been strong mainstays of the club.
Ron Sherwin - Purley Bury Croquet Club
Ron and his wife joined Purley Bury Croquet Club in 1996, at which time the club had two lawns, one of which had recently been an allotment. At the end of 2004, Ron took over the maintenance of the lawns which involved cutting them at least once or twice a week throughout the season, and on match days. Numerous trips to the recycling tip follow each time to dispose of the cuttings. In addition he regularly waters the lawns and oversees their maintenance. Ron has been a member of the club committee since 2002 and as Treasurer, ensures that he club remains financially sound. Ron, with his wife Audrey, prepares and edits the club's quarterly newsletter 'Cross-wire'. Ron will willingly turn his hand to any task that is required by the club. His playing skills are reflected by his low handicap and he is particularly kind and helpful to less able players and makes sure that they feel at ease. Ron gives unstintingly of his time and energy to Purley Bury Croquet Club and he is liked and appreciated by the members who acknowledge his significant contribution to the development of the club.
Roy Smith - Swanage Croquet Club
In 2005 Roy Smith, while visiting Sidmouth, noted that outside the cricket outfield people were playing croquet. The thought occurred that Swanage Cricket Club outfield is not in use most weekday afternoons and golf croquet would be an activity that could be enjoyed by the senior age group. Roy then instigated an open day to assess interest, 40 people attended. With some difficulty Roy located four garden sets, the volunteer groundsman produced two lawns and the club was underway. With a little research, Roy located a former International player and through him made contact with a local club. He then organised some basic coaching for the members.
The club started with 27 regular players there are now 88 members, a waiting list and four lawns. Thanks to Roy, Swanage has played other croquet clubs, two county players have emerged and the profile of Croquet has been raised by a town tournament for the benefit of the RNLI. The club has supported the founding of a club in Wareham, but most importantly 88 people, who still receive coaching from Roy, have a new and stimulating interest.
Freda Vitty - Auckland Croquet Club
Freda became a member of Auckland Croquet Club in 2000 and was secretary from 2001 until 2007, during which time the club went through two changes of venue. Sites were visited and found unsuitable for one reason or another, sorting out and acquiring grants and supporting Eugene Brady in negotiations with the local council concerning our current venue all entailed a considerable amount of expertise, her time and unquenchable energy. An enthusiastic and accomplished golf croquet player she became club competition secretary in 2007. Freda has played for Auckland Croquet in the Croquet North Golf Croquet League, thus being instrumental in their success over the years. She has captained teams in Golf Croquet Inter- counties competitions and played at national and international levels.
Freda gives generously of her time to Auckland Croquet and takes charge at the start of the season to set out the lawn for play. She is always willing to provide coaching to new members and direct play when 'Have a Go Sessions' are provided for visiting groups. Her dedication to Auckland Croquet and the game of croquet in general, make her a representative of the highest order.
Don Wright - Tyneside Croquet Club
Don Wright has been Treasurer of the Tyneside Croquet Club for 20 years, except for two years when he was the Chairman. The club has had several homes during that time, with each move having cost implications and it is largely due to Don's acumen that the club has been financially healthy throughout.
Don has represented the club on other bodies, selected and captained club sides, made racks and stands for equipment and played his part in cleaning and decorating past and present clubhouses. He helps to mark out the lawns and hammer in the hoops. Don has donated several of his fine watercolour and oil paintings to the club raffle and at the club's 25 Anniversary dinner provided the musical entertainment.
Ian Wilson - Cornwall Croquet Club
Ian Wilson was a founder member of the Cornwall Croquet Club. He is a qualified club coach and has been intimately involved with the coaching of AC and GC at Cornwall, Nailsea and Plymouth clubs, and gave Fowey Croquet Club invaluable advice in the setting up of that club. He was involved with grounds maintenance at Nailsea and served for several years on each of the Cornwall and Nailsea Committees. Although now he leaves general coaching to other members of the club, he still organises and runs an annual 'transition to Association' course for those who wish to try AC after sampling GC. He established a friendly match between Cornwall and Nailsea, for both codes, which stall takes place annually in October.
---
2010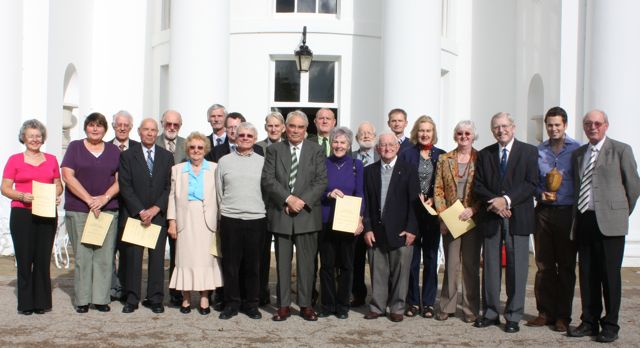 (left to right) back Row: Roger Loram, John Cundell, Craig Edwards, Chris Williams, Bernard Neal, David G. A. Nicholson, Ian McDiarmid, Ian Plummer.
Front Row: Georgina Llewellyn, Janet Lewis, Ken Dawes, Brenda Vinton, Brian Lewis, Quiller Barrett, Carol Lewis, Len Nash, Sarah Rankin, Barbara Kitching, Brian Kitching, Howard Cheyne, John Saxby.
Shirley Buckley - Weston-Super-Mare Croquet Club
Shirley took on the role of Club Secretary in 2002. In the past three years our club has developed from a group of about fifteen locals, who met regularly and played croquet in a public park, to our having acquired a neglected field, which members have licked into shape to provide three good full-size lawns, with an enthusiastic membership of fifty.
This progression has involved considerable "behind the scenes" administration, Shirley lives only 150 yards from our new venue and she is always to hand to keep an eye on things. She efficiently deals with the usual secretarial duties of correspondence, minuting, convening, issuing notices, keeping records of membership and of club equipment plus keeping the equipment store in good order.
In addition, Shirley's communication skills and personality have greatly helped the successful bonding of our original members with the influx of new members. She maintains such good communication and has been the creator, editor, producer and distributor of an internal club newsletter. Her dedication, energy and enterprise have greatly contributed to our rapid transformation into a very active, competitive, social and happy group playing both Association and Golf Croquet.
Owen Bryce - Northampton Croquet Club
In his second term as Club Chairman, Owen Bryce has been a member of Northampton Croquet Club almost from its inception 24 years ago. When he is not organising the club, he is extremely busy doing many of the little but time-consuming jobs. He repaints hoops and pegs, checks gazebos are waterproof, and unfailingly turns out to help when lawns need marking or new holes need boring.
Owen plays perhaps more often than anyone else in the club, and for some years his handicap steadily dropped, reaching about 8 two years ago at the young age of 88. He encourages others to play with his light-hearted but deeply-interested approach. One member said, "I always like the way Owen welcomes his opponent onto the lawn after a blobbed hoop or missed roquet with a wave of the arm!", and another said, "Owen is the only one I have seen crawling on the ground to see if the ball will go through the hoop. He is a real gentleman."
Owen is not only a friend to everyone in the club, as others have said he has "a lot of support from Kenilworth Club members who have huge respect and affection for Owen - including John Leader, who lost 1-25 to Owen in our last match." We feel he is "an extremely good ambassador for croquet generally and to new members specifically.
John Cotes - Croquet Durham
Octogenarian John Cote's energy and enthusiasm helped to launch the Croquet Durham Club. He started without a site or any enthusiast apart from himself. When the initial sites proved unsuitable, he continued undaunted and started a recruitment campaign in Durham City whilst negotiating terms with his then club, Auckland, for his recruits to learn to play on their lawn. He found disused bowling greens, with the potential for four lawns, at the Police HQ Sports facility at Aykley Heads and he negotiated a reasonable rent. He immediately redoubled the recruitment campaign with open days and an official club opening securing excellent media coverage. He has also secured sponsorship and funding from a local marine insurance company and the local Council. This allowed the Club to cut and maintain the lawns to a standard good enough to play in the Croquet North League with some success. The club is now well established with nearly 30 members and makes a valuable contribution to croquet in the North East.
John Cundell - Leighton-Linslade Croquet Club
As Vice Chairman of Leighton-Linslade club, John Cundell is a driving force behind everything that the club does. This includes clubhouse and court maintenance and internal and external competitions organiser. He is a club coach, Club Handicapper. and he assists with coaching at other clubs. Prior to matches or tournaments, he checks the condition of the courts and the precise measurement of the hoops. On match mornings he is invariably first there, putting up gazebos and making any other last-minute preparations.
During the past four years, he has been actively involved in the development of the courts from two overlapping courts to three full-size fenced courts. As the courts are in a public park, John has developed a strong relationship with the Council ground staff to provide a high standard of maintenance, achieving a good standard for EACF league and CA Inter-Club Matches.
Earlier this year, John, jointly club member Richard Knightley, updated the CA 'Guide to Golf Croquet'. John's commitment and enthusiasm for the game of croquet, plus his service to the Leighton-Linslade Croquet and the wider croquet community, is an inspiration to all.
Arthur Davis - Ashby Croquet Club
Arthur 'Dave' Davis turns up at the Ashby Croquet Club three times a week come rain or shine, despite being well over 80. He has been a permanent committee member for at least 12 years and a member of the club for at least 15 years. Despite his age, he is always the first to volunteer to help out at taster sessions and charity events. Until recently he took upon himself the job of white lining our lawns virtually single-handedly.
Ken Dawes - Canterbury Croquet Club
A retired GP, Ken Dawes is a founder member of the Canterbury Croquet Club. he was its secretary for many years and became chairman in 2005. He retired from the committee this year.
Ken played a leading role in moving the club from its original home, in a garden in Chartham Hatch village to Polo Farm Sports Club in Canterbury. When he became the Club's secretary it had eight members and now has forty-four. As chairman, Ken represented the club on the Polo Farm executive and despite the club being a very small partner at Polo Farm, he negotiated many improvements to the facilities, thanks to his tact and good humour. He also designed and provided club equipment and was once found carrying out repairs on the clubhouse roof at the age of 80.
Craig Edwards - Cheltenham Croquet Club
Craig Edwards has served the Cheltenham Croquet Club well during the last ten years, responsible for the Club's croquet equipment. The Club's 11 courts and practice area all require balls, hoops, clips, pegs etc., and it is a skilled, patient and ongoing task overcoming the problems of thieving foxes, forgetful members, wear and tear and occasional misuse. Competitors in any of the Club's many tournaments will be playing with balls tested by Craig, to precise standards and the Club's large stock of mallets for use by beginners and visitors, have all been weighed and measured. Craig also takes responsibility for the engraving of Cheltenham's many trophies. Finally, winter play at Cheltenham is highly valued and Craig organises a huge winter tournament providing over 60 members with extensive matchplay.
Brian and Barbara Kitching - Sussex County Croquet Club
Brian and Barbara Kitching originally joined Southwick as far country members and following Brian's retirement in the mid 90's they decided to move near Southwick and soon became very active members of the club. Barbara became a major contributor to the club's catering operation and Brian soon demonstrated his skills with the barbecue. Brian created the club's first website and was club secretary for two years in 2007/8 During this period both Brian and Barbara started to develop Southwick's corporate entertaining programme whereby local clubs such as Rotary, Probus and Girl Guides come for an evening's croquet tuition with refreshments. Under their leadership, this has now become a major source of funds for the club and a potentially valuable source of new members.
Carol and Brian Lewis - Southport and Birkdale Croquet Club
Carol and Brian Lewis are long-standing members of Southport and Birkdale club and very active in committee work, social events and especially coaching. They have been coaching beginners for at least 12 years and have continuously demonstrated a very high level of personal skills that have encouraged and motivated people into Croquet. Their activities during the last five years have been outstanding - they have run additional coaching courses every Tuesday morning for high handicap players. Carol and Brian have recognised the need amongst many new members to have further coaching and have patiently supported many 'new' members within a friendly coaching format on Tuesday mornings for the last five years. The result has been increased usage of our lawns every Tuesday, better retention of new members, a greater social atmosphere within the club and most importantly, more players eventually being able to participate in competitive play. Carol and Brian Lewis have given of their time freely to the enormous benefit of Southport members, Southport club and ultimately the Croquet world.
Janet Lewis - Watford (Cassiobury) Croquet Club
Janet Lewis is the heart and soul of Watford (Cassiobury) Croquet Club where she has been a member for 14 years playing both association and golf croquet. Janet instigated introductory golf croquet courses in 2003 and consequently, the membership has increased from 25 in 2002 to over 90. Janet's friendly manner created a welcoming environment which encouraged people to join the Club and remain as members. As a direct result of this increase in membership Watford Borough Council have provided a third croquet lawn. Janet has worked hard to integrate the new golf croquet recruits with the established association croquet players which has created a unified Club. She is always ready to help members to improve and is a CA Coach for golf croquet. She has also organised many social activities, including a well-attended annual dinner and various fun croquet days. Janet has been an active member of the Club Committee since 2003 and Club Secretary since 2007.
Georgina Llewellyn - Llanfairfechan Croquet Club
Co-founder of Llanfairfechan Croquet Club, Georgina Llewellyn has given long term, dedicated service to the Club. Shortly after the formation of the Club, the secretary died and Georgina took on the job. The Club prospered as Georgina and her husband Clive coached teams to play in the North West Federation Leagues.
Sadly Clive died in 1997 but Georgina continues as Club Secretary to this day and has seen the Club grow to over 80 members. She has actively projected the Club into the Leagues and locality sports and clubs. She ensured the Club became involved with local schools and Special Services for those with disabilities and learning difficulties. Most pleasing is that the village school has croquet in its curriculum - the Club assists in training and run a summer croquet trophy competition. In the winter, Georgina ensures that the members stay together in the 'off-season' by arranging Indoor Croquet.
Roger Loram - Canterbury Croquet Club
A long standing member of the club, Roger Loram has served as external events organiser and as a club committee member. He still organises friendly matches, the most important of which is the annual tournament with Dublin club, Herbert Park. As the club's handicapper, a position he held for many years, he strove to ensure members' handicaps reflected their ability and was not afraid to alter handicaps to ensure this.
Although he no longer holds any official position he is still one of the Club's staunchest supporters. He ensures that lawns are marked out and hoops are painted and correctly set each year. He has designed and made hoop-setting equipment and repaired mallets and other items. He keeps the committee on its toes by regularly coming forward with new ideas and proposals.
Ian McDiarmid - Woking Lawn Tennis and Croquet Club
Ian McDiarmid joined Woking Lawn Tennis and Croquet Club as a tennis member in 1977 and rapidly became an equally enthusiastic croquet player. He was chairman of croquet from 1980 to 1981 and then became well known to members of all sports when he took over responsibility as bar officer on behalf of the main committee. In this role he promoted croquet throughout the club, but undoubtedly his greatest contribution, to which every new croquet player to the club over those years attests, has been his quiet help and encouragement to new faces. Through his welcoming manner and gentle advice he has enabled struggling newcomers to break through the bewildering perplexities of their first encounter with the association game, thus becoming happy and enthusiastic croquet players, and contributing tremendously to our thriving croquet section.
Len Nash - Crawley Croquet Club
Len and his wife Jean were founder members of Crawley Croquet Club in 1983, involved in all aspects of its setting up. He has served on the on the committee since and has made friends in many other clubs in his role as match secretary. A qualified CA coach and referee, he has spent many hours coaching new members and has introduced many to the game, especially at local National Trust properties.
For years, Len has run tournaments for Crawley and other clubs, being made an honorary member of Worthing Croquet Club for his efforts. Sadly, Jean has now died, but Len, now 85, is still at the lawns nearly every club day where he can be relied on for advice and practical help. The club owes him a great debt of gratitude.
Sarah Rankin - Sussex County Croquet Club
Sarah Rankin, otherwise known as Sally or Lady Sarah, has been a staunch member of Southwick for many years. Sarah was originally introduced to the game and the club by her mother who was a highly respected, long serving member. Sarah has been a consistent supporter for many years and is well known to visitors as the club's " Trolley Dolly". Sarah regularly pedals many miles to and from the club, in all weathers, to open up and supply morning coffee to our visitors. A superb saleswoman, she has organised many raffles and other fundraising activities and well as being prepared to lend a hand whenever it has been needed.
John Saxby - Bowdon Croquet Club
John Saxby joined the Club in 1996 when the MacRobertson Shield series came to Bowdon. He retained his clear view of matters which concern new players who find the Association game most challenging, and became a valued contributor to the Committee when still quite a new member. He invented a most popular feature of play at Bowdon, "The Wednesday Competition", which takes place every week in the season and fills all the lawns for the day. About 30% of full playing members take part every week and form a hub of around which much of the Club activity revolves. It started as an event to provide regular competition for those members who might never play in tournaments, and gives beginners the confidence to move on. Members thus enjoy the pleasures of tournament play weekly, without the cost or inconvenience of travel.
Since 2004, John has been our Honorary Secretary, during an active period of negotiation with the National Trust to renew the Club lease, which was concluded successfully. The Club is now planning the renovation of its century-old clubhouse.
Alison Thursfield - Cheltenham Croquet Club
Alison Thursfield fully involved herself in the life of the Cheltenham Croquet Club from joining. As a qualified coach, she has always "been there" to coach and encourage members to improve and to play in competitions. She is always willing to pass on her knowledge and is instrumental in the encouragement of all players. She enthusiastically took over the beginners and improvers coaching and as one of the Club Handicappers, Alison also maintained, organised and updated the club handicap records for many years.
As the Club's Federation contact she makes the arrangements for the various Federation league matches - a daunting task - and she has also managed and played in one of the league teams for over twelve years. For many years Alison co-managed the club's High Bisquers Tournaments - introducing the innovative idea of having tutoring available from more senior players. She also managed our large July Week Tournament for many years and in 2010 she took on the Advanced Over Fifties tournament
In her quiet and undemonstrative way, Alison is always willing to support the club and regularly helps with the club's winter lunches.
Brenda Vinton - Canterbury Croquet Club
Spritley 79-year-old Brenda Vinton has never been a Canterbury Croquet Club Committee member but her innovative ideas are accepted with pleasure. Brenda introduced an annual fun day of croquet related games, started a weekly high bisque session enabling players to transfer from Golf to Association with confidence and she offers new members tuition. Brenda persuaded her husband to make bisque sticks and stands, a hoop remover, a ramp to ease trolley movement and a large notice board about waterlogged lawns. She found a supplier for 'Canterbury Croquet Club' hats. She undertakes these 'background' activities with minimum fuss.
Derek Watts - Tyneside Croquet Club
A member of Tyneside Croquet Club since the early 1990s, Derek Watts was initially introduced to Golf Croquet, and he rapidly developed a great enthusiasm and quickly moved on to the association game. Within a few years he was a regular member of the league teams and won Club trophies. He then became a regular competitor in CA Calendar events and represented Northumberland in the Inter-Counties Championship.
By far the greatest contribution Derek made to his club was in the area of organisation and administration. Apart from being a regular member of the Executive Committee he has held the offices of Chairman (2000 - 2004) and Honorary Treasurer (1998 - 2000) and has also found time to be Honorary Secretary of the Croquet North Federation.
For the last few years, he has acted as the Club's Ground and Equipment Manager which involves an enormous amount of time watering and marking out lawns, setting hoops, maintaining the equipment and organising the interior maintenance and decorating of the pavilion. As a sideline, he also acts as the Website Manager and for the last three years has produced both the Club and Croquet North's handbook.
Christopher Williams - Dyffryn Croquet Club
Chris Williams joined Dyffryn Croquet club as it was formed in 1987. He has been part of its development ever since. He became a member of the inaugural committee and has been an ever-present member since then. He took on numerous roles within the club: Handicapper, selecting teams, coaching, and, very importantly, supervising the set-up of lawns at the start of the season! He has stepped into the role of chairman twice in the club's history. On a wider role, Chris has been known to eat and sleep croquet. He is a well-respected player, who has striven to improve both his own, and club members, play. Without Chris' expertise, Dyffryn Croquet Club would not have had the growth it has achieved over the years. What he doesn't know about croquet is not worth knowing. Dyffryn Croquet Club owes him a great debt of gratitude.
---
2009
Paddy Booth - Burnham-on-Crouch Croquet Club
In 1989, Paddy Booth persuaded some 30 residents, none of whom had any knowledge of croquet, to form a croquet club. With Paddy as chairman and imbued with his enthusiasm, the club started playing Association Croquet on the cricket outfield of the local sports club. Paddy and his wife Thelma taught the rudiments of the game, and marked out and mowed the lawns. They successfully lobbied for grants, equipment, coaching and the use of a Portakabin as a clubroom. Now, after 20 years, Paddy (who is 95) has just stepped down from the committee.
Jack Davies - Sussex County Croquet Club
Jack switched his allegiance from playing bowls (where he played for his county and his country) to Croquet in 1998. He became an A-Class player in a very short time and then went on to coaching. He spends endless time and patience with club members, of all levels, in helping them with their problems, correcting their technique, showing them new strokes and playing points and games with tactical advice. Throughout the winter season, Jack runs a weekly alternate stroke morning. Jack is an invaluable club member when he reverts to his former life as a builder and plumber. During the winter, particularly in cold weather, Jack will visit the club daily, if necessary, to inspect the water and heating systems. He gives generously of his time to support the winter working-party both with his experience and his ability to acquire appropriate tools and equipment.
Phil Errington - Belsay Hall Croquet Club
Phil Errington joined Belsay Hall Croquet Club in 2000 and within two years had become its Chairman, where his people and organisational skills, combined with his technical abilities, advanced the development of the club. An AC coach and GC referee, Phil has sought to maintain high standards and has encouraged others to improve their game. He and his wife have ensured a friendly atmosphere at the club and, during the winter months, Phil organises indoor croquet sessions, which attract players from Belsay Hall and Tyneside clubs and potential new recruits to the game. Phil has contributed greatly to the club and his leadership knowledge, skill, dedication and inclusiveness are exemplary.
Pauline Gann - Kington Langley Croquet Club
A founder member of the Kington Langley Croquet Club, Pauline Gann has been the Club's Secretary for most of the past 25 years since its inception. Her efforts and enthusiasm in recruiting and coaching quickly brought in new members and she had great success in organising and running events to raise much-needed funds to get the Club off the ground. Pauline and her husband donated a silver plate for the first Club competition, which is still the most prestigious title to win. She was one of the first four to enter and play in League teams, as also one of the first to enter outside tournament which motivated others to do so. For many years, Pauline represented the Croquet Club on the village Playing Fields Association, and was instrumental in obtaining grants from them which helped to buy various items, including a larger Club Hut. She always ensured that members were involved in all village activities both social and fundraising.
Donald Gugan - Bristol Croquet Club
Donald Gugan was one of the contingent that sparked new life into the club more than 25 years ago. He became a life member, qualified as a Coach, and has continuously lead a beginners' course each Spring, editing and printing our own Beginners handbook. He would then monitor their progress with follow on lessons, through to overseeing the beginners' competition. With Rosemary (his wife) as our Secretary, Donald shied away from serving on the Committee, but this did not prevent him from having firm views on our shortcomings. Annually he would set out the courts each Spring, As a physicist, he advocated the merits of the Omega hoops, insisting on accurate setting of hoops, in accordance with the law. His thought-provoking papers to both the Committee and the CA did not endear him to everyone, but to the unbiased, his counsel was always worth weighing.
Duncan Hector - Letchworth Croquet Club
Duncan Hector is a founding member of the 21-year-old Letchworth Croquet Club. He has played at county, national and international level and led the club to victory in the 1989 Longman Club Team Cup. Duncan was chairman and is now president of the club. He was instrumental in negotiating the club's move to its present advantageous site and has given huge amounts of time to the Club, sourcing finance, producing and maintaining two croquet lawns, becoming an expert in lawn care as a result. Duncan has provided the Club with most of its machinery and his generosity enables the Club to hold its annual dinner and fundraising activities at his home. He has spent much time teaching croquet to members, and his wise counsel has led the club to enjoy an increasing membership and to be the friendly motivated club it is today.
Pam Hughes - Stony Stratford Croquet Club
Pam Hughes has made a major contribution to Stony Stratford Croquet Club over many years. Pam is over 90 years old, drives herself to Club several times a week and regularly plays in Club competitions and Club afternoons. She is a tough opponent and plays both Association and Golf to a good standard, often surprising players from opposing teams by her ability at her age. The Club is vibrant at the moment but in the darker times, Pam almost single-handedly kept the Club going and it is largely down to her that the current members owe the existence of the Club. Pam has kept a photographic history of the Club which have been incorporated into an album as part of the Club's archives. Of particular interest was her record of the removal of the old clubhouse, a disused railway carriage, which was transferred by low-loader to the Quainton railway for renovation and preservation.
Nick Hurst - Bear of Rodborough Croquet Club
Nick is one of the founding members of the Bear of Rodborough Croquet Club and for most of its 25 years, he has maintained the lawn. He takes time off work every week to weed, feed, roll and mow the lawn. He sets the hoops and paints the white lines. He does this entirely alone and the quality of the lawn improves year on year. Nick is so busy he rarely has time to play croquet and does all the lawn work out of sight of members, but because he is so reliable, they know that a pristine lawn will await them.
Christopher Larsson - Budleigh Salterton Croquet Club
Chris has been Club Treasurer for many years. The club has a large budget and his position involves a great deal of work. Chris's accounting, budgeting and financial administration are always of extremely high quality, and his extensive work in committee and sub-committee has also contributed greatly. The resultant benefits to the club, and consequently to croquet, have been enormous.
Ann Lee - Colchester Croquet Club
Ann Lee joined Colchester Croquet Club around 25 years ago and has devoted herself to service within the club throughout that time. Her outstanding catering abilities have been apparent to all members and to everyone visiting for CA tournaments and other events, but many of the other tasks she performed quietly and without recognition were known to only a few. Ann has given so much to the club, at the expense of playing as much as she would have liked, that this award is richly deserved. Ann served as Chairman for several years and was a member of the committee for many more, organising amongst other things the annual dinner. The croquet world is indebted to Ann for everything she has contributed to Colchester Croquet Club.
Sue Mackay - Dyffryn Croquet Club
Sue Mackay has been a stalwart supporter of croquet both at her club, Dyffryn, and more widely in the South West Federation. Sue has been both match secretary and secretary of the Dyffryn Club, is very active at all club events and has donated a trophy to the club. In addition to this, Sue is the publicity officer of the South West Federation and maintains the website, with all results and draws for SWF matches. She also edits, publishes and distributes the SWAN (South West Area Newsletter) throughout clubs in the South West. She also finds time to play in club tournaments and has for several years provided an informative report of the Inter-County Tournament - and taken part when Glamorgan have occasionally been short of a player.
Pamela Mason - Sussex County Croquet Club
Pamela and her husband Ken joined Sussex County Croquet Club in 1997 and they quickly became involved in the Club, Pamela joining a group headed by John Solomon to seek lottery funding. Pamela so impressed everyone with her efficiency and PA skills, she was "head-hunted" to be Club Secretary and was responsible for drawing up the Fire Policy and Child Protection Policy.
Meanwhile, Pamela was becoming involved also in the catering at the Club, and joined the catering Committee, taking over as head of catering for 2007, after which time she became Tournament Secretary. At the time of writing, she is about to relinquish this position in order to be Club Secretary again!
Ivor Meredith - Budleigh Salterton Croquet Club
Ivor has been the Secretary of Budleigh Salterton Croquet Club for many years. The club is a large one with many members and visitors, so the amount of work involved for him from day to day is considerable. Ivor keeps his finger on the pulse, and is soon aware of anything that needs to be known within the club; he is always willing to help out at short notice, if he can, in whatever way necessary. Ivor 's devotion to the club has made an enormous contribution to its health, and consequently to croquet.
Carter Moody - Compton Croquet Club
Carter Moody has been a member of Compton Croquet Club for over ten years. Carter is an all-round performer and a pillar of strength. His contribution to recruiting new members and to coaching is inspirational: he runs jamborees, supports visiting social groups, and organises the attendance and content of practical demonstrations at shopping centres and other venues. He also recruits and coaches youth members. He produces croquet literature including instruction booklets, posters on tactics and letter cards to boost Club funds. He supports CCC winter Bridge Club. A quiet diligent person with dogged determination, Carter is a member of the committee with an excellent knowledge of buildings and can also turn his hand to most maintenance things. CCC hopes to have a new clubhouse and Carter has led in drawing up plans and contacting and informing key professional people who may be involved in the proposed build.
Rodney Parkins - Medway Croquet Club
Rodney Parkins was one of the leading lights of a group who established the Medway croquet Club, having persuaded Rochester Council to allocate them the land in 1991. He was the first chairman of the club and was active in motivating and encouraging people to take up the game. Rodney was the first member of the club to enter competitions, and his success led the way for others to follow. The club outgrew its initial venue and Rodney helped to secure a new site at the Cobdown Sports and Social Club. The club has since gone from strength to strength with four lawns and the use of a pavilion. Rodney is still very active in the club.
Jack Pattenden - Llanfairfechan Croquet Club
Newly retired, Jack Pattenden and his wife had taken up golf, and at a club Open Day, they were shown golf croquet and were quickly hooked. Within 10 months, Jack was elected Chairman and Helen was elected onto the committee. Jack wasted no time in getting things moving to upgrade the Club's off-court facilities, negotiating with architects, builders, funders and not accepting 'no' for an answer. The club's new facilities are a tribute to Jack's work and the club is very
Ray Ransom - Bristol Croquet Club
For more than 25 years, Ray, a past Chairman of the club, has been one of the driving forces in bringing the club into the 20 Century. He quickly demonstrated his aptitude for the game, became a qualified coach, and won the Club's over 9 handicap competition in his first year. Since then, the club has benefited from his counsel as he progressed to a Grade 1 coach. In the early days, Ray would be found cutting the courts before going to work, along with emptying the Elsan - in the days when we collected water from a tap at the gate. Since then, when the Clubhouse was being improved, he demonstrated both his plumbing and electrical skills.
Jim Wallen - Kington Langley Croquet Club
Jim Wallen joined Kington Langley Croquet Club in 1999 and his unstinting generosity to the Club in time and effort that made him stand out as someone special. He was a skilled craftsman and, although still working, found time to install a fitted kitchen and running water into the club hut, created a drainage system, made and hung doors, made an honours board and many smaller items to the benefit of all. He also mowed and white-lined the lawns every week. This year, recently retired, Jim enjoyed playing in several tournaments. He was Vice Chairman and was to have taken over as Chairman next year. It was with great sadness that the club learned the news of the death of Jim whilst on holiday with his wife and two friends. Jim was a popular and much-respected member of the Club; a family man, quiet and unassuming but of great character and determination. His contribution to the Club was immense and he will be greatly missed.
---
2008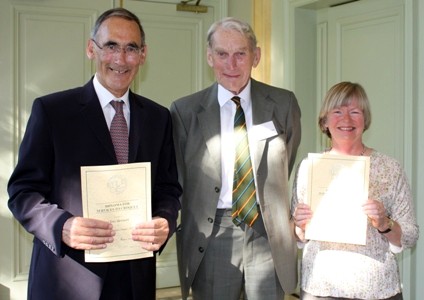 Chris Bennett and Esther Jones with CA President Bernard Neal
Chris Bennett and Esther Jones - Edgbaston Croquet Club
In 2002 Edgbaston Croquet Club was facing a falling membership, deteriorating lawns, a potentially prohibitive renewal of its lease and a general lack of funds. Chris Bennett and Esther Jones offered to 'run' the Club for the time being, increasing the number of tournaments, improving the standard of play and encouraging a more active membership - they guaranteed to cover any losses personally.
The first task was to get Birmingham City Council to admit liability for extensive lawn damage and flooding due of lack of maintenance of a culvert, and to make appropriate guarantees and compensation. By 2005 the lawns were so much improved that the Club was invited by the CA to be one of the venues for the World Croquet Championships. This gave Chris and Esther the opportunity to successfully apply to Birmingham City Council for a grant of £8,000 - mainly to provide a badly-needed new cylinder mower and other lawn machinery, also six sets of Dawson balls and 15 club mallets. It also enabled them to persuade their landlords and neighbours to carry out in excess of £10,000 worth of surgery on surrounding trees which were causing damage to the lawns, at no cost to the Club. The promotion of croquet parties with local corporate organisations was another project which now provides an annual income of some £2,000. All of the above resulted in a long-term renewal of the lease on very favourable terms incorporating a deal on the connection of an electricity supply - a grant from the CA covered the purchase of appliances.
In 2007 the Club celebrated its Centenary and was transferred back to a traditional committee structure. It is now a regular and popular venue for CA events. The award of a Diploma to Chris and Esther would be appropriate recognition of their work over five years in carrying the Club through its crisis.
Tony Backhouse - Cornwall Croquet Club
Having served on the committee of the Woking club, Tony moved to Cornwall in 1995, found no formal club there and contacted seven enthusiasts to set about forming on. In 1988, Tony because the Chairman/Secretary of a club that relied on private lawns and, after eight years of searching for a permanent site, established a two-lawn venue, at Porthpean, that was opened in May 2005.
The Club has gone from strength to strength, with Tony as the guiding light. When he retired as Chairman this year, all members acknowledged the work and effort that Tony has put into making this a successful club, with some forty members playing both codes, and entering teams into the South West Federation Leagues. His work for the club continues as Tournament Secretary and wherever, he is needed, including duties as Association Grade One coach and referee.
Undoubtedly, without Tony's persistence and vision, the club would not be as healthy as it is.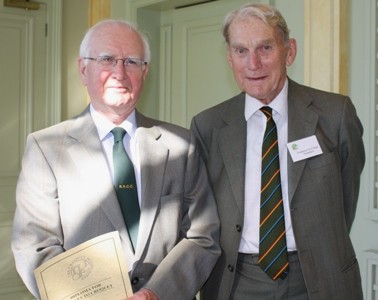 Ian Burn with CA President Bernard Neal
Ian Burn - Rother Valley Croquet Club
Ian, a retired surgeon, has been a member of Rother Valley Croquet Club since its inception in 2000, and before that for at least three years when the club played less formally in Fittleworth. He took a leading role in the decision to move to the club's present site and in all the work involved in setting up a new club. He has been on the committee for most of his time in the club, and has served as Chairman and latterly as Vice-Chairman. He has been Club Tournament Secretary from the beginning and was Club Captain for five years. While encouraging and often coaching others in both Golf and Association croquet within the club he has also done much to promote our club's standing in the wider croquet world. He is currently Club Archivist and is presently working on a brief history of the club's first ten years, to be ready for the 10th anniversary in 2010. In 2002 he wrote a widely publicised article on the health benefits of croquet.
Ian is a natural leader and inspirer of others, generous and full of encouragement, but never seeking the limelight for himself. His wise counsel has helped to steer the club through difficult times. Without his tact and hard work behind the scenes, we would not be where we are now. He has been supported throughout by his wife Fiona, who plays an active role in the club's hospitality.
Ian is moving away from the area for family reasons, and he will be greatly missed.
David Barrett - Bury Croquet Club
David was a founder member of the Bury Club 20 years ago and has served on the committee in many different capacities ever since. He has run coaching courses at the club every year and has also helped other North West clubs. Ten years ago he arranged the relocation of the Club's present lawns and also negotiated with Heaton Park for the use of the Commonwealth Games bowling greens for croquet. During his last three years as chairman he raised money and organised all the work required to bring electricity to the clubhouse and put in a very good fitted kitchen. He has inspired everyone in the club to work on improving the clubhouse and also to play for club teams and in the North West Federation Leagues. This year (2008) marks two significant anniversaries at Bury and David has been committed to the development of the club in every way over the whole time.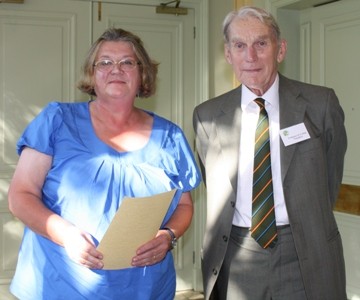 Christine Constable with CA President Bernard Neal
Christine Constable - Sussex County Croquet Club
Christine started playing croquet at the Worthing Club in 1991. In 1992 she joined Sussex County Croquet Club and quickly established herself on and off the lawns.
In 1995 she offered to take over the running of the Club's substantial catering operation. On numerous occasions under her leadership, the club has catered for in excess of 60 people each day, a number that many successful restaurants would be proud to serve. During her leadership of this important operation, she continued to obtain volunteers, raise standards and most importantly maintain the catering operation as a major contributor to club funds.
In 2007 she relinquished her catering responsibilities to step into the breach as Club Chairman for 12 months in spite of just having been appointed a magistrate. Chris is an active referee and has also managed Tournaments since 1999. In spite of her heavy workload she is still a member of the Club's Management Committee and club Vice-Chairman.
Roger Bowen - Budleigh Salterton Croquet Club
Roger is a past grounds manager, a past Croquet Chairman, a General Committee member, with extensive sub-committee service, a referee (Association and Golf Croquet), a hoop setter, assistant coach and mentor. He is an enthusiast with a penchant for innovation: for example, he played a leading role in effecting major improvements to four lawns and the raising the necessary funds for this from various sources; he installed automatic watering on eight lawns; he designed a retaining wall with a honeycomb structure for the full length of one lawn and personally built it; he set up and ran for a time indoor croquet sessions at various locations, and these attracted new members; he set up and maintains the club website and he has written a history of the Club.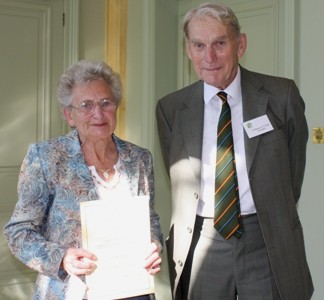 Connie Chick with CA President Bernard Neal
Connie Chick - Littlehampton Croquet Club
Connie became the Club's president in 2002, having been the Chairman for the previous four years. Since she joined Littlehampton Croquet Club in 1988 she has served on the Committee almost continually and her many activities have included coaching new members, catering for match teas and fundraising, which are met with equal enthusiasm.
Connie has been a member of both the South East Croquet Federation (SECF) Croquet Committee and the CA Golf Croquet Committee. She has been match secretary for both friendly and SECF League matches and has represented the club in the SECF League.
In the winter of 1994/5, together with her late husband Don - Treasurer and Sportsfield representative - Connie oversaw the relocation of the Club's elderly wooden clubhouse to its present site on the sports field. Next year, 2009, marks the centenary of Littlehampton Croquet Club and, no doubt, Connie's boundless energy will be spearheading the celebrations.
Margaret and Tony Garner - York Croquet Club
Margaret was a founder member of the club and has been on the Committee for most of the last 20 years. She was Social Secretary for two years and Match and Tournament Secretary for five years but perhaps her greatest contribution to the club has been in the four years up to last December when she was Club Secretary and devoted much time to instruction and enthusing newcomers.
Tony joined the club one year after his wife, son and daughter (if you can't beat them...) and joined the Committee in 1993. He became Match and Tournament Secretary in 2001 and despite poor health has ensured that the club completed every fixture for the last six years - no small feat in a small club in up to four leagues. He has also been 'official' photographer and webmaster and 'unofficial' policeman when they lived nearby and there was 'yob' trouble.
Tony and Margaret have worked as a team in all aspects of club activity which has sadly come to an end because of Tony's ill health and moving twenty-five miles away.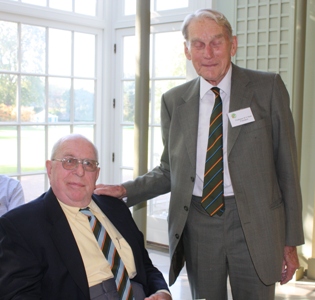 David Godfree with CA President Bernard Neal
David Godfree - All England Lawn Tennis and Croquet Club
David Godfree has acted as croquet secretary for over 30 years. During that time he has developed a full range of internal club competitions, both Association and Golf croquet. With infectious enthusiasm he has persuaded many club members to try their hand at croquet, and to maintain their interest, has organised regular informal club days. David also developed indoor croquet to keep up interest in the winter, using snooker balls, small mallets and hoops fitted to sockets under a carpet.
Due to David's initiative, there is now a programme of club matches, both home and away.
Gordon Hopewell - Nottingham Croquet Club
Gordon Hopewell first played at the club while a pupil at the Nottingham High School, being one of a group of six talented players who contributed significantly to the revival of the sport. He won the Association Plate and played in the Chairman's Salver. He returned to Nottingham in 1980, served briefly as Treasurer and then generously as President for 16 years. Throughout this time, he played a full part in managing and catering for tournaments, coaching beginners and passing on his wisdom to more experienced players, and undertaking improvements to the pavilion, in addition to his ceremonial duties.
Peter Jones - Budleigh Salterton Croquet Club
Peter is a past Club Secretary, a past Club Chairman, current Chairman of the Club's Handicap Committee, current Chairman of the Club's Federation League Team, an Association Croquet referee a Grade 2 approved coach, a manager of CA and Club tournaments, and a past member of a busy sub-committee. For many years he has given generously of his time, his talents and his energy. He has coached extensively and acted as a mentor; he has also done an enormous amount of work recruiting and training hoop setters throughout the season (ten lawns and a practice lawn) and has performed much of the hoop setting himself.
Beatrice McGlen - Nottingham Croquet Club
Beatrice McGlen joined the club while working and playing at the Bretby Coal Research Establishment and improved rapidly, winning the Steel Bowl and playing for winning Nottinghamshire Inter-counties teams. Despite living an hour away from the club, with family and work commitments, she has been generous with the time she has given to it, and in encouraging new members. She has served as a very efficient Chairman of the Committee for two spells and, notably, she reintroduced the practice of members catering for tournaments, after a period when it had been contracted out. She did this by organising rotas, cajoling members to take part, and most importantly, leading by example, taking on the task when others were not available.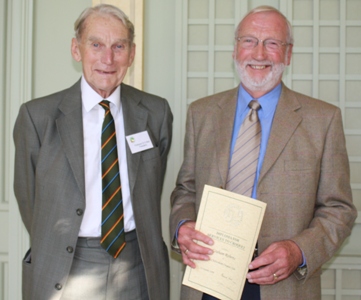 Graham Roberts with CA President Bernard Neal
Graham Roberts - Cheltenham Croquet Club
Graham Roberts joined the Cheltenham Croquet Club in 2000 to learn to play croquet as his wife Maryse had done the year before. He has succeeded very well and frequently plays for the club in various leagues and competitions. He was talent-spotted early on by the Committee as someone with other abilities and over the last few years has transformed many areas of the club buildings. Graham sees what needs doing and proceeds to do it with great skill and little fuss. He was also talent-spotted by the lawns manager and Graham uses his careful and accurate approach as part of the hoop-setting team and his contribution to he club's activities do not end there. He is a calm and able manager of members' days and group visits to the Club. He can also be found in the kitchen that he has so improved, helping with the catering. We sincerely hope Graham doesn't go off croquet.
Andy Mitchell - Ramsgate Croquet Club
Andy Mitchell was one of the founder members of the Ramsgate Croquet Club when it formed in 1984 and is now Vice-Chairman, having served as Chairman for four years.
He heads the Club's maintenance team, dealing with any mechanical items that need repairing such as mowers and sprinklers. He has devised a method of using drainpipes as stop-boards which are much easier to use than wooden boards and he is responsible for painting lines and hoop setting. The clubhouse is a dilapidated listed building and he and his maintenance team keep it in as good order as possible.
Andy organises all club competitions usually with at least 60 competitors, and organises the First and Last days, which although trophies are presented are considered fun days and supported by nearly all members, which requires a great deal of juggling of numbers.
Although in full-time employment, Andy can be found at the club at weekends for most of the year, doing something and he also helps with the Saturday Junior club if there is a shortage of volunteers. When he takes a holiday it is to catch up with a job at the club, He is the hoop-setter and assists with all the CA tournaments at the club, usually being first to arrive and last to leave. He has a phenomenal memory and can recall incidents since the Club opened, and past members which is a great help on occasion.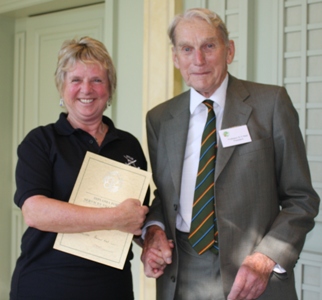 Liz Wilson with CA President Bernard Neal
Liz Wilson - Fylde Croquet Club
Liz has been a member of the club for almost 20 years and during that time has dedicated herself to the Club and sport of Croquet. Soon after joining, she began to take an active part in running the club, becoming treasurer and running annual beginners' courses. Her teaching methods are lively and fun and she keeps the social side of the club active, which we believe contributes to the success in obtaining new members who stay with the club and develop as players.
Liz served on the North West Federation Committee for several years and his post brought her into contact with the larger world of croquet and the best players in the region. Liz brought this knowledge back to the club and used it to help each and every member improve as players.
Over the past six years the club has grown from only having one short lawn team in Federation leagues to having five teams covering all the four disciplines of the game, and this is because of Liz's drive, enthusiasm and coaching skills. She now holds the position of Match Captain and recently became a Grade one Association Coach. Liz has also been a member of Pendle and Craven for many years and has managed several tournaments there and often will assume RoT duties.
---
2007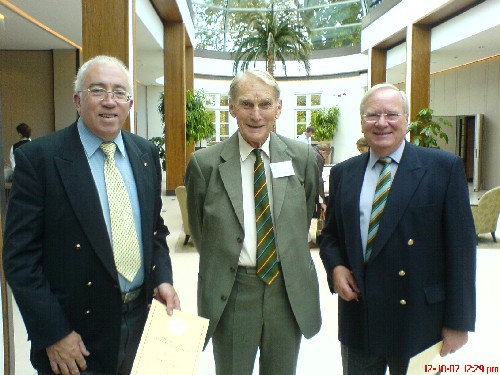 Roger Morris and Richard Clarke with CA President Bernard Neal
Sheila Watts - Tyneside Croquet Club
Shelia has been an active member of the Tyneside Club since 1991. She has developed into a formidable player, representing the club in CA competitions and league matches. Her greatest asset to the club however has been her involvement in the Administration activities, where she had been a long serving member of the Management Committee and was for a time Club Secretary. More recently she has undertaken responsibility for the organisation of the club catering, producing lunches and teas for home matches and organising the very successful Annual Club Dinner.
Hamish Hall - Bristol Croquet Club
Hamish joined the Bristol Croquet Club in 1986 and is still remembered by Dr Gugan as the most promising beginner he ever coached. Hamish soon joined the committee and was elected Chairman in 1990, 1991 and 1992. Since then, except for a break of three years during which time he chaired the CA's Development Committee, he has been on the committee every year notably combining the demanding roles of Grounds Secretary and Treasurer for three years. Hamish is always there when needed, either doing the work, coaching, organising, encouraging volunteers or dispensing advice of sterling quality and superior audibility!
Roger Morris - Tunbridge Wells Croquet Club
Since September 2004 Roger had spearheaded the project to completely upgrade the Club's facilities. This included the replacement of the existing three lawns; installation of the irrigation system; purchase of the necessary lawn maintenance equipment, building of the Equipment Store; upgrading of the clubhouse facade and the conversion of the neighbouring Bowls Club lawn for croquet use. All this work was completed over a 12 month period. The work was completed on time, within budget and to a standard well above expectations. His commitment had been "awesome".
Richard Clarke - Tunbridge Wells Croquet Club
Richard took over as the Chairman of the Club two years ago. He has been able to mastermind the sourcing of all the required funding (£42,000). He has ensured that, during a time of great change, the Club has not been diverted from its main aim to become more than simply a traditional private members club. He has been commended for his work by the local Civic Society, which considers that he has enabled the Club to make a significant contribution to preserving and enhancing Calverley Gardens; and providing enhanced leisure facilities for the community.
John Hobbs - Tunbridge Wells Croquet Club
Most veteran croquet players know John as the master mallet maker and the "giant killer" of croquet. Members of his club would add that he was also the force behind the founding of their club in 1984. His dedication and professionalism has guided the club through its initial years. He can also be described as a committed worker/beaver during the major year of club development. He has spent many hours using a full range of construction skills. In addition he continues to make a major contribution to coaching, managing, chairing, refereeing, handicapping and captaining.
Gerry Eccles - Cheltenham Croquet Club
Gerry has, during his long membership of the Cheltenham Croquet Club, been active in many aspects of club life. Gerry joined the Club Committee in 1990 and, in his quiet undemonstrative way, immediately set about making himself extremely useful. Throughout his years of service to the Club, he continually sought out those often tedious, sometimes unattractive jobs that need doing in any organisation. These are the tasks that are rarely life threatening and never reach the forefront of most people's attention but tasks that make the difference between a smooth flowing organisation and one that creaks and groans. Gerry has never sought to advertise his contribution and will probably be embarrassed by the citation but it is an undoubted truism that every Club should have an Eccles.
Peter Stone - Cheltenham Croquet Club
Peter is a quiet but major contributor to the standing of the Cheltenham Club. A relatively recent convert to the game, he has nevertheless found time to look outside his efforts to improve his own game, to areas where he might make a more total contribution to his new sport. Soon after joining the Club he started to take a keen interest in the state of our playing surfaces and he now devotes a considerable amount of his time and effort to improving their quality. He has also applied his practical skills and technical knowledge to the design and making of many labour-saving devices that have greatly improved the presentation of our courts throughout our busy tournament schedule. His input before and during the 2005 World Championships would merit a medal on its own. Peter willingly makes himself available for those club events where beginners to the game rely heavily on the help and goodwill of more experienced players.
Ken Mason - Sussex County Croquet Club
Ken joined the club some ten years ago and immediately joined the winter working party. He is a skilled DIYer and has developed many facilities to improve and maintain the club premises. He has designed and built the huge working table in the kitchen; redesigned and built a new Bar and has recently constructed and fitted out a service counter. He has also made and fitted new back gates and also designed and built a workshop and store.
Ken designed and made the eleven scoreboards used for the World Golf Croquet championships.
Ken now organises the winter working party which meets weekly to keep the club in good condition.
Ken's playing abilities have been affected by his physical disabilities, but he has played Golf Croquet to a particularly high standard, having represented England at the World Championships in Cairo.
The club is deeply indebted to Ken and he is a very valuable and valued club member
Patrick Alden - Sussex County Croquet Club
Patrick became the club Treasurer in 1991. His banking experience put the club "back on track" and he kept a close eye on income and expenditure. He introduced fund raising activities and soon the club began to flourish again. Patrick put and enormous amount of time into the club and kept meticulous records, accounts and graphs which have proved invaluable to all members. The Auditor has praised the "competence and thoroughness" of Patrick's work. He is a great supporter of club activities and has made generous donations.
Patrick resigned from his financial responsibilities in 2006. He has a great sense of humour and is a very valuable member of the club.
---
2006
Bo Harris - Cheltenham Croquet Club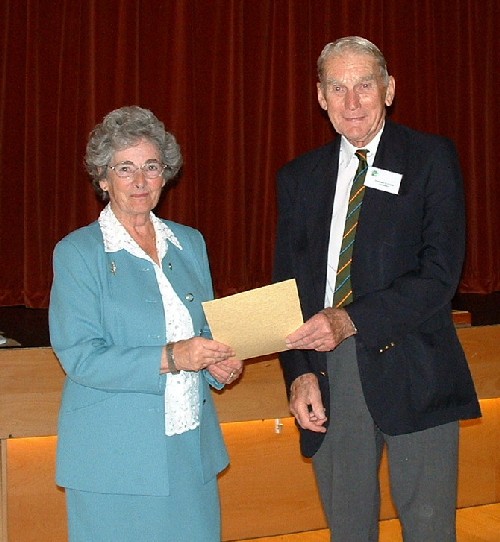 Bo Harris with CA President Bernard Neal
During her long membership of Cheltenham Croquet Club, Mrs G. D. Harris (Bo) has been active in many aspects of club life. She was Secretary for many years when the post included that of Membership Secretary. The kitchen and management desk have also benefited from her competent attention. She has represented the club in many competitions and won the top national ladies events.
It is perhaps in her sphere of coaching beginners that Bo has contributed most to well-being of the club. In 2002 she was presented with the Gloucestershire Lifetime Services to Coaching award in respect of her effective no nonsense approach to introducing new members to the game.
Bo is still passing on her sound playing skills informally and she also co-manages the club's High Bisquers Tournaments.
Pauline Softley - Sussex County Croquet Club
Pauline has been a member since 1990 and has served on the club committee for 10 years, during which time she was an excellent club secretary for six of those year. She copes with organising the extensive duty rota for the Inter-Counties Championship which is a mammoth task tactfully and efficiently accomplished.
Pauline is a quietly useful member doing all the things which keep a large club running smoothly particularly during tournaments.
Pauline prepares tea every Tuesday for the Golf Croquet afternoons as well as for many other club events. She will turn her hand to a wide range of ancillary duties. She still finds time to enjoy both Association and Golf Croquet.
John Gosney - Sussex County Croquet Club
John joined the club some nine years ago and within two years had joined the grounds sub-committee, assisting in setting and moving hoops. This required early attendance at the club, sometimes before 7.00a.m. Prior to the start of the season he assists with the marking out of the eleven lawns. Each year he undertakes the many maintenance and repair tasks required in respect of buildings and club equipment.
John was a major contributor to the club's tree planting scheme and he has formed the trees into a fine hedge.
John has always volunteered to undertake any task required at the club and is usually one of the first to volunteer.
John played a major part in the planning, design and implementation of the irrigation system and has now mastered its computer programme.
John is not only the first to volunteer for the various tasks undertaking by a team of about 20 club members but also uses his initiative in spotting and dealing with problems. He is a real "gem".
John is also a good playing member with an association handicap which is still falling. On occasions he can also be persuaded to play Golf Croquet.
Bob Whittaker MBE - Bath Croquet Club
Bob was the secretary of the club for three years; Lawns and Equipment Manager for five years; and Chairman for two separate spells. He "retired" from the committee this year after 12 years service.
Bob was instrumental in leading the Club's successful bid (from the lottery fund) in 1996. The money was used for a major lawn-levelling project and Bob rightly represented the club at the opening ceremony in front of the Mayor of Bath and John Solomon.
Bob is a Grade 1 coach and regularly coaches beginners and improvers.
During the winter months Bob helps with all maintenance tasks; liaises with the ground staff and also Council officials over parking arrangements.
Bob carried out liaison work with the Council and solicitors in respect of the club's leasing arrangements.
Bob is a qualified referee and has officiated at many tournaments. He also regularly sets hoops for club and CA Tournaments.
Bob has also carried out much work for the CA and South West Federation.
David Magee - Cheltenham Croquet Club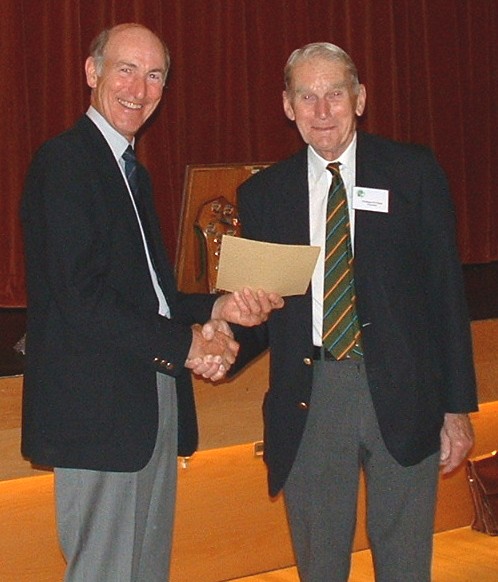 David Magee with CA President Bernard Neal
David is another all round club performer. He is well known as a manager of tournaments at all levels. He has been active in the coaching of beginners and can often be seen giving ad hoc lessons to more advanced players. He helps in the tea room with tournament lunches and in many areas of the club where so many jobs need to be done.
David was instrumental in the provision of the new CA office.
On retirement three years ago David became the Lawns Manager. He has recruited and trained a most effective team of hoop setters.
There is no doubt about the level of David's contribution to the World Championships in 2005, he was everywhere and is very much a "work in progress".
Mike Cope - Bath Croquet Club
Mike recently retired from the committee after over 15 years service. He was Secretary for 10 years in two separate spells.
Mike was a leading part of the team which successfully bid for Lottery funding.
Mike is a qualified coach and organises the club's regular Saturday morning sessions for beginners. He has also regularly coached "improvers".
As Secretary Mike regularly liaised with the CA and organised the club's Annual Dinner.
Mike carried out extensive work with the Council and Solicitors in relation to the club's lease.
Pat Hetherington - Colchester Croquet Club
Pat was on the Colchester Committee from 1979 to 1996, being Chairman from 1987 to 1996 and gave her time unstintingly to the club. During this period the club went through a period of decline membership. It was due to her hard work that Croquet was promoted in the Colchester area and the club returned to a healthy position. She has managed innumerable tournaments, organised and provided refreshments and, when the club was at low ebb, almost single handedly ran the club.
Ramsay and Barbara Bettinson - Middlesbrough Croquet Club
The club committee would like the behind-the-scenes contributions that Ramsay and Barbara have made to croquet on Teeside, over nearly twenty years, be recognised by the award of CA Diplomas.
Ramsay and Barbara have been tireless in their support for croquet firstly in 1989 at Ormesby Hall, then 10 years later at Prissick Park. They also both played a full part in competitions and other activities. Ramsay regularly took on lawn mowing duties and helped with equipment; whilst Barbara often provided tasty meals. Heart problems have more recently curtailed Ramsay's active involvement, but both members are now key to the club's use of an excellent indoor venue for carpet croquet during winter months.
John de Winton - Taunton Deane Croquet Club
When it became obvious that the club would have to move from its premises John persisted in and eventually located a potential site for three lawns at Taunton Vale Sports Club with its modern spacious facilities. He then set about the daunting task of leading the team to obtain substantial funding from Sport England as well as persuading Taunton Deane Borough Council, the CA and members to contribute. Having raised the funds he oversaw the construction of the lawns. Without John's unstinting dedication it is unlikely that Taunton Deane Croquet Club would exist now.
Mike Evans - Beverley Croquet Club
Mike brings what can only be described as sheer energy to the game of croquet. Over the years he has contributed at the local and national level.
Mike had played a form of the game while in the Army. When he left the Army in 1983 he moved to East Yorkshire and joined the Beverley club shortly after it was formed. He has played a prominent part in the development of the club, and has been Secretary, Match Secretary and Chairman. He also joined the east Riding and Bowdon Croquet Clubs.
Mike has been Secretary and Chairman of the Northern Confederation and in 1993 he published a guide to Northern Croquet Clubs. He subsequently co-edited Help-2 which was a national guide to croquet clubs.
From 1997 to 2001 he was on the CA Council and served on several committees.
The truly impressive thing is his enthusiasm for all things to do with croquet. This rubs off on others and has a knock on effect which extends beyond the club.
Mike was responsible for obtaining the indoor carpet which is shared by Yorkshire clubs and he formed a winter league to maximise the carpet's use.
Mike has been heavily involved with the coaching of beginners and also with corporate events.
Mike is a credit to croquet and much deserving of official recognition.
Peter Taylor - Bowdon Croquet Club
Peter is the Ground Manager at Bowdon Croquet Club. He has been an active playing member of the club for 14 years. Peter actively supported all aspects of club life in addition to becoming a good player. He offered to take over responsibility for the grounds in 1997. The high standard of the lawns has been maintained and steadily increased.
The whole appearance of the club has been radically improved and enhanced through his hard work and the way in which he has supervised a team of some 20 volunteers.
The major work inspired and supervised by Peter involving the moving of some 150 cubic meters of earth and increasing the available lawn space has been a major contribution to the age old problem of boundary "fall off".
Peter had a novel approach to improving drainage problems on one of the lawns. He was able to create a system for improving the drainage to enable surface water to escape to the sand sub-strata.
Peter was also fully committed to the restructuring and refurbishment of the bar and kitchen bringing them into line with modern health and safety requirements.
None of the above projects would have been concluded without the help of all the other volunteers in the club but none would have started without the energy supplied by Peter.
Patricia Duke-Cox - Woodhall Spa Croquet Club
Patricia was the driving force behind the formation of the croquet club. In 1991 she urged a group of friends to form a proper club and join the CA. She became the club's first Secretary and served on the committee for over 13 years, holding positions of club coach, press officer and Chairperson.
Patricia was the prime mover in persuading the club to join the local federation so that they might enjoy competition with other clubs. She later became a member of the Federation Executive Committee and served as Secretary from 1999 to 2004. In 2000 she was elected as the Federation representative on the CA Council later becoming Chair of the Development Committee.
Patricia has always "been there" to coach and encourage members to play in competitions. She has always been willing to pass on her knowledge and has been instrumental in the encouragement of youngsters.
There is no doubt that without Patricia's driving force, and the numerous tasks she has tackled, Woodhall Spa Croquet Club would not have progressed as far as it has.
Barry Marsh - Dyffryn Croquet Club
Barry joined Dyffryn in 1988, shortly after the club was founded, and by 1991 had taken on the role of club treasurer, a position he held until this year. Other office holders have come and gone, but Barry has been the glue holding the committee together over 15 years. In addition, he has looked after all the club equipment over the winter, ensuring the club has newly painted hoops and complete sets of balls and clips to start each season. He also works tirelessly with inexperienced players at club evenings and continues to be a huge asset to Dyffryn Croquet Club.
---
2005
John Beech - Pendle and Craven Croquet Club
The CA Diploma was presented to John, by Ian Vincent, at the official opening of the Club on the 12th July 2005. John was awarded the Diploma for his tireless effort and inspirational leadership in ensuring that new facilities, including five lawns and a Clubhouse came into existence. He continues to work hard to ensure that the lawns quickly reach the standard required to attract major competition.
Derek Buxton - Ashby Croquet Club
Derek learned to play croquet in 1995 and since then he has been at the centre of transforming the club, which now has the facilities and players to be part of the national scene. He has been a pioneer in playing in external events and returning to his club to encourage others and to coach and manage club teams. Derek is a patient, good humoured member of his club. He is liked by all and participates in all aspects of club life. Since retirement in 2002, Derek has become the club secretary and also Vice-Chairman of the East Midlands Federation Committee.
Iris Dwerryhouse - Sidmouth Croquet Club
Iris, at 40 years, is the longest serving member of Sidmouth Croquet Club. She was Chairman of the Committee for 10 years. In order to increase the membership of the club she became a coach, referee and member of the Handicap Committee and is still active in all of these areas. Iris has been Secretary of the South West Federation and a Trustee of the main club. She has recently accepted the Presidency of the main club, which covers Tennis, Cricket and Hockey in addition to Croquet.
John Hatherley - Sidmouth Croquet Club
John has been a member of Sidmouth Croquet Club for 25 years having served two terms as Chairman. He is a coach, Handicapper and referee. He has given countless sessions of coaching and has a very strong knowledge of the laws. His health now prevents him from playing as often as he used to but he can still be seen at the club encouraging members and offering help and advice.
Rose Jenner - Sussex County Croquet Club
Rose used her culinary skills to raise funds for the club. The club Building Fund has benefited from Rose's efforts over a period of 15 years. Her steak and kidney pies, provided for the Inter-Counties Championship, have become "legendary". Catering plays a pivotal role in fund raising for the club and Rose, now in her eighties, has been central to this effort for nearly 20 years.
Margaret Roberts - Plymouth Croquet Club
Margaret is a founder member of the club but is no longer able to play. For many years she has been the Social Convenor. She leads a team of helpers who provide an extensive social programme including strawberry teas, pasty suppers and ploughman's lunches. The catering is superb and has become a very important part of club life. Plymouth Croquet Club has become noted for its hospitality and this is due in no small part to the effort of Margaret.
Jill Austin - Sussex County Croquet Club
Jill joined the Croquet Club nine years ago and since that time has gradually taken over the care and maintenance of garden areas in front of the pavilion and clubhouse, the 100 metre border alongside the railway line and the borders of the car park. She has also taken on responsibility for other gardening aspects of the club grounds. She keeps the garden areas well stocked from her own cultivations and the gardens are always beautifully tended and a colourful sight. Jill is also the club's "recycler" and ensures that nothing goes to waste. Jill organises Golf Croquet afternoons twice per week and also helps with club competitions. She is a steadily improving player.
John Morgan - Cheltenham Croquet Club
Ever since John "discovered" Croquet he has supported the sport, more especially Cheltenham Croquet Club with remarkable energy and enthusiasm. When other club members were reluctant to take on the role of Honorary Treasurer, John volunteered himself with enthusiasm and without hesitation. He devoted considerable time to the job and produced immediate benefits as he set about identifying areas of profit and loss as well as maximising returns for Club reserves. Whatever his contribution he makes things really "hum" and his broad range of experience led him to take on the role of Bar Manager. Not only did he bring organisation to the bar but also turned loss into profit. Despite periods of ill health, which has forced him to give up the position as Treasurer, John continues to demonstrate his keen interest and support for croquet and the club.
William Hill - Tyneside Croquet Club
Bill has been a member of the Tyneside Croquet Club for over 15 years. He has been Hon. Secretary for 12 years. He was largely instrumental in organising a successful move to the new site in Exhibition Park. He has developed a cooperative relationship with the club landlord ensuring that the lawns are maintained in good order. His duties in this respect seem to encompass both rabbit and child control! Bill's expertise in the DIY field has been put to good use both in respect of croquet "furniture" and on the two occasions when the club kitchen had been vandalised.
Rick Davis - Nottingham Croquet Club
Rick retired from the post of Hon. Treasurer in April, after seventeen years service, during which time he not only kept the books meticulously, looked after the equipment (reshafting mallets, making bisques and painting pegs), managed tournaments and the Mary Rose team, and not least, stocked the bar!
---
2004
Alan Linton - Bowdon Croquet Club
A member of club since 1986, Hon. Sec. 1992-4, Chairman 1996-8, editor of the club newsletter for four years, and Tournament Secretary for many years. He has provided regular hospitality for many visiting tournament players. His regular weekly coaching sessions have helped ensure that new recruits to the game have gained the confidence to become tournament members of the CA, and been secured as long-term club members. With Daphne he has contributed a great deal to the social activities of the club, which contribute so much to its atmosphere and success.
Christine Bagnall - Budleigh Salterton Croquet Club
A member of the club for 28 years. During that time she has at various times served on the Croquet Committee both as a member and as Chairman, acted as Coach and Handicapper, and off the lawns as Bar Officer, member of the General Committee of the Club, and for six years Trustee of the Club. Unable any longer to play croquet, she remains a loyal supporter of all the Club's activities, tournaments and competitions, and has been a most generous benefactor.
David Purdon - Budleigh Salterton Croquet Club
Arrived at the club in 1987 as an accomplished player, and immediately involved himself in all aspects of running the club. He has acted as a CA Handicapper, has been Senior Coach in the Club, running Bronze and Silver courses, and as an Examining Referee has organised Laws Course and trained referees. Administratively he has been Secretary of the Croquet Section, Club Secretary and Chairman, and now serves on the General Committee of the Club as a Trustee.
Derek Trotman - Croquet North
Derek was Chairman of Croquet North for over ten years until 2002. During this time he was responsible for producing a four year plan for croquet in the region. He has served on the Council of the CA for over twelve years, and has been Chairman of the Development and Tournament Committees. He is a member of Belsay Hall Croquet Club, and a founder member of Tyneside Croquet Club, now in its twenty-first year. The Federation nominates him for the Diploma in recognition of the hugely valued contribution he has made at club, regional and national levels.
Canon Peter Cole - Rother Valley Croquet Club
Peter founded the club in 1994, has overseen two changes of location. He has served on the committee of the club for its whole life, and devotes large swathes of time to ensuring that the lawns are properly fed and watered, and to coaching beginners in the skills of both association and golf croquet. Without his inspired leadership and dedication the club would not be where it is today.
Peter Dyke - Nailsea and District Croquet Club
Peter is a founder member of the club, and was Chairman for the first ten years. He has continued to serve the club in many capacities, and he acts as Tournament Secretary. Perhaps he is best known for his work with junior members in local schools, which has produced a number of junior champions. He is Schools Officer for the South West Federation, and also gives a lot of time to coaching adult beginners and improvers.
Geoff Hughes - Nailsea and District Croquet Club
Geoff's main contribution to the club has been as handyman par excellence. He spends hours both on site and in his workshop at home repairing, inventing and/or making equipment for use on the lawns and in the club house. His involvement with the maintenance team includes researching and negotiating best value on all machinery and materials used, ensuring best use of club funds.
Hazel Kittermaster - Surbiton Croquet Club
Hazel's main contribution to croquet has been the setting of a new standard of catering, which is now widely applied but was extraordinary at the time. Through her own work and the leadership of others she has contributed catering profits which have been crucial in financing the development of the club for the benefit of both members and visitors.
Diana Brothers - Sussex County Croquet Club
Quite apart from Diana's generous backing when the club was in dire financial straits, there seems to be no aspect of the Southwick club that she has not been heavily involved with at one time or another. Recruitment, coaching, lawn maintenance, building maintenance, catering, accounting, club secretary - you name it, Diana has done it, and earned the award of the CA Diploma many times over.
Hyacinth Coombs - Sussex County Croquet Club
A member for some 22 years, Hyacinth has not only been one of the club's better players and a generous benefactor, but has also turned her hand to a wide range of ancillary duties. She has made valuable contributions both as a coach and tournament manager, and has served on the Club Management Committee. In recent years the role in which she has been most prominent has bee the management of the club bar. In 2001 she was made an honorary member of the club, and she is equally deserving of the award of a CA Diploma.
Bryan Teague - Sussex County Croquet Club
Bryan joined the club in 1990, was elected to the committee in 1995 and became Chairman two years later. Under his leadership membership has increased, as have the number of tournaments and the Club's participation in national, Federation and social events. He has been extremely active as a coach and as a Tournament Manager, and since 1996 has supervised the maintenance of the lawns and grounds. His enormous contribution has helped make Sussex County the thriving club that it is today.
Les Butler - East Dorset Lawn Tennis and Croquet Club
Les Butler is a name known to anyone who has visited East Dorset Lawn Tennis and Croquet Club in the last 40 years. Throughout the late '70s and '80s he was chairman of Parkstone Croquet Club, kept the club going with dwindling numbers of members and was responsible for moving the old lawn 5 to the new lawn 1. The work he did for the club cannot all be recounted but his legacy is there to be seen. He was a very competent player ,and was selected for the Spencer Ell on two occasions. He sat on Council and contributed to the national management of the game. But above all he will be remembered for captaining Devon and Dorset county side. Winning in 1996 was perhaps his proudest moment.
---
2003
Whitford Naylor - Auckland Croquet Club
Whit has been a member of Auckland Croquet Club since it started in 1998. He has never stood for office, but is always willing to help in any way he can. He acts as unofficial greenkeeper and the club's lawn is a credit to his efforts. He is a regular on the rota for setting out the courts and is always ready to cover for anyone unable to fulfil his/her turn. He is ready to pass on his knowledge of the game to newcomers. He is always cheerful and is the life and soul of the club's social gatherings.
John Grant - Belsay Hall Croquet Club
John became a member of Belsay Hall Croquet Club shortly after its formation in 1989, and immediately became involved in the club's development, becoming Chairman in 1996. He was enthusiastically involved in practically every aspect of the club life, organising everything from tournaments and leagues to the club's annual dinner, and compiling annually a 48 page club handbook. His enthusiasm for croquet was infectious, and he willingly taught new players; through his dedication and application he built the club up to sixty members. He served for many years on the committee of Croquet North, and as their Development Officer, he was largely instrumental in obtaining a lottery grant to purchase a mini-carpet for use in village halls. Failing health has forced John reluctantly to wind down his involvement in croquet, but the club is keen to show its appreciation of the enormous contribution he has made over the years.
Jolyon Kay - Blewbury Croquet Club
Jolyon founded Blewbury Croquet Club ten years ago, and has served on the committee ever since, with spells as Chairman and Secretary. He chaired the project group set up when the club applied for a Lottery Grant from Sport England, and was heavily involved in the discussions leading to the success of the application and in the contractual negotiations which followed. He has served as Chairman of the Southern Federation, and is currently their Coaching Officer and Regional Representative on Council. He has worked selflessly to publicise and promote croquet in the local area, and is running a series of coaching courses for club members and juniors, including two girls who have chosen to play croquet as part of their Duke of Edinburgh Award Scheme.
Mike Sandler - Bowdon Croquet Club
Mike Sandler retired as Hon. Treasurer of the Bowdon Croquet Club in November 2002 after 22 years in office. Mike joined the Club in 1973 at a time when it was recovering after a long decline. He was one of a group of enthusiastic younger members who sustained the Club when no money was available, culminating in the revival in 1979 of the Northern Championships. During his period of office as treasurer, he has acted also as the Club's honorary legal adviser, particularly in the matter of the renewal and extension of the lease with the National Trust which enabled the Club to obtain a crucial Sports Council grant. When the Club hosted a number of Test Matches in the 1990s, Mike Sandler sponsored the events through his Legal Practice. His generosity was multiplied by the efforts of other members, who built on the resulting publicity to expand the full playing membership by an unprecedented 25% in a single year. The income flowing from this surge in membership now underpins the undoubted success enjoyed by the Club today, and is a direct result of his generous example and sound financial leadership.
Joyce and Mary Goodhart - Budleigh Salterton Croquet Club
Joyce and Mary Goodhart are stalwarts of Budleigh Salterton Croquet Club. Since joining the club in 1986 both have been highly active committee members. Mary has been Chairman of both the Club and Croquet Committees, and for many years has occupied the hugely demanding position of Tournament Secretary; Joyce has been Croquet Secretary and Chairman and a member of the General Committee, and is currently Chairman of the Handicap Committee. Apart from their committee work both are assistant coaches, help with catering, and find time to be keen players. Their presence at CA Tournaments is invaluable, with their ability for making visitors feel welcome, ensuring that the club is tidy, that trophies are ready for presentation and that everything runs smoothly. The club owes them a great debt of gratitude for all their hard work over the years.
Bunny and Dennis Porter - Budleigh Salterton Croquet Club
Bunny Porter, assisted by her husband Dennis, runs both the Club and the Players' bars. If you have ever been to Budleigh Salterton you will know that, while Bunny is playing, Dennis is attending to our liquid refreshment. No club function, lunch or dinner, goes by without Bunny or Dennis at the bar. Bunny has served on both Croquet and General Committees, and often caters for weekend tournaments. In addition to his bar duties Dennis, who has yet to be induced to play croquet, nevertheless fills an invaluable role in general maintenance work, bringing to bear his many handyman skills.
Their joint contribution to the needs of club members and visitors is enormous, and we would be hard-pressed to manage without them.
Alec Coleman - Caterham Croquet Club
Alec was a well-known low handicap player on the tournament circuit in the '60s and '70s before giving up the game for personal reasons. When Caterham Croquet Club was formed in 1986 he was persuaded to return to the game. Unable for health reasons to return to serious competitive play, he has nevertheless devoted himself to helping the club, often unobtrusively, and to spending countless hours coaching, particularly with beginners where he has shown endless patience. Typically, he has donated a trophy to be presented each year to the club's most improved player. Unfortunately, he is unable any longer to continue coaching, but he frequently comes along to provide friendly encouragement and advice.
John Gilbert - Caterham Croquet Club
John has served the Caterham Croquet Club both on and off the committee for many years, including five years as Chairman. His immense contribution to the club has been mainly in two areas. Firstly he has built up a strong relationship with the local council and their ground staff, exhorting them on lawn maintenance, and undertaking most of the negotiations that led to the club getting its second lawn. Secondly, he has been very active in attracting and keeping new members. It is largely due to John that golf croquet is now played, both as an introductory aid and competitively, and recent increases in membership and retained members are largely due to his enthusiasm in this area. Not only does John run adult education courses, which largely benefit our club and the local community, but he also runs croquet courses at Polesden Lacey which take croquet to a wider audience.
Bernard Neal - Cheltenham Croquet Club
Cheltenham members count themselves particularly fortunate to have a club president as supportive and versatile as Bernard Neal. A player of eminence at the top-level of the game who may be found as often as not helping to set out lawns ready for our next tournament; a manager giving his total attention this week perhaps to a major championship and then next week presiding over a club afternoon knockabout.
A skilled reporter and negotiator, an activist on committees, a go-getter, Bernard is a determined advocate for the development of his club and for croquet in general. Here is a 'hands-on' president highly regarded and esteemed by all who meet him. There can be few more deserving of the CA Diploma.
Bill Mell - Huddersfield (Syngenta) Croquet Club
As a founder member of the club, Bill has been a stalwart supporter, serving both as a committee member and as Secretary. His major contribution has been the development of coaching courses for the local U3A. Over the years he has introduced many people to croquet in this way, and many new members have been welcomed into the club. Bill is a highly valued club member, always prepared to help in any way he can, and is fully deserving the award of the CA Diplomas.
Donald Beck - Medway Croquet Club
Don was a founder member of the club, and acted as Secretary for twelve years until his move to Middlesex for business reasons. He played a large part in the development of Medway into a four lawn club with upward of fifty members. He was especially effective in raising money by grants, loans and donations, and also in recruiting new members and publicising the activities of the club.
Roy Ware - Ramsgate Croquet Club
Roy joined Ramsgate Croquet Club in 1989 on his return from South Africa, and from the beginning has been active in promoting croquet in general and the club in particular. He has been the driving force behind the Ramsgate Golf Croquet Championship, which attracts an international entry, and organises the four CA Calendar tournaments that the club runs each year. He serves on the committee of the South East Federation, he edits and contributes the bulk of the material to the Club Magazine, and, perhaps most important of all, with his partner Mary runs the junior section of the Club, giving up his Saturday mornings, when not playing in tournaments, to coaching the fifteen junior members.
Neil Williams - Westmorland (Formerly Kendal) Croquet Club
Neil has had a long and varied history in croquet, having been a member of Cheltenham, Southport, Crake Valley and Kendal Croquet Clubs. He has interviewed many distinguished players and written numerous articles for The Croquet Gazette. He has been a great teacher of the game, and has given unstintingly of his time to manage and act as referee at tournaments. When problems of vandalism forced Kendal Croquet Club to seek a new venue he was tireless in his efforts to find a suitable location, raise the necessary finance, and finally to recruit an expert groundsman to look after what is now a fine croquet lawn in the ornamental grounds of Levens Hall. Owing to recent prolonged ill-health Neil has been unable to take advantage of playing on the new lawn or to continue as Chairman of the renamed Westmorland Croquet Club, but the club's committee is keen to ensure that his immense contribution to the game should not go unrecognised.
Pam Overton - Woodhall Spa Croquet Club
Pam Overton was a founder member of the Woodhall Spa Croquet Club in 1991. She has served two stint as club secretary, and has also been the coaching officer, press officer and organiser of competitions. She has arranged for club members to go into schools at primary and special school level as well as locally at a local leisure park to offer coaching sessions. Pam is also a willing team member who will travel to games within the Federation. She was instrumental in providing funding for the club's search for a home of its own within Woodhall Spa and has spent many hours on lottery and other applications for grants, land, building permission and other related matters. This award from the CA will serve to confirm the appreciation felt by the members of her achievements within the club.
---
2002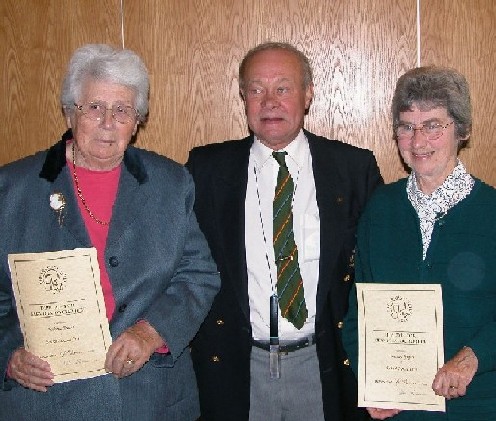 Barbara Evans, John Solomon and Rosemary Gugan
Barrie March - Ashby Croquet Club
About five years ago the club was advised that the land their lawns occupied was required for a proposed extension of a leisure centre, and that there were no plans to build new lawns. As a result of intense lobbying the council was persuaded to replace the lawns; potential sites had to be evaluated, contractors appointed, and additional finance arranged. From the outset, it was Barrie who managed the project and coordinated all the resources needed to complete the move, and we are pleased to award the diploma in recognition of his hard work and initiative.
Barbara Evans - Bristol Croquet Club
Barbara Evans has been a member of Bristol Croquet Club for the last twenty years, and has served the club in a variety of posts over that time. Indeed, it has seemed that whenever there has been an emergency, and a post has had to be filled at short notice, Barbara has always been the person to whom the club has been able to turn for help. Initially this was as our Tournament Secretary, then subsequently as Chairman, Treasurer, and Vice-Chairman. In between these duties she has served almost unbroken as a Committee member. Although she has now retired from the Committee, she continues to work for the club in many ways, as coach, referee, general assistant, and, most importantly, as a wise head to whom anyone in the club knows they can turn to at any time for sound, pragmatic, and sensible advice.
Rosemary Gugan - Bristol Croquet Club
In 1982 the Bristol Club was in the process of being revived by John McCullough. The club needed a Secretary, and John persuaded Rosemary Gugan, a newcomer to croquet, to volunteer. He couldn't have made a better decision, for Rosemary stayed in the job for nineteen years, finally passing over the post in 2001. Those nineteen years saw the small club rise to the third largest, in membership numbers, in the country, and this success was largely due to Rosemary's energy, efficiency, and determination. These same qualities saw her become one of the leading lady players in the country, bringing even more credit to the club she so devotedly served for so long. Everyone at Bristol knows and appreciates what Rosemary has done for the club.
Eileen Magee - Cheltenham Croquet Club
When Eileen moved to Cheltenham in the early 90s, her reputation as an efficient organiser at the CA Office preceded her. She soon transferred her boundless energy to her new club, volunteering to take on the onerous post of Secretary, and later being elected Vice-Chairman. Not only has she been a tower of strength in the club's administration, she has also been active as the club's gardener as well as leading the team of caterers who look after the needs of players at tournaments and social events. Nor is she ever at a loss to develop new and subtly different ways of coaxing money out of members at fund-raising functions
She also finds time to enjoy her croquet!
Betty and Bernard Weitz - Cheltenham Croquet Club
They say that good things come in twos, and in the case of Betty and Bernard Weitz they are correct.
Both are long time members of Cheltenham Croquet Club, and between them have contributed to just about every aspect of club life. Bernard has been Lawns Manager, has organised and played in club teams, including the Mary Rose, and despite indifferent health continues in the arduous post of Membership Secretary.
Betty was for many years part of the coaching team, and headed up the House Committee with its attendant catering responsibilities. She was one of the club's Handicappers when that was a much more active role than it is today.
It would need a long list to record every contribution Betty and Bernard have made to club life. Such stalwart commitment is the lifeblood of any club, and the members of Cheltenham Croquet Club thank them for it.
Stan Salt - Dyffryn Croquet Club
Stan Salt is the club player par excellence. He took up croquet after retirement just over 10 years ago, and fluctuates between a 16 and a 20 handicap. He is ever ready to represent Dyffryn in handicap matches, enters all club tournaments for which he is eligible, and at club afternoons and evenings he works tirelessly with newcomers to the game. Stan is not a committee man, but this has not prevented him from making a major contribution to the club by putting his practical woodworking skills to good use. He has made a first-class equipment trolley which holds ball carriers, yardsticks, flags, bisques, Wharrad turn counters and, in true recognition of a croquet player's needs, a bottle opener. In addition to this, he has improved the club tent with an excellent awning which doubles the amount of shelter available. His contribution to Dyffryn is immense.
---
2001
Derek Bradley - Cheltenham Croquet Club
Derek joined the club in 1991 to learn to play croquet and by October 1992 was attending committee meetings as the club's lawn manager. Additionally, he became vice-chairman in 1997 and chairman in 1999. Although a hugely versatile club member, willing to roll up his sleeves and stick his arm down any troublesome area, it is his dedication to Cheltenham's lawns that deserves most acclaim. Grass is what the club has most of, what people first see and comment on at length. Derek's forbearance with all the croquet world's opinions on grass management is awesome. No doubt he reflects on such matters whilst sucking on his pipe touring the club's grounds on his regular pre-breakfast inspections. The club owes Derek an enormous thank you.
John Grimshaw - Dyffryn Croquet Club
John, single-handedly, set up the Dyffryn Club in 1986, negotiating for the site, advertising for players and coaching them so successfully that in only its third season the club won two leagues of the South West Federation. After ten years on the committee, John handed over the reins to others but he has continued to give unstinting support to the club and to encourage new players.
John also set up the Welsh CA and has been instrumental in getting many international teams to visit the club. Dyffryn and Wales owe him a great debt of gratitude.
Len Hawkins - Ramsgate Croquet Club
Len is a founder club member, and has been treasurer since 1983. He became the club's first Grade 1 coach in April 1987 and since then has coached members every Tuesday morning during the playing season. He qualified as a Grade 2 coach in May 1996 and has since helped at other clubs in the area and at CA coaching courses. Len is an extremely patient and willing coach for whom nothing is too much trouble and he has encouraged many visitors to become members. He became a qualified Association referee in April 1994 and has been the RoT in five CA tournaments.
During the winter Len travels 16 miles to the club at least once a week, putting his hand to whatever needs doing in the clubhouse - and he has cajoled many others to do the same.
Bernard Smith - Ramsgate Croquet Club
Since 1987 Bernard has been the mainstay of the winter working parties that have transformed the club's derelict 'listed' building into what we have today. As a qualified electrician he rewired the whole of the clubhouse and even now, into his eighties, Bernard can still be found in the clubhouse, three days a week, carrying out a winter programme of work such as waterproofing, panelling and painting.
During the playing season, Bernard assists in coaching members during the week and juniors on Saturday mornings. A committee member for ten years, he is a real stalwart of the club in all respects.
---
2000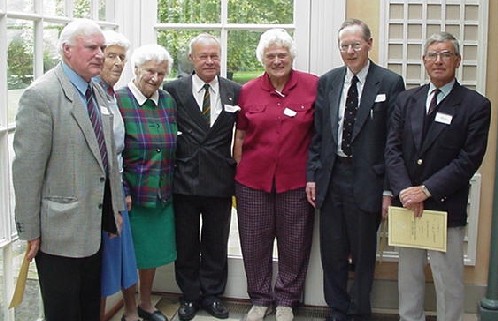 John Airey, Pat Shine, Enid Ross, John Solomon,
Dab Wheeler, Lawrence Whittaker and Nigel Gray
John Airey - Swindon Croquet Club
John has made a tremendous contribution to the club. He coaches beginners, paints hoops, makes trolleys for carting equipment, writes the club newsletters, runs tournaments, gets us publicity in local newspapers and is a very active committee member.
Anna Giraud - Zeneca Croquet Club
Anna's achievement is considerable: in 1991 she not only introduced an unknown game into a somewhat indifferent environment but then did a lot of the donkey work associated with competitions and handicapping. Her greatest input has been in coaching many people in the Huddersfield area who now have a knowledge and love of croquet.
Nigel Gray - Letchworth Croquet Club
Since 1987 Nigel has been our energetic Secretary and has turned his hand to organising working parties and club competitions. It is doubtful if the club would have survived and flourished without Nigel's hard work. In recent years he has organised beginner's courses and has arranged special events. His expert knowledge of wines adds an extra dimension to the latter.
Ronald H Rawden - Bury St Edmunds Croquet Club
Mr Rawden was a founder member of the club in 1985 and has been a committee member since then. A retired engineer, he used his many practical skills to make sets of hoops and mallets to get the club started. Since then he has annually serviced equipment as well as designing all kinds of items for us including the hoops in our artificial surface.
Enid Ross - Sussex County Croquet Club
Mrs Ross joined the club in 1978 and soon organised self-help maintenance programmes - known as "Enid's winter working parties". All clubs depend on a nucleus of unpaid, often unsung, volunteers for coaching, lawns, gardens, catering and general maintenance. In the last 20 years, Enid has made substantial contributions in all these areas. In the early 1990s, she re-started regular sessions of golf croquet which now leaves the club well placed to take a prime role in the upsurgence of this game.
Pat Shine - Worthing Croquet Club
Lionel Wharrad wrote about Pat: "Worthing Croquet Club is very much the personal creation of Pat Shine. Certainly, I cannot think of anyone else who would have the energy, the persistence and persuasion to convert one small, sloping court into a lively and flourishing club with four full-size lawns. Pat has done much for croquet as a member of the CA Council and a manager of many tournaments."
Bill Simpson - The Lym Valley Croquet Club
Bill Simpson was the prime mover in forming our club in 1988: he set up the club committee and was elected Secretary. Bill established the club rules and found a suitable venue and clubhouse. He made himself an authority on the Laws and attended a coaching course so that he could help other members improve their game. To maintain interest in the winter months Bill introduced a tabletop tournament that has been featured on television. He retired after 10 years as Secretary in 1998.
Honor and Ernest Smith - Belsay Hall Croquet Club
Both Honor and Ernest have coached new members at Belsay in regular weekly sessions over many years. Ernest has been manager of the lawns and equipment for more than ten years; Honor is now vice-chairman of the club. Honor and Ernest Smith are much loved by the members who all recognise the outstanding contribution they have made.
Roy Taylor - Woodhall Spa Croquet Club
Roy Taylor was the first of our members to become a CA Tournament Member and he organises league games at club and Federation levels. He is a practical man who designs, makes and mends equipment for us. In addition, Roy is the Equipment Officer for our Federation. He is a stalwart of the game and has done much to help and inspire our club.
Dab Wheeler - Cheltenham Croquet Club
Mrs D A Wheeler (known as Dab by everyone in croquet) has handled all the tournament arrangements at Cheltenham for the last 15 years. This is no mean feat involving each year some dozen CA events alone and correspondence with well over 600 players. Dab is an ever-present committee member; she manages tournaments, prepares meals (par excellence) and gives up her time to help coach new players. Supported by her husband Roger, Dab represents the essence of what croquet is about: friendship, support and assistance to all those who enjoy our sport.
Lawrence Whittaker - Leicester Croquet Club
Dr F Lawrence Whittaker founded the Leicester club in 1985 and has been our Secretary ever since. He is active in every aspect of the club's affairs: organising and managing events at national as well as club-level, coaching and promoting croquet locally. Lawrence oversees all club activities, chores and the day-to-day running of the club. His contribution to the club is unparalleled.
---
All-Time Index
John Airey (Swindon, 2000) - Patrick Alden (Sussex County, 2007) - Bill Arliss (Sussex County, 2011) - Jill Austin (Sussex County, 2005)
Tony Backhouse (Cornwall, 2008) - Christine Bagnall (Budleigh, 2004) - John Barber (Broadwas, 2011) - David Barrett (Bury, 2008) - Russell Barter (Cheltenham, 2015) - Philip Bass (Fylde, 2016) - Martin Beacon (Nottingham, 2020) - Donald Beck (Medway, 2003) - John Beech (Pendle, 2005) - David Bell (Leicester, 2021) - Roger Berkeley (Nottingham, 2012) - Ramsay and Barbara Bettinson (Middlesbrough, 2006) - Eric Bevan (Kington Langley, 2011) - Jenny Biggs (Ashby, 2018) - Andru Blewett (St Agnes, 2019) - Paddy Booth (Burnham-on-Crouch, 2009) - Roger Bowen (Budleigh, 2008) - Les and Alwen Bowker (Cheltenham, 2013) - Howard Bowron (Penrith, 2020) - Mo Boys (Camerton and Peasedown, 2017y2017) - Derek Bradley (Cheltenham, 2001) - Eugene Matthew Brady (Auckland, 2011) - Richard Brooks (Sussex County, 2016) - Diana Brothers (Sussex County, 2004) - Owen Bryce (Northampton, 2010) - David Brydon (Nottingham, 2021) - Shirley Buckley (Weston-Super-Mare, 2010) - Brian Bucknall (Phyllis Court, 2014) - Ian Burn (Rother Valley, 2008) - Tess Burt (Kingston Maurward, 2017) - Les Butler (East Dorset, 2004) - Derek Buxton (Ashby, 2005) - Eileen Buxton (Ashby, 2014)
Cliff Cardis (Swindon, 2011) - Anthea Carter (Dowlish Wake, 2019) - Jill Catt (Dogmersfield, 2018) - Neil Chalmers (Norwich and EACF, 2011) - Connie Chick (Littlehampton, 2008) - Brian Christmas (Shrewsbury, 2011) - Richard Clarke (Tunbridge Wells, 2007) - Jean Cobbold (Cheam, 2020) - Canon Peter Cole (Rother Valley, 2004) - Alec Coleman (Caterham, 2003) - George Collin (EACF, 2011) - David Collins (Dulwich, 2011) - Frances Colman (Phyllis Court, 2017) - Christine Constable (Sussex County, 2008) - Hyacinth Coombs (Sussex County, 2004) - Mike Cope (Bath, 2006) - John Cotes (Croquet Durham, 2010) - Patricia Duke-Cox (Woodhall Spa, 2006) - Penny Crowe (Cheltenham, 2016) - John Cundell (Leighton-Linslade, 2010)
Jack Davies (Sussex County, 2009) - Janet Davies (Chester, 2011) - Arthur Davis (Ashby, 2010) - Mike Davis (Bristol, 2012) - Rick Davis (Nottingham, 2005) - Ken Dawes (Canterbury, 2010) - Iris Dwerryhouse (Sidmouth, 2005) - Peter Dyke (Nailsea, 2004)
Gerry Eccles (Cheltenham, 2007) - Margaret Eccles (Bury, 2021) - Rob Edlin-White (Nottingham, 2021) - Craig Edwards (Cheltenham, 2010) - Susan Edwards (Cheltenham, 2013) - Phil Errington (Belsay Hall, 2009) - Barbara Evans (Bristol, 2002) - John Evans (Glamorgan, 2020) - Mike Evans (Beverley, 2006) - Nick Evans (Northampton, 2021)
Richard Field (Bishop Monkton, 2018) - Irmgard Finnigan (Nottingham, 2017) - Michael Finnigan (Nottingham, 2017) - Steve Fisher (Southern Federation, 2018) - Philippa Fortescue (Lym Valley, 2017) - Iris Freeman (Southchurch Park, 2011) - Lorna Frost (Bowdon, 2016) - Jennifer Fugeman (Guildford, 2019)
Daphne Gaitley (Sussex County, 2012) - David Gaitley (Sussex County, 2012) - Pauline Gann (Kington Langley, 2009) - Margaret and Tony Garner (York, 2008) - Linda Gavigan (Sussex County, 2021) - Ron George (Cornwall, 2017) - John Gilbert (Caterham, 2003) - Trevor Gill (Charlton, 2019) - Anna Giraud (Zeneca, 2000) - David Godfree (All England, 2008) - Joyce and Mary Goodhart (Budleigh, 2003) - John Gosney (Sussex County, 2006) - John Grant (Belsay Hall, 2003) - Nigel Gray (Letchworth, 2000) - Colin Gregory (Letchworth, 2014) - John Grimshaw (Dyffryn, 2001) - Donald Gugan (Bristol, 2009) - Rosemary Gugan (Bristol, 2002) - Peter Gunn (Merton, 2017) - Douglas Gurney (Roehampton, 2018) - John Guy (Broadwas, 2020) - David Guyton (Chester, 2018)
Christopher Hague (Beckford, 2020) - Hamish Hall (Bristol, 2007) - Kevin Ham (Dyffryn, 2011) - John Handy (Kenilworth/Nottingham, 2013) - Jean Hargreaves (Bury, 2019) - Bo Harris (Cheltenham, 2006) - Nick Harris (Norwich, 2021) - David Haslam (Colchester, 2015) - John Hatherley (Sidmouth, 2005) - Simon Hathrell (Watford, 2019) - James Hawkins (Development Committee, 2018) - Len Hawkins (Ramsgate, 2001) - Zoe Hawkins (Ramsgate, 2013) - Roger Hayes (Bath, 2014) - Duncan Hector (Letchworth, 2009) - Pat Hetherington (Colchester, 2006) - William Hill (Tyneside, 2005) - John Hobbs (Tunbridge Wells, 2007) - Lilian Holdsworth (Littlehampton, 2020) - Des Honey (Cornwall, 2020) - Gordon Hopewell (Nottingham, 2008) - Julie Horsley (Sidmouth, 2014) - Geoff Hughes (Nailsea, 2004) - Pam Hughes (Stony Stratford, 2009) - Jane Hull (Kington Langley, 2020) - Derek Humphrey (Northampton, 2014) - David Hunt (Nailsea, 2020) - Nick Hurst (Bear of Rodborough, 2009) - Mike Huxley (Guildford, 2018)
Jonathan and Chrissy Isaacs (Sussex County, 2013)
Richard Jenkins (Hamptworth, 2016) - Rose Jenner (Sussex County, 2005) - Geoff Johnson (Watford, 2019) - Bernard Jones (Woking, 2015) - Chris Bennett and Esther Jones (Edgbaston, 2008) - Peter Jones (Budleigh, 2008) - Phillip Joseph (Hurlingham , 2014)
Jolyon Kay (Blewbury, 2003) - Diane Kemp (Winslow, 2017) - Peter Kenward (Colchester, 2017) - Betty King (Norwich, 2016) - Adrian Kirby (Peterborough, 2020) - Brian and Barbara Kitching (Sussex County, 2010) - Hazel Kittermaster (Surbiton, 2004) - Martin Kolbuszewski (Cheltenham, 2011)
Christopher Larsson (Budleigh, 2009) - Robert Laver (Sydenham, 2011) - Basil Lawrence (Enfield, 2011) - Ann Lee (Colchester, 2009) - Janet and John Leech (Rottingdean, 2017) - Vaun and Eunice Legerton (New Maldon, 2017) - Carol and Brian Lewis (Southport and Birkdale, 2010) - Janet Lewis (Watford, 2010) - Arthur Lindley (Guildford, 2016) - Alan Linton (Bowdon, 2004) - Georgina Llewellyn (Llanfairfechan, 2010) - Roger Loram (Canterbury, 2010) - John Low (Sussex County, 2012)
Sue Mackay (Dyffryn, 2009) - David Magee (Cheltenham, 2006) - Eileen Magee (Cheltenham, 2002) - Barrie March (Ashby, 2002) - Barry Marsh (Dyffryn, 2006) - Jeremy Marshall (Kingston Maurward, 2014) - Ken Mason (Sussex County, 2007) - Pamela Mason (Sussex County, 2009) - Mollie McBride (Chester, 2011) - Ian McDiarmid (Woking, 2010) - Beatrice McGlen (Nottingham, 2008) - Bill Mell (Huddersfield, 2003) - Ivor Meredith (Budleigh, 2009) - Paul Miles (Medway, 2013) - Andy Mitchell (Ramsgate, 2008) - Frank and Janice Moir (Bowdon, 2018) - Adam Moliver (Cheltenham, 2020) - Carter Moody (Compton, 2009) - John Morgan (Cheltenham, 2005) - Roger Morris (Tunbridge Wells, 2007) - Neil Morrison (Swindon, 2013) - Tony Mrozinski (Guildford, 2017) - John Munro (Southern Federation, 2011) - John and Jo Munt (Preston, 2013)
Len Nash (Crawley, 2010) - Whitford Naylor (Auckland, 2003) - Bernard Neal (Cheltenham, 2003) - Stewart Newman (Sapcote, 2018) - Sue Norfolk (Weston-Super-Mare, 2019) - Rita Nunn (Southern Federation, 2017)
Jean Oades (Roehampton, 2017) - Mike Oulton (Rottingdean, 2020) - Pam Overton (Woodhall Spa, 2003)
David Parkins (Medway, 2013) - Rodney Parkins (Medway, 2009) - Jack Pattenden (Llanfairfechan, 2009) - Bunny and Dennis Porter (Budleigh, 2003) - Paul Pristavec (Dyffryn, 2015) - Eileen Prodger (Sussex County, 2016) - Ros Key-Pugh (Lansdown, 2011) - Peter Pullin (Sussex County, 2011) - David Purdon (Budleigh, 2004)
Sarah Rankin (Sussex County, 2010) - Ray Ransom (Bristol, 2009) - Ronald H Rawden (Bury St Edmunds, 2000) - Stephen Read (Fowey, 2015) - Clemency Reade (Kingston Maurward, 2011) - Alan Reeves (Bakewell, 2014) - Bronach Reid (Hurlingham, 2014) - Paul Rigge (Northwest Federation, 2021) - Chris Roberts (Phyllis Court, 2019) - Graham Roberts (Cheltenham, 2008) - Margaret Roberts (Plymouth, 2005) - Maryse Roberts (Cheltenham, 2012) - John and Edme Robinette (Bury St Edmunds, 2011) - Howard Rosevear (Cornwall, 2020) - Enid Ross (Sussex County, 2000) - Graham Rosser (Wellington, 2014) - Wendy Rosser (Wellington, 2014) - Brian Roynon (Nailsea, 2014) - Mike Russ (Cheltenham, 2018)
Stan Salt (Dyffryn, 2002) - Janet Salter (Dyffryn, 2019) - Walter Sanders (Middlesbrough, 2016) - Mike Sandler (Bowdon, 2003) - Richard Sanville (Ashby, 2015) - John Saxby (Bowdon, 2010) - Klim Seabright (Cheltenham, 2018) - David Seed (Blewbury, 2019) - Dennis Shaw (Ramsgate, 2012) - Chris Sheen (Colchester, 2015) - Ron Sherwin (Purley Bury, 2011) - Pat Shine (Worthing, 2000) - Bill Simpson (The Lym Valley, 2000) - Bernard Smith (Ramsgate, 2001) - Fred Smith (Church Stretton, 2015) - Honor and Ernest Smith (Belsay Hall, 2000) - Hilary and Tim Smith (Compton, 2013) - Roy Smith (Swanage, 2011) - Pauline Softley (Sussex County, 2006) - Peter Stansfield (Northampton, 2018) - Roger Sutton (Sussex County, 2021) - Mike and Sylvia Steer (Bowdon, 2018) - Cheryl Stephenson (Chelmsford, 2014) - Richard Stevens (Hamptworth, 2014) - Peter Stone (Cheltenham, 2007) - Ian Stratford (Budleigh, 2020)
Freda Knight and Doreen Taylor (Reigate Priory, 2011) - Peter Taylor (Bowdon, 2006) - Roy Taylor (Woodhall Spa, 2000) - Bryan Teague (Sussex County, 2004) - David and Nancy Temple (Sidmouth, 2020) - Tony Thomas (NW Federation, 2019) - Vivian Thomson (Phyllis Court, 2014) - Alison Thursfield (Cheltenham, 2010) - Julian Tonks (York, 2014) - Mike Tracey (Nailsea, 2016) - Derek Trotman (Croquet North, 2004) - David Tutt (Letchworth, 2014)
Brenda Vinton (Canterbury, 2010) - Freda Vitty (Auckland, 2011)
John Wallace (Nailsea, 2019) - Kathy Wallace (Nailsea, 2012) - Peter Wallace (Tyneside, 2021) - Jim Wallen (Kington Langley, 2009) - Roy Ware (Ramsgate, 2003) - Charles Waterfield (Middlesbrough, 2018) - Derek Watts (Tyneside, 2010) - Sheila Watts (Tyneside, 2007) - Rob Weeks (Budleigh, 2019) - Betty and Bernard Weitz (Cheltenham, 2002) - Dab Wheeler (Cheltenham, 2000) - Andrew Wimshurst (Nailsea, 2021) - Bob Whittaker (Bath, 2006) - Lawrence Whittaker (Leicester, 2000) - Christopher Williams (Dyffryn, 2010) - Marion Williams and Anwen Lloyd Williams (Llanfairfechan, 2019) - Neil Williams (Westmorland, 2003) - Don Williamson (Southport/NW Federation, 2020) - Ian Wilson (Cornwall, 2011) - Jim Wilson (Bristol, 2012) - Liz Wilson (Fylde, 2008) - John de Winton (Taunton Deane, 2006) - Roger Wood (Compton, 2014) - Don Wright (Tyneside, 2011) - Roz Wright (Peterborough, 2019) - Martin Wroughton (Ashby, 2018) - Gerald Wynn (Cheltenham, 2019)