The Croquet Association
The Croquet Association (CA) is the national governing body for the sport of Croquet in England.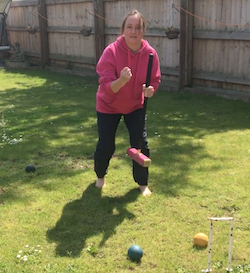 Get competitive with Croquet
Try croquet during lockdown
Are you looking for a new activity to relieve your boredom?
Had enough of virtual quizzes and gardening?
Are you looking for new ways to entertain your family?
Try some croquet challenges at home, or find your nearest club.
Not got a croquet set? Buy one from our Shop.
What's On?
Where are the best players?
August
13-16: Sussex County

The Golf Croquet Open Championships

(GC)
22-23: Sussex County Cheltenham The GC Inter-County Championship

(GC)
---
15-16: Surbiton

AC International Development Squad Mentored Match Weekend

(Course)
15-16: Wrest Park IPDG GC Elite and Development Squad Mentored Match Weekend

(Course)
11-12: Cheltenham The Cheltenham Golf Croquet Championship

(GC)
14: Ashby Golf Croquet C-Level Tournament

(GC)
15: Ashby Golf Croquet B-Level Tournament

(GC)
15: Hamptworth Golf Croquet C-Level Tournament

(GC)
11-13: East Dorset Midweek Handicap (AC) Tournament

(AC)
14-15: Sidmouth B-Level Advanced (AC) Weekend

(AC)
14-16: Cheltenham Open Class Singles (AC) Tournament

(AC)
15-16: Bristol B-Level Weekend (AC)

(AC)
15-16: Crake Valley Advanced Tournament (AC)

(AC)
15-16: Edgbaston Advanced Weekend (AC)

(AC)
15-16: York The Yorkshire White Rose AC Open Tournament

(AC)
15-16: Carrickmines McWeeney Trophy (CA vs. CAI)

(AC)
15-16: Woking Summer Handicap (AC) Tournament

(AC)
17: Wrest Park Golf Croquet B-Level Tournament

(GC)
22: Budleigh Golf Croquet B-Level Tournament

(GC)
22: Guildford Golf Croquet A/B-Level One-Day Tournament

(GC)
22-23: Hurlingham Golf Croquet B-Level Tournament

(GC)
23: Budleigh Golf Croquet C-Level Tournament

(GC)
17-22: Nottingham Annual Week Tournament

(AC)
22-23: East Dorset Class Singles Weekend (AC)

(AC)
25-26: Wrest Park Under-25 Summer Improvers' Course

(Course)
25: Hurlingham Golf Croquet C-Level Tournament

(GC)
25-26: Hamptworth Advanced Singles (AC) Midweek Tournament

(AC)
Latest Croquet News