Refereeing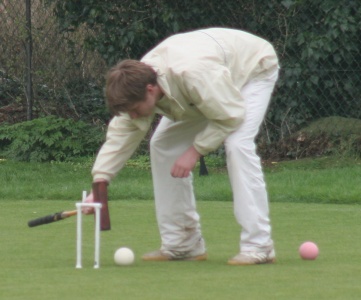 A hampered shot in which a fault may be committed should be watched by a referee. (Picture of Russell Bretherton at Surbiton)
Players are joint referees of their games, even in tournaments. However, if there is an official referee available, they should be asked to adjudicate on any stroke in which either player suspects that a fault may be committed, or in the event of uncertainty as to how to proceed with the game.
Sometimes you'd need someone to adjudicate on whether a ball hits another one (not retrospectively though) or some other factual matter. In these cases you don't need a qualified Referee, you'll need an Umpire, who can be any knowledgeable spectator.
In a tournament situation, a Referee is usually called on to the lawn by raising your mallet vertically and waiting for one to notice you! An Umpire is called on to a lawn by raising your mallet horizontally.
The Croquet Association makes provision to train and examine two grades of referees, separately for Association Croquet and Golf Croquet:
Referee: a qualified referee can officiate at any game, match or event (for major tournaments: if so authorised by the Tournament Referee).
Championship Referee: some of the most experienced Referees who are selected to officiate at top-class events.
In addition, there are Examining Referees - with at least one in most Federations.
The powers and duties of referees are spelt out in the CA Regulations for Tournaments.
Most often, a referee acts as a Referee on Request - called on by the players either to watch a problematic stroke about to be played or to sort out a problem after it has happened.
Occasionally, when the situation demands, a referee may be asked to supervise a match and become a Referee in Charge.
All significant tournaments controlled by the Croquet Association or a Federation will normally have an appointed Tournament Referee: the official with responsibility for nominating and allocating authorised referees, and hearing appeals.
Becoming a Referee
To become a referee you should attend a two-day (usually a weekend) training course, separately for Association Croquet and Golf Croquet, and then take a multi-choice examination, plus an on-court practical test to qualify as a Referee (for Association Croquet an Assistant Referee).
Often there is insufficient time to administer the examinations immediately after a course. If you have attended a course and want to try the exam, please contact a local Examining Referee, who will be delighted to work with you towards your qualification.
Before the course, you are expected to have read the Laws/Rules thoroughly - for Association Croquet there's a self-test to help you with that, for Golf Croquet, you might like to obtain a DVD prepared by Bill Arliss: "The practical side of GC Refereeing". This is available for £10 (including delivery) direct from Bill.
None of the examinations is a memory test at any time, except that the basic principles are expected to be known.
These courses are usually run at the beginning of the season at various locations around the country. Check the CA Fixtures Calendar and the various Croquet Academies for details of advertised courses or ask your local Federation for information about courses near you, or to register your interest and provide motivation to schedule such a course.
To become a Championship Referee you must have been a referee for at least two years and satisfy other conditions.
More Details
For more details and other resources see: