Refereeing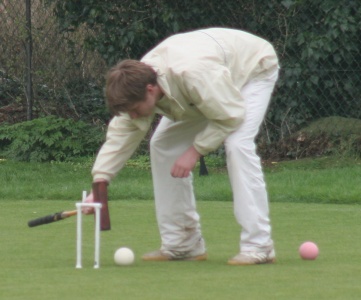 A hampered shot in which a fault may be committed should be watched by a referee. (Picture of Russell Bretherton at Surbiton)
Although most games, even in tournaments, are jointly refereed by the players themselves, an official referee, if available, should be asked to adjudicate any stroke in which either player suspects that a fault may be committed, or in the event of uncertainty as to how to proceed with the game.
Becoming a Referee
To become an AC referee you should attend a 2-day (usually weekend) training course, and then take a 20 question multi-choice examination, plus a one hour on-court practical test to qualify as an Assistant Referee. For Full Referee, a longer written or interactive examination of the Laws and your understanding of them is administered by an Examining Referee.
After two years experience as a qualified referee, you can retake the examination, with two examiners for the practical, to become a Championship Referee by achieving the higher pass mark.
Often there is insufficient time to administer the examinations immediately after a course. If you have attended a course and want to try the exam, please contact a local Examining Referee, who will be delighted to work with you towards your qualification.
Before the course, you are expected to have read the Laws and ORLC thoroughly - and there's a self-test to help you with that. None of the examinations are a memory test at any time, except that the basic principles are expected to be known. Have a look at the online fun quiz.
The Croquet Association runs occasional courses to train referees for the examination. Please contact the CA Office or your local federation for information about courses near you, or to register your interest and provide motivation to schedule such a course. The Laws Committee maintain the Referee Training Course Manual, and offer it here as a learning aid for Laws students.