Charity One-Ball Championships - Winchester 19th & 20th April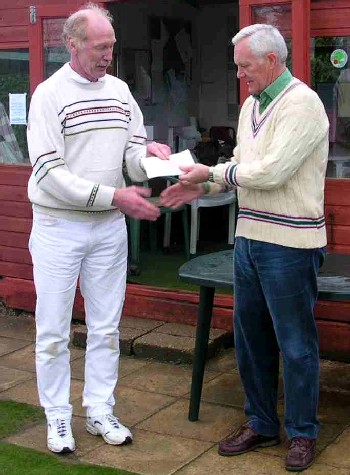 Kevin Carter presents alms to Major General Carr Smith (Cancer Research UK )
by Kevin Carter at Winchester
19-20 April 2008 (
AC
)
This year's tournament attracted sixteen club heats around the country, from Sidmouth to Southport. Many thanks to all those who organised a local event. 216 players took part and £901 was raised on behalf of Cancer Research UK.
Heat winners gain free entry into the Saturday handicap (Cryptorchid) event, which is inevitably contested very fiercely. This year's fast improver (i.e. bandit) was fifteen year-old Ryan Cabble, winner of the Nailsea heat. He is very accurate and we shall be seeing a lot more of this young man. However, his inexperience told later in the day, when the swiss format threw him into successive games with masters of the tactics of one-ball.
At the other end of the spectrum, what more can one say about Rutger Beijderwellen? Playing off his own special handicap of -10 he again beat most of his opponents. As it happens, in the ninth and last round Ryan and Rutger were pitched against each other to decide the runner-up spot.
All eyes were on this battle of fantastic accuracy vs 10.5 bisques. Ryan kept his nerve and just prevailed.
The winner of the engraved decanter was Barry Gould, from the Guildford & Godalming heat, with a solid and consistent performance - nine wins from nine games, including Ryan and Rutger.
On Sunday the sun came out, and so did sixteen of the country's best one-ball players for the Advanced Level (Monorchid) event. The early rounds went predictably enough, with the four seeds - Rutger, Stephen Mulliner, Jamie Burch and Marcus Evans - emerging as semi-finalists.
Stephen despatched Jamie very swiftly, in the process collected a bottle of bubbly for a second game all-round break.
Ninety minutes later the other semi-final was completed. In the first game Marcus took a lead which Rutger clawed back. In the second Marcus went all the way round in one turn. The third was a slow and very tactical affair in which Marcus again went ahead, but Rutger came back from 6 vs penult and defeated him.
So, for the third year in a row we were treated to a Bodger vs Mulliner final. Rutger won the previous two; could Stephen make it third time lucky? In the first game it looked like it, with Stephen embarking on an all-round break, which only faltered when he was hampered after rover.
Then Rutger ran his first nine hoops before an error handed the game to Stephen.
The second game followed a similar pattern. Stephen took his first break to one-back before blobbing a relatively easy hoop. Rutger started his all-round break but when he foundered Stephen hit in and finished off a short but high quality final.
The consolation event went to Lionel Tibble and Jamie won the third place play-off. As everyone drifted away the last game of the day
continued: an obviously cat and mouse game between Tom (Weston) and Jerry (Guest).
Summary of Results
Cryptorchid Handicap (Nine Round Swiss; 24 Players)
1. Barry Gould (6)
2. Ryan Cabble (22)
3. Rutger Beijderwellen (-10)
Monorchid Advanced Level (Best of 3 KO; 16 Players)
Winner: Stephen Mulliner
Runner-Up: Rutger Beijderwellen
Third: Jamie Burch
Consolation: Lionel Tibble
---