WCF Simon Carter Golf Croquet World Championship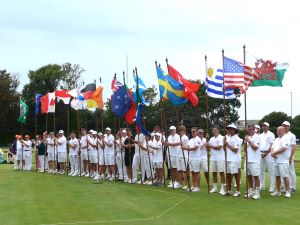 Competitors at the Opening Ceremony (Photo: Ray Hall)
by Dr Ian Vincent
27th July 2019 (
World Championship
)
The CA is hosting the WCF Simon Carter GC World Championship at the Sussex County, Compton, Tunbridge Wells and West Worthing clubs from 27th July to 4th August. Spectators are welcome at all venues.
The Championship was formally opened on Friday 26 July 2019, by Prince Richard, Duke of Gloucester, with representatives from the WCF, the CA and local dignitaries.
The Knockout stages are being broadcast live on YouTube from Thursday 1st August, complete with audio commentary.
---