David Maugham won the East Midlands Championship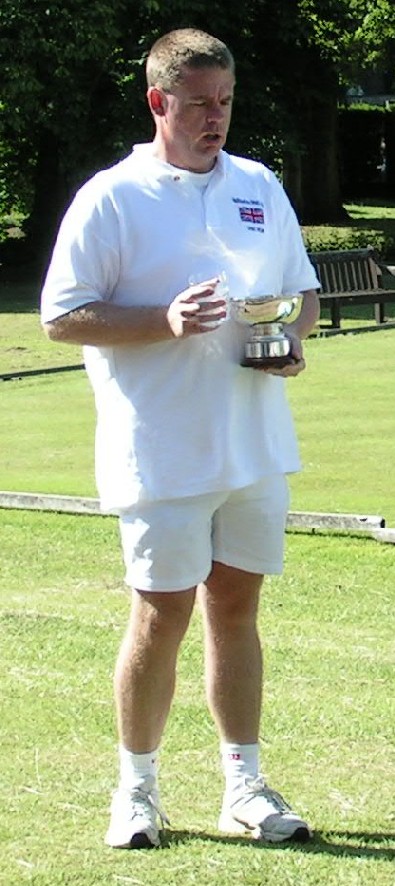 Dave Maugham, gripping and grinning? (Picture: Rob Edlin-Wight)
by Ian Vincent
27th June 2005 (
AC - Championships
)
There were 22 entries and, at the request and with the unanimous agreement of the competitors, it was played with Dawsons rather than the advertised Barlow balls, thanks to the loan of eight sets from another club. Fortunately none went in the stream!
Half of Friday was lost to rain (clearly a mistake to have it the same weekend as Glastonbury, but fortunately Rutger was not camping!), which left rather soft conditions once the surface water had drained. The peelers took full advantage, with two Sextuples by David Maugham and an Octuple by Robert Fulford.
Mark Avery reached the final of both the draw and the process, but was beaten in each, leaving a play-off between David Maugham and Chris Clarke, who had already met in a semi-final of each half. David won the match by the clinical score of +26tp -26tp +26tp, to become the ninth different winner of the Hopewell Cup in the nine years since it was presented, from what was undoubtedly its strongest ever field.
Rutger Beijderwellen won the plate.
The laws book was only required once, to convince a player that he had to tell his opponent, who had quit the lawn after playing what he thought was a scatter shot, to resume his turn and take croquet.
Draw
Dr IG Vincent beat P Castell +3
Dr JC Williams beat Dr. D. P Bennison +10
M. N. Avery beat W.J. Sidebottom +16
AK Gregory beat AC Davies +5
I. J. Burridge beat I.G. Lines +24
RK White beat R Edlin-White +15
RI Fulford beat M. R. French +26stp
JG Allen beat R. Beijderwellen +26tp
DB Maugham beat Dr FL Whittaker +26
GJ Bennett beat P Swaffield +9
M. N. Avery beat Dr JC Williams +15tp
LG Tibble beat Dr IG Vincent +5
AK Gregory beat I. J. Burridge +23
C. D. Clarke beat RK White +26
C. D. Clarke beat GJ Bennett +26tp
LG Tibble beat RI Fulford +8
M. N. Avery beat JG Allen +17tp
DB Maugham beat AK Gregory +11
M. N. Avery beat LG Tibble +20
C. D. Clarke beat DB Maugham +26tp
C. D. Clarke beat M. N. Avery +26tp
Process
M. R. French beat AK Gregory +14
I.G. Lines beat RI Fulford +26tp
R. Beijderwellen beat RK White +17tp
Dr IG Vincent beat Dr FL Whittaker +8
Dr JC Williams beat P Swaffield +24
GJ Bennett beat W.J. Sidebottom +4
Dr. D. P Bennison beat P Castell +21
M. N. Avery beat LG Tibble +17tp
C. D. Clarke beat AC Davies +23tp
I. J. Burridge beat R Edlin-White +20
JG Allen beat M. R. French +20
R. Beijderwellen beat I.G. Lines +17tp
DB Maugham beat GJ Bennett +25sxp
Dr JC Williams beat Dr IG Vincent +20
DB Maugham beat I. J. Burridge +11tpo
M. N. Avery beat R. Beijderwellen +17tp
JG Allen beat Dr. D. P Bennison +17
C. D. Clarke beat Dr JC Williams +10tp
M. N. Avery beat JG Allen +4
DB Maugham beat C. D. Clarke +26tp
DB Maugham beat M. N. Avery +25tp
Play=off
DB Maugham beat C. Clarke +26tp -26tp +26tp
Plate
I.G. Lines beat Dr FL Whittaker +25
W.J. Sidebottom beat M. R. French +11
R. Beijderwellen beat Dr. D. P Bennison +16tp
RI Fulford beat R Edlin-White +26STP
DB Maugham beat JG Allen +15SXP
I.G. Lines beat P Swaffield +26tp
AC Davies beat RK White +9
P Swaffield beat R Edlin-White +4
W.J. Sidebottom beat P Castell +12
Dr. D. P Bennison beat Dr FL Whittaker +9
RI Fulford beat GJ Bennett +26
AC Davies beat LG Tibble +3tp
I. J. Burridge beat RK White +15
I.G. Lines beat GJ Bennett +26tp
R. Beijderwellen beat RI Fulford +5tp
RK White beat M. R. French +26tp
Dr IG Vincent beat W.J. Sidebottom +10
AC Davies beat P Castell +26tp
I.G. Lines beat R Edlin-White +26tp
Dr FL Whittaker beat P Swaffield +15
RK White beat AK Gregory +25tp
GJ Bennett beat M. R. French +13
I.G. Lines beat AC Davies +4otp
R. Beijderwellen beat R Edlin-White +25tp
AK Gregory beat P Castell +17
RI Fulford beat Dr JC Williams +24
R. Beijderwellen beat I. J. Burridge +26
M. R. French beat R Edlin-White +7
RK White beat GJ Bennett +26
M. N. Avery beat I.G. Lines +26tp
Dr FL Whittaker beat R Edlin-White +24
R. Beijderwellen beat Dr IG Vincent +15tp
P Castell beat P Swaffield +15
RI Fulford beat RK White +26ocp
M. R. French beat AC Davies +15
Dr JC Williams beat I. J. Burridge +24
LG Tibble beat GJ Bennett +17tp
JG Allen beat AK Gregory +17
Dr. D. P Bennison beat W.J. Sidebottom +15
I.G. Lines beat Dr JC Williams +25tp
RI Fulford beat I. J. Burridge +25tp
RK White beat JG Allen +25tp
AK Gregory beat LG Tibble +13
R. Beijderwellen beat Dr JC Williams +9tpo
R Edlin-White beat P Castell +17
I.G. Lines beat RK White +17
M. R. French beat P Swaffield +15
RI Fulford beat JG Allen +16
GJ Bennett beat Dr FL Whittaker +4
Dr. D. P Bennison beat AC Davies +26
LG Tibble beat Dr IG Vincent +23
I.G. Lines beat JG Allen +26tp
RK White beat Dr JC Williams +2
---