Robert Fulford won the Colchester Advanced Open weekend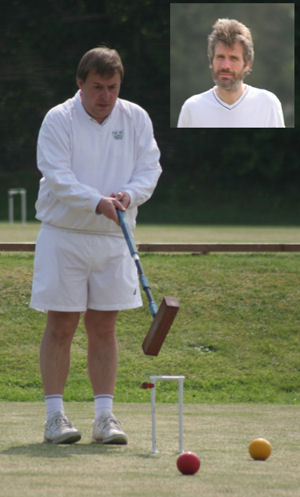 Robert Fulford, with Johnathan Hills (inset) who won the handicap "Bailey's Race". (Photo: Samir Patel)
by Robert Fulford at Colchester
24th April 2007 (
AC
)
This year's Colchester Open Weekend was won by Rob Fulford. Chris Patmore finished with the second best record inflicting Rob's only defeat with a delayed TP on a tricky lawn 1, however by this stage Rob's lead was unassailable. Conditions were more like June than April, with temperatures in the 20s and the some fast patches on the courts.
Johnathan Hills from Colchester demonstrated how he is improving, winning the manager's Baileys for being the first player to reach the target score they had been given. Jonathan finished with 5/9 including a win over Steve Comish and achieved a handicap reduction to 0.5.
Sam Tudor's croquet player top trumps kept players amused between games and Ann Lee and her helpers kept everyone fed and watered.
Results Summary
Rob Fulford
9/10
4SXPs 2TPs
Chris Patmore
5/7
1TP
Sam Tudor
5/8
2TPs
Samir Patel
5/8
3TPs 1STP
Gordon Hopewell
3/5
Patrick Hort
4/7
1TP
Chris Farthing
4/7
1OTP
Jack Wicks
5/9
2TPs
Jonathan Hills
5/9
Steve Comish
4/8
1TP
Ian Burridge
5/10
1TP 1STP
Martin French
2/5
Ian Plummer
2/6
Steve Woolnough
2/6
Mark Hamilton
2/6
James Hopgood
1/5
Eugene Chang
1/6
Martin Stephenson
0/6
---