Ben Ashwell won the Wrest Park Advanced Weekend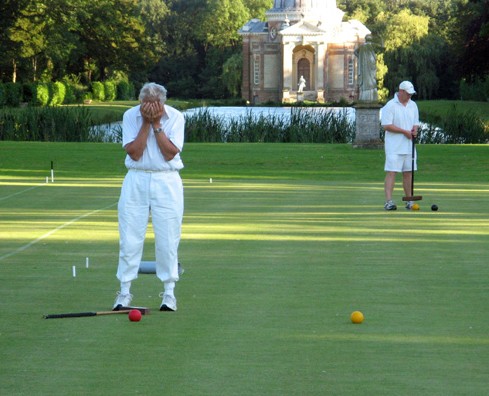 Tom Anderson is in tears after another missed 1 yard roquet (against Gina Lewis) (Photo: John Bevington)
by Jack Wicks at Wrest Park
4-5 August 2007 (
AC
)
This years August weekend tournament at Wrest Park was won by club member Ben Ashwell. His first visit of the season to his home club proved a successful one, dropping only one game over the weekend.
Day one ended with three players unbeaten and two others hot on their heals with only one loss. Rod and Ben, both Ashwell's, had won three out of three, as had Terrey Sparkes, who, with a handicap of 2.5 played brilliantly to defeat players of a much lower handicap. The next two were Nick Butler and Jack Wicks, who were both on three out of four. Wicks having lost to Rod Ashwell, after Rod 'just did enough' by hitting the wrong ball when taking his lift and finishing in three turns, after three misses from Wicks - who needs sextuples, or even triples!
There were two games pegged down overnight. One started at around 4pm, and was pegged down at 8:30pm, it was then resumed at 9am on Sunday morning, and at 11am the manager imposed a 1 hour time limit. The game finished at noon with a score of 24-22. I bet no one can guess which local member was involved in this feast?
On Sunday morning father took on son, the top game in the first round of the day. Son (Ben) prevailed after a long struggle, to leave him as the only unbeaten player. Wicks overcame Richard Smith while Butler saw off Sparkes.
In the next round Wicks beat Butler, Rod lost to Jerry Guest and Ben lost to Phil Cordingley, meaning no one remained unbeaten. These results confirmed that in round seven Wicks would play Ben Ashwell in the final.
Ben won the toss and chose Red and Yellow.
Wicks; Supershot about two yards north of hoop 5.
Ashwell; Tickled the Supershot and took of well to hoop 1. Ended up running hoop 3 to hampered position and missed to the middle of the West boundary with the other close by.
Miss from B baulk to IV
Misses Ball in IV
Fails to approach one, joins up in middle of west boundary
Hits in with hoop 4 ball and goes to 4back with spread
Lifts ball at 2, takes sort short and misses
Fails hoop 1
Misses 6 yarder at the ball which failed 1, missing to near I
Joins up by hoop 4 on west boundary
Misses from hoop 2 at oppo's balls
Croquets partner to hoop 1 going to ball by I. Tries stop shot approach (sending croqueted ball to hoop 2) and runs hoop 1!!! Misses hampered shot at partner.
Hits, has tpo, with balls in I & IV
Takes contact from ball in IV, croquets it to behind hoop 2 going to ball in I. Rolls ball in I to 5 yards south of 3, gaining 5 yard straight position at 2. Runs the hoop, takes rush to partner and finishes.
Ashwell pegged out to achieve his first ever OTP victory, but more importantly to win the tournament. Thanks went to Rod Ashwell the manager, the 'lawn management' team and those club members who generously gave their time to provide the catering.
Round One
Jack Wicks beat John Bevington
Ben Ashwell beat Jon Male
Phil Cordingley beat George Collin
Nick Butler beat Terry Mahoney
Jerry Guest beat Tom Anderson
Terry Sparkes beat Nick Evans
Rod Ashwell beat Jim Field
Richard Smith beat George Woolhouse
Nigel Polhill beat Gina Lewis
Bill Sidebottom beat John Smallbone
Ian Parkinson beat Colin McKenzie
Round Two
Jack Wicks beat Jerry Guest
Ben Ashwell beat Nick Butler
Phil Cordingley beat Nigel Polhill
Terry Sparkes beat Richard Smith
Rod Ashwell beat Ian Parkinson
John Bevington beat Tom Anderson
Jon Male beat Terry Mahoney
George Collin beat Gina Lewis
Nick Evans beat George Woolhouse
Bill Sidebottom beat Jim Field
John Smallbone beat Colin McKenzie
Round Three
Jack Wicks beat Phil Cordingley
Ben Ashwell beat John Bevington
Terry Sparks beat Bill Sidebottom
Jon Male beat Jerry Guest
Nigel Polhill beat Terry Mahoney
Nick Butler beat George Collin
Richard Smith beat Nick Evans
Tom Anderson beat Gina Lewis
George Woolhouse beat Jim Field
Ian Parkinson beat John Smallbone
Round Four
Rod Ashwell beat Jack Wicks
Nick Butler beat Phil Cordingley
George Collin beat Colin McKenzie
Round Five
Ben Ashwell beat Rod Ashwell
Nick Butler beat Terry Sparkes
Jack Wicks beat Richard Smith
Phil Cordingley beat Bill Sidebottom
Jon Male beat Nigel Polhill
Jerry Guest beat George Collin
John Bevington beat Nick Evans
George Woolhouse beat Terry Mahoney
Jim Field beat Colin McKenzie
Round Six
Jack Wicks beat Nick Butler
Phil Cordingley beat Ben Ashwell
John Bevington beat Bill Sidebottom
George Woolhouse beat Terry Sparkes
Richard Smith beat George Collin
Jerry Guest beat Ian Parkinson
Nick Evans beat Tom Anderson
Terry Mahoney beat John Smallbone
Nigel Polhill beat Nigel Polhill
Gina Lewis beat Colin McKenzie
Round Seven
Ben Ashwell beat Jack Wicks
Jerry Guest beat Rod Ashwell
Ian Parkinson beat Jon Male
Nigel Polhill beat Richard Smith
Phil Cordingley beat John Bevington
Jim Field beat George Collin
Handicap Changes
Terry Sparkes 2.5 down to 2.0
Colin McKenzie 6 up to 7
Nick Evans -0.5 up to 0
Jon Male 1.5 down to 1.0
---