Broadwas beat Letchworth at Cheltenham Croquet Club to win GC Inter-Club Shield 4-3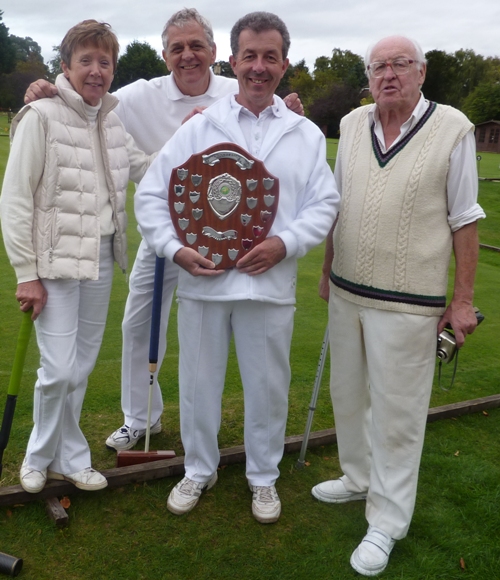 Left to right: Janet Bedford, John Guy, Stuart Smith and John Edwards of Broadwas (Photo: unknown)
by Stuart Smith at Cheltenham Croquet Club
8 October 2011 (
GC - Inter-Club Shield
)
Broadwas beat Letchworth 4-3 to retain Murphy Shield
The morning session featured two singles matches and the doubles match and Letchworth took an early lead when Jeremy Scott overcame Janet Bedford 7-5, 5-7, 7-6. John Edwards evened the scores by beating John Hall 2-7, 7-4, 7-2. Meanwhile the doubles match went on and on before Stuart Smith and John Guy of Broadwas finally won 5-7, 7-4, 7-6 against John Skingsley and Keith Rhodes after almost three and a half hours of play. Broadwas lead 2-1 at lunch.
The afternoon session consisted of four singles matches, again the best of three games. Guy lost to Rhodes 4-7, 7-3, 7-5 but Smith beat Skingsley 7-6, 7-5 to maintain Broadwas' narrow lead 3-2. Edwards had a 4-1 lead in his third game but Scott found a golden touch to win the next six hoops and snatch victory to level the fixture with a 7-5, 6-7, 7-4 win.
The final match was already into the deciding game so, just as a year ago against Dulwich, the national title rested on the outcome of the final game. With coolness and skill Bedford took an early lead and never gave it up to win 6-7, 7-4, 7-4 giving Broadwas a 4-3 winning result.
Tea, photos and the shield presentation rounded off an exhausting day of skill and strategy. Letchworth provided very stiff competition as evidenced by the fact that all but one match went to the deciding game. Many thanks to John Handy, Tournament Director and referee, and Cheltenham for providing the lawns on a cool, overcast day.
---