Ryan Cabble won first Nottingham GC Open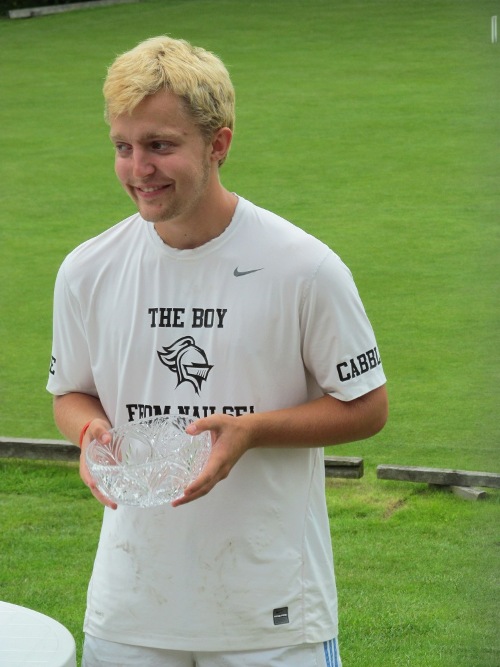 Ryan Cabble with the Diamond Jubilee Bowl (Photo: Rachel Rowe)
by Rachel Rowe at Nottingham
4th-5th August, 2012 (
GC
)
The first Nottingham GC Open, for the Diamond Jubilee Bowl, had 12 entries, We had the luxury of 5 lawns all weekend and most games were single banked with no time limits. There were some very tight games and a few upsets in the blocks, although everyone won at least one game. At the end of Saturday there were 2 clear qualifiers from each block - Ray Mounfield, Richard Thompson, Tim King and Ryan Cabble; only Ray Mounfield was unbeaten with 10 wins.
After a leisurely start on Sunday morning Tim was playing well and brought an end to Ray's winning streak in straight games for a place in the final. Ryan held himself together well after losing the first game in the other semi, found his form again in the second game and took the third, despite a strong comeback from Richard. Both Ryan and Tim were shooting well in the final and not many hoops were missed. An hour and a quarter later, and in time for an early tea, Ryan was victorious. Sunday's consolation event was an all play all block for all willing participants. David Bell played well to win all of his games and the consolation event. Richard beat Ray in the 3rd/4th playoff.
Handicap reductions for:
David Bell from 4 to 3 and Harry Dodge from 3 to 2.
Semi final results:
Tim King v Ray Mounfield 7-4 7-4
Ryan Cabble v Richard Thompson 6-7 7-2 7-5
Final:
Ryan Cabble v Tim King 7-3 7-4
3rd/4th playoff:
Richard Thompson v Ray Mounfield 7-2
---