Will Gee won the National Forest GC Tournament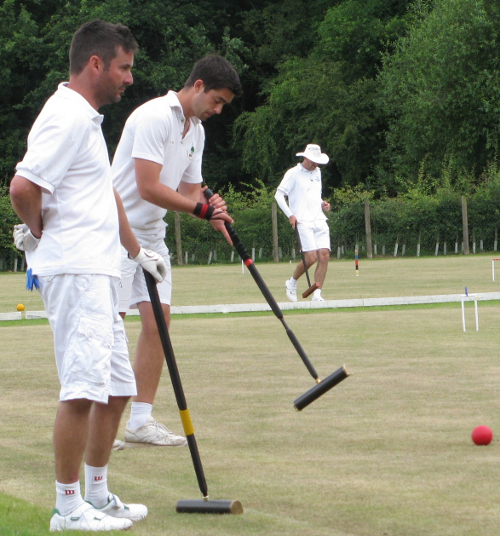 Nick Mounfield and Will Gee at the National Forest Tournament (Photo: Ray Mounfield)
by Ray Mounfield at Ashby Croquet Club
29 June 2014 (
GC
)
The fourteen entrants were divided into two blocks of seven players, with everyone playing two games against all other players in their block. The block play was not concluded until midway through Sunday, with the top two players in each block progressing to a best of three games semi-final. Nick Mounfield beat Tim King in two tightly fought games (7-6, 7-5). Will Gee beat David Bell, also in two games (7-1, 7-2) thus setting up a final between the two top seeded players, each of whom had headed their block. Both players had declared themselves to be lacking in GC play this season but the first game was exciting and highly entertaining, going all the way to the thirteenth hoop, where Nick's win resulted in Will losing his first game of the event. However, in what continued to be a display of high quality croquet by both players, with long hoop runs and spectacular clearances, Will went on to win the next two games, taking the match 6-7, 7-3, 7-4.
This was Nick s first appearance in the Ashby National Forest Open. Will has now played on three occasions and been victorious every time!
Tim King beat David Bell, by 2 games to 1, in the 3rd/4th place play-off.
---