The Peel Memorials (First played in 1898)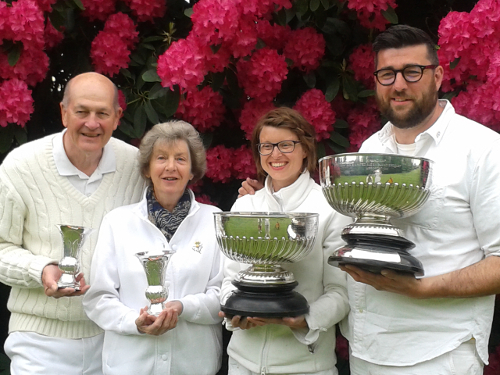 The winners: David Brydon, Julie Horsley, Philippa Hallam and Omied Hallam (Photo: Bob Thompson)
by Bob Thompson at Nottingham
18th May 2015 (
AC - Handicap
)
Julie Horsley (Sidmouth) journeyed north to partner David Brydon (Nottm) at Nottingham to win The Lady Murray Silver Vases. Twelve pairs entered the knockout event, David and Julie were +17 and +13 winners of the early rounds and husband and wife David and Eileen Magee were also strong contenders with +21 and +13 wins. In the final, with a combined handicap of 8, David and Julie were successful in getting the better of their very experienced opponents, who played off 3.5, winning +9.
Both singles competitions was run as a flexible Swiss; the top four players competed in the knockout semi-finals on Sunday morning. Michael Finnigan (Nottm h/c 5), [4/4 wins] played Derek Buxton (Ashby h/c 12), [3/4 wins], Michael winning +8. In the second semi-final, Neal Bacon (Nottm h/c 14), [5/6 wins] played Omied Hallam (Nottm h/c 0.5), [4/5 wins]. Neal took his first ball to peg and wired Omied at hoop one, Omied hit the long shot straight and hard to hit the nearby ironwork and glance onto his intended target. Omied made no mistake in completing a +13 win.
The Women's semi-finals saw Philippa Hallam (Nottm h/c 20) [3/3 wins] playing Julie Horsley (Sidmouth h/c 12), [2/3 wins]. Philippa found it easy to take her first ball to 4-back then struggled with the second ball, Julie saw the bisques fall and made her hoops in the last hour of play, but Philippa made it through to the final +12. Another Nottm high bisquer, Viv Staley (Nottm h/c 20), [3/4 wins] played fellow club member, Beatrice McGlen (Nottm h/c 1), [4/5 wins] in the second semi-final, Beatrice winning +6.
The Men's final, completed in under 1.5hrs, saw Michael on his best form on 4-back and rover when a rover peel went astray, leaving Omied an easy hit in to complete a faultless round with his second ball including a rover peel to win +6. Omied has won the Men's Singles event for the second year in succession. The early finish allowed Omied to watch sister-in-law Philippa play her final game.
Before playing her final against Philippa, Beatrice announced that she had now gone over the ton, having conceded a total of 102 bisques to her opponents! Philippa took her first ball to penult and went on to win +25 with bisques standing. Julie Horsley beat Viv Staley +6T for third place and Neal beat Derek +16 in the other third place play-off.
The tournament handicapper reduced Viv Staley to 18, Philippa Hallam to 16 and Neal Bacon to 9; Neal Bacon and Phillipa Hallam also gained Bronze Awards. It was very pleasing to see Derek Buxton returning to the Peels and playing some of his best croquet, last year he had to retire from the event and spent a day or two in hospital. Well played Derek.
At the presentations, where the winners were given jars of Beatrice's marmalade, which seemed appropriate for the Peels, Brian Shorney, the tournament director, thanked Nottingham for hosting the event for the second year running, Bob Thompson for his unflappable management and the groundsman, Charlie Paget, for his preparation of the lawns. Brian also thanked all the caterers for their excellent lunches and teas, some of the best - if not the best - of those he had experienced on the circuit.
---