Veteran's Championship Results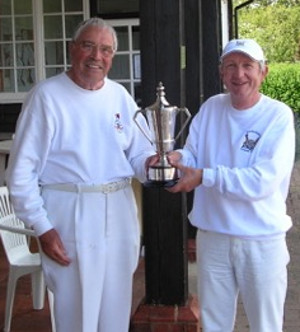 Veteran's Winner Simon Hathrell receiving the Rothwell Cup from Quiller Barrett (Photo: Richard Hoskyns)
by Elaine Marsh at Budleigh Salterton Croquet Club
20 June 2015 (
AC
)
An international field of entrants took to Budleigh's immaculate croquet lawns last week for the National Veterans' Championship. Two Australians and two South Africans joined players from many English clubs to contest the various events.
The week started with the Handicap Doubles Championship, which saw success for three Budleigh members. The main event was won for the second year running by the long-time partnership of Brian Shorney (Budleigh) and Jane Hull (Cheltenham). They defeated Quiller Barret and Richard Hoskyns in the final. The consolation 'Y' event for teams who lost in the first round was won by the all-Budleigh pairing of Barbara Thompson and Dave Mundy, playing together for the first time.
The Meredith Cup for the Unrestricted Handicap Singles Championship was won by Dennis Cross of the Hurlingham Club in a classic +26 victory over tournament manager, Peter Siddall of Roehampton. Dennis made the most of his handicap advantage to keep Peter on the sidelines in the same way as a practiced snooker player does.
There were three further singles events for competitors grouped by handicap range and one exclusively for over 75s'.
The Strickland Cup for handicap play was won by Australian visitor Sally Harper, a consistently good performer who also won the 'Y' consolation event in the Unrestricted Handicap Singles. Sidmouth's Mike Taylor was victorious in the Felixstowe Cup for Advanced play having won all five of his matches.
The Pidcock Trophy for the Over 75s' Championship saw success for Richard Hoskyns (Hurlingham) with a narrow victory on points over Budleigh's Brian Shorney and 88 year old Roy Edwards. However Brian has enjoyed a recent run of success which has seen his handicap tumble by several steps to a very healthy five.
In the top event for A Class players, Simon Hathrell defeated last year's winner Cliff Jones in an exciting final to take home the Rothwell Challenge Cup.
The Championships were very ably managed by Peter Siddall in his first outing as a tournament manager. The Croquet Association's President, Quiller Barrett, thanked him and the Budleigh club for staging another successful national event. In doing so he paid tribute to the many volunteers behind-the-scenes whose hard work makes it all possible.
---