Jonathan Lambton representing Watford won the All England a/c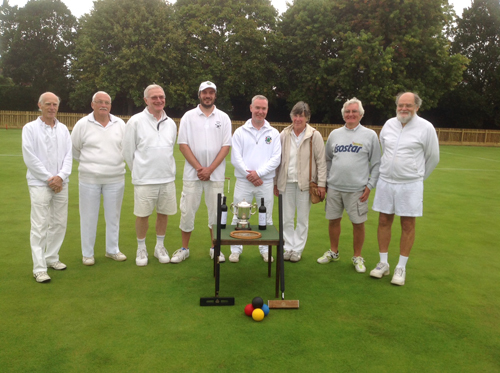 by Peter Wilson at Chester Croquet Club
20/9/2015 (
AC - Handicap
)
L to R
Ian Fugeman,Peter Aspinall,Paul Wolff,Nathan Baker (runner up),Jonathan Lambton (winner),Julie Sheahan,John Henderson,Steve Fisher
Manager Elmyr Hughes reports the Tournament finals positions were as follows :-
1) Jonathan Lambton - 5 wins
2) Nathan Baker - 4 wins
3) Paul Wolff - 3 wins
4) John Henderson,Steve Fisher,and Julie Sheahan - 2 wins
5) Peter Aspinall and Ian Fugeman - 1 win The following players handicaps were reduced under the AHS.
Jonathan Lambton - from 16 to 14
Nathan Baker - from 9 to 8
John Dawson adds:
The eight finalists from as far afield as Penrith and Guildford and with handicaps varying from 2.5 to 16 converged on Chester over the weekend of 19/20 September. By the end of Saturday Jonathan Lambton of Watford ( off 16) was the only player to achieve 3 wins with Nathan Baker of Fylde( off 9), Paul Wolff of Blueberry ( off 2.5) and Julie Sheahan of Merton ( off 12) in hot pursuit with 2 wins apiece. The weather was excellent and the lawns were in outstanding condition. Play was challenging for all with hoops set reasonably tightly and the sloping nature of the lawns demanding accurate placement of pioneers, consistent roquets and precise hoop approach shots. It was not surprising that after 9 hours play the players were ready for a good night's sleep.
Sunday was overcast but still pleasant. Nathan carried on where he had left off- careful shot selection and a steady approach to building and sustaining breaks enabled him to register 2 more wins on the Sunday to secure a certain "podium finish". Paul demonstrated some high class play finishing his last game with a long second ball break and a switch of pivots to set up a solid rover peel but his 2.5 handicap left him no scope for errors against his opponents. Jonathan proved unstoppable and completed a clean sweep with a further 2 wins. His roqueting at medium distances was very solid and his hoop approaches and hoop running under control showed considerable nerve and finesse. However it was his skilful use of bisques which proved decisive. Opportunities for breaks were rapidly ceased and opponents' defensive tactics blown away as bisques were pulled from the ground at key moments. There were wobbles; when Jonathan pegged out one of his balls against Nathan it became clear that Jonathan was not a master of three ball endings and a decisive hit in was required to put both players out of their misery. In his last game against Steve Fisher( off 14) of Harwell the wheels were in danger of coming off! Both players exhausted their bisques and Steve kept up the pressure to level the scores. After a brief period of scrappy play around hoop 6/ penult and 1- back Jonathan got a grip of his nerves to score a golden hoop as time had elapsed.
Colin Irwin, CA Vice President, international player and Bowdon stalwart presented the trophy to the winner and congratulated all the players on their skill and determination. He reminded the players that as he had won the trophy a mere 20 plus years earlier, scope for further fame lay ahead for each of them.
In short it was an excellent tournament played with a lot of good sportsmanship, fine play, enjoyment and good humour. Chester CC was pleased to have hosted its first national event and delighted that all the players had enjoyed their visit to the Chester lawns. "
More photos: http://www.croquetnw.co.uk/?p=10502
---