Alan Clark won the All England Golf Croquet Final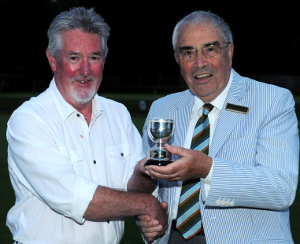 Alan Clark with Quiller Barrett (Photo: Chris Roberts)
by Chris Roberts at Colchester Croquet Club
27 September 2015 (
GC
)
Watford's Alan Clark won the 17th All England Golf Croquet competition final by two clear game wins.
Clark emerged as a front runner towards the end of the first day of this two day event at Colchester, which will be remembered for its length and its players' willingness and ability to see in the dark!
The 16 strong field, with a handicap range from 1 to 11, enjoyed the 'no time limits' regime employed by manager Chris Roberts, who only had to step in to impose a restriction on a handful of games that were delaying the tournament.
The result was some very competitive games indeed, with the low handicappers, having to employ all manner of tactical cleverness to extract the large number of extra turns facing them.
The full 'all play all' format was always going to need quick turn-arounds and playing with dispatch, and by and large, players co-operated to the manager's demands.
First to show on the leader board was the highest handicapper at the event, Margaret Moss of Bowdon. Dulwich's Philip Batty, who had dropped his handicap two grades to 7 since the Area Final qualifying round, was also on good from along with Ryde's Pam Sim.
Together with eventual winner Clark, this quartet were tied by the end of day one, which finished in such sudden darkness that three games had to be pegged down overnight.
Day two opened with the sad news of the withdrawal of local player John Skuse, who'd gone down with a nasty stomach bug that also robbed us of the services of his wife, who had to swap her catering shift in order nurse her man.
Luckily, club stalwart Jane Collier rolled up her sleeves to assist Ann Brooks to lay on another lovely lunch.
Even the low handicappers Stuart Smith (Broadwas) and David Frost (Enfield) had chalked up a few wins despite playing off the effective handicap -2 that their 1 status decreed.
By lunchtime though, Clark had pulled one game ahead and all eyes turned to his upcoming game with Moss who, at one game adrift, could draw level with the Watford man (and be ahead of him on the 'who beat whom' rule) if she could win their 'head to head' game.
It was a close one, but Clark bided his time well and with that victory, the All England title was his to lose.
He sewed it up in the penultimate round and, despite losing his last game; he was a clear winner from four others by two clear victories.
CA President Quiller Barrett had been had been in attendance since the mid-morning and used his time to chat each of the players between their games.
His wait until nearly 7pm was very worthwhile though, as the gloom of evening set in again, he was able to present the trophy to his Watford Club mate Alan Clark - the All England Golf Croquet competition winner for 2015.
Finishing Order
1 Alan Clark (Watford) (handicap 6) 11 wins
2 Margaret Moss (Bowdon) (handicap 11) 9 wins
3 Vernon Gibbs (Ryde) (handicap 9) 9 wins
4 Pam Sim (Ryde) (handicap 4) 9 wins
5 Margaret Eccles (Bury) (handicap 4) 9 wins
6 Richard Peperell (Phyllis Ct.) (handicap 4) 8 wins
7 Louise Taylor (Merton) (handicap 4) 8 wins
8 Philip Batty (Dulwich) (handicap 9) 9 wins
9 Des Taylor (Enfield) (handicap 8) 7 wins
10 John Knight (Reigate) (handicap 5) 6 wins
11 Stuart Smith (Broadwas) (handicap 1) 5 wins
12 Pam Hendry (Nailsea) (handicap 9) 5 wins
13 David Frost (Enfield) (handicap 1) 5 wins
14 John Smallbone (Watford) (handicap 2) 4 wins
15 Robin Hendry (Nailsea) (handicap 7) 2 wins
16 John Skuse (Colchester) (handicap 3) (did not play on day two)
---