Phillip Scarr won the Nottingham Open Weekend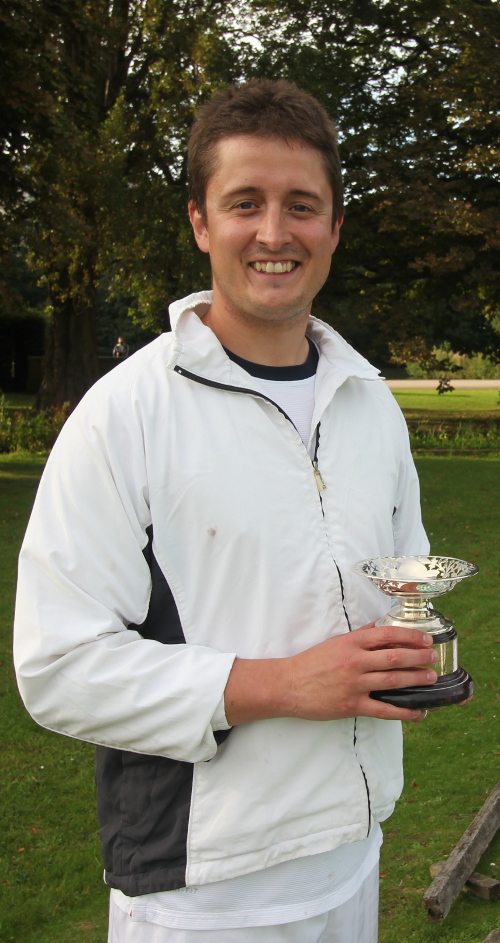 Phil Scarr with the winner's trophy. (Photo: Ian Lines)
by Debbie Lines at Nottingham CC
4 Sep 2016 (
AC
)
Twelve keen players turned up as planned to brave the deluge on Saturday. The rain held off long enough for most of the first round but then arrived in force. The conditions were easy and an impressive amount of peeling commenced. By the end of the weekend there had been seventeen peeling turns in 45 games, including a very tidy sextuple from Ian Lines against his wife Debbie. He explained that he thought he ought to try something special as it was his 1200th win and his 600th peeling turn.
At the end of day one Omied Hallam was leader in the club house with 5 out of 5 wins, and there were 4 players on only one loss. Omied looked good all day and had his first run of three triples on the trot.
On day two Phillip Scarr was kind enough to open up the event by beating Omied with one of his four triple peels of the weekend. By the end of the day this left the two of them level pegging at seven out of eight wins each. Although Mark Ormerod was also on only one loss, he'd played fewer games, so an exciting one ball match, Omied vs Phillip, was played to determine the winner.
Timed to coincide with the excellent tea provided by Rosie, the crowd enjoyed the entertainment provided, especially when Omied, wired from Phillip's ball at hoop 2, lifted his ball and took his lift from 'D' baulk i.e. about four yards west of the west end of B baulk. Both players were oblivious, much to the amusement of the watching experts. Despite Omied hitting in frequently, he just couldn't run hoop 6, and Phillip's impressive position taking won the day.
Our thanks to Beatrice and Rosie for their fantastic catering, to Charlie for keeping the lawns so beautifully and to the Nottingham club for generally looking after us all so well.
Winner Phillip Scarr 7/8
Runner-up Omied Hallam 7/8
Peeling Prize Ian Lines with 3 tps, 1 tpo, 1 otp and 1 sxp
---