Ross Bagni won the Nottingham GC B-Level Tournament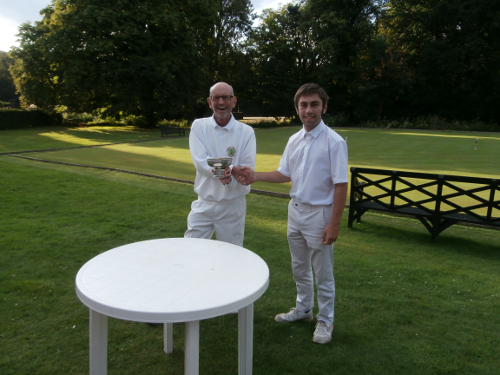 Ross Bagini Winner of Nottingham GC B Level Tournament (Photo: Richard Bilton)
by Richard Bilton at Nottingham
12 Jul 2017 (
GC
)
Nottingham GC B Level, 12 July 2017
A very strong and large field of 24 players, 14 of which on handicap 3 or 4, came to Nottingham to compete in our 11th GC B Level Tournament. 4 blocks of 6 and the top two from each progressing to a knockout meant a total of 8 games for the winner.
Play commenced at 9:30, with three rounds finishing at 12:30 for lunch, meticulously prepared by NDO Dave Gunn. At which stage, two blocks had a player on 3 wins and two on 2, and the other two blocks had 3 or 4 players each on 2 wins.
After all of the block games, Pauline Donner was top of her block as she won all 5 games; Ross Bagni and Robert Cook also won their block outright with 4 wins; first and second place in the other block both won 4 games.
Two of the Quarter Finals went to the 13th hoop, Ross Bagni and Paul Durkin beat Jane Tewson and Pauline Donner, respectively, while Jean Ball walked past Mary Ashworth 7-0.
Ross went one step closer to his defence of the title in winning his Semi Final against Paul Durkin 7-5. The other Semi Final was a very closely fought match, it eventually taking a full hour and being one of the longest games of the day and not even going to hoop 13, Jean Ball beat Robert Cook 7-4.
The Final began at 1820. Bagni took an early 2-0 lead, but Jean refused to be beaten easily and pegged him back to 1-2 and 2-3. A superb jump from Ross at hoop 6 gave him a 4-2 advantage, yet Jean once again closed the gap to 3-4, and when Ross eventually managed to get 3 hoops ahead at 6-3, Jean didn't give up and fought back to 5-6 before Ross ultimately clinched victory at hoop 12. Bagni is the first player in 10 years to win the tournament twice, and the first to defend the title.
The top four places were:
1.Ross Bagni (Leighton-Linslade)
2.Jean Ball (Leighton-Linslade)
3.Paul Durkin (Long Eaton)
4.Robert Cook (Cheam)
---