Rachel Rowe won the Nottingham Golf Croquet Championship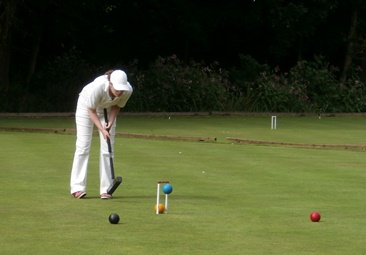 Rachel jumps hoop 12 to get through to the final (Photo: Michael Bilton)
by Rachel Rowe at Nottingham Croquet Club
Sun 16 July 2017 (
GC - Championships
)
20 players gathered at Nottingham to contest the seventh Nottingham Golf Croquet Championship, including three Elite Squad members and 5 Development Squad members.
Block A saw Richard Bilton and Ian Burridge take the early lead, and after Richard beat Ian, Richard had all but secured the top spot in his block. That was until Richard lost a close struggle with his father at the thirteenth hoop to allow Ian reclaim top spot. Other than that, Block A went about as expected, with 4 of the top 5 seeds qualifying.
In contrast, Block B was littered with players rediscovering their recently lost form. Whilst Rachel Rowe and Joel Taylor emerged as clear qualifiers with eight wins from nine games each, four players were tied on five wins from nine games. Eventually, Peter Balchin and Richard Thompson gained the remaining two spaces in the knockout draw on the basis of hoop difference. David Widdison, who failed to qualify from the block by the narrowest margin, continued his solid play on Sunday to win a closely contested plate.
The main knockout started on Sunday morning. It quickly became clear that Richard Bilton didn't want to wait any longer to win his first Ascot Qualifier as he raced through his quarter-final match. Unfortunately for him, he met an in-form Rowe in the semi-final, who ground out a close win in three games that were characterised by resilient clearing.
Meanwhile, Burridge had won both his quarter-final and semi-final in three games. The final was tightly fought, but Burridge was always playing catch-up. In the second game, Ian ran an unlikely Hoop 11 to keep his hopes alive, and then battled his way through Hoop 12. After seemingly playing his way into Hoop 13 as well, Ian's hopes were dashed as Rachel ran Hoop 13 from the boundary to seal the match and the tournament.
Rachel has now won the Nottingham Golf Croquet Championship three times in its six year history.
Full scores are on Croquet Scores.
---