Paul Durkin won the GC National B-Level Final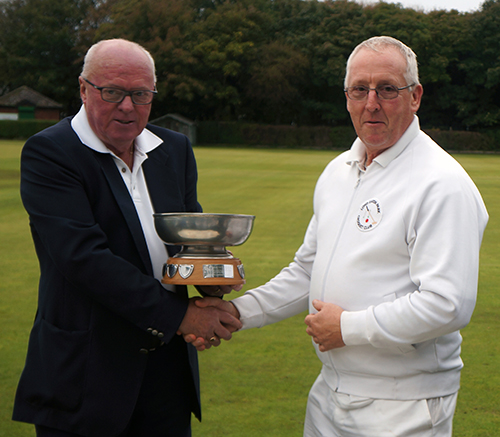 CA Vice President Colin Irwin presents the trophy to Paul Durkin
by Ross Bagni at Southport and Birkdale
8th October 2017 (
GC
)
Many of the 16 finalists arrived at the club on Friday afternoon and were met by Don Williamson, our manager for the weekend. He explained that they had had more rain in September than they could ever remember and it had only been on the Wednesday that it had been decided to go ahead. One lawn still had water laying on it and they had been using squeegee rollers on two others to get them dry enough to play on. Other than that, they were in superb condition. They had prepared 4 reserve lawns (not of quite the same quality, but better than some of us are used to) in case of emergencies.
Come Saturday, play stared in dry but cloudy weather and the first few rounds were played happily by all, with some of the pre-tournament favourites not quite achieving the standard they had hoped for. There were probably good reasons for this, their first National Final for some and even one poor soul, who's car had broken down in Kent on the Friday afternoon and had to leave home at 4 am Saturday to arrive in time! By late morning it had started to rain and by mid-afternoon all but one of the courts being used were abandoned and the reserve lawns put into use. By the evening, Paul Durkin and Michael Bilton were clear leaders with 6 wins each and a following group on 5 wins each. 8 rounds having been played.
On Sunday the weather had cleared and 3 of the original lawns were again in use. Don Williamson then stated that we would have a time limit of 50 minutes, which would allow for a sensible finish time. He also ensured that by the end, we would have all played equal games on the reserve lawns.
On Sunday Ross Bagni had a good morning winning all four games and joined Michael Bilton and Paul Durkin at the top of the leader board on 9 games each, with David Boyd on 8. After lunch it was very close but with Michael Bilton and Ross Bagni losing two of their three games, it left it between Paul Durkin and David Boyd.
Paul went into the last round knowing that victory would give him the trophy, whilst David had to win and hope. In fact both games were close with David winning his last game and Paul losing. So 11 wins each. Paul Durkin won on hoop difference, +16 to +13.
Michael Bilton, Andrew Carpenter and Ross Bagni finished just behind on 10 wins with Michael claiming third and Ross fourth, ahead of Andrew in fifth, again on hoop difference.
CA Vice President Colin Irwin kindly presented the trophy to Paul.
The players would all like to thank Don Williamson, Terry and all the members of Southport for running a very well organised event, under difficult weather conditions and supplying superb catering throughout the two days.
---