Richard Bilton won the 2018 Nottingham Golf Croquet Championship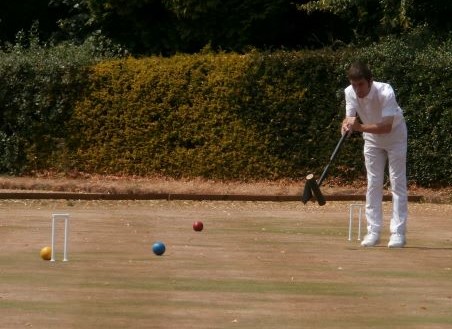 Richard in play (Photo: Mike Bilton)
by Rachel Gee at Nottingham
15 Jul 2018 (
GC - Championships
)
20 players gathered at Nottingham to compete this year's Golf Croquet Championship in conditions almost 10 degrees warmer than the previous year! After a gruelling day on Saturday, Richard Bilton and Ian Burridge had topped their blocks, neither dropping a game. Good performances from Mark Daley and Peter Dowd placed them second in their blocks, whilst Rachel Gee came fourth in her block, setting up a quarter final with Ian.
Rachel eventually won against Ian in three games and then went on to beat Peter in three games in her semi-final. On the other side of the draw, a formidably in-form Richard had quickly overpowered Tim King and then Mark to secure his place in the final. Richard continued his good form and solid hoop running to clinch his first Ascot Cup qualifier, becoming the first player to win the Nottingham Golf Croquet Championship without losing a single game.
Mike Hills, who had only narrowly missed out on qualifying for the knockout stages, looked set to win the plate on Sunday until losing his final plate game 7-6. Meanwhile, John Noble overturned his bad start on Saturday morning and quietly accumulated an enormous hoop difference on Sunday to win the plate event.
---