Richard Bilton won the English National Singles Championship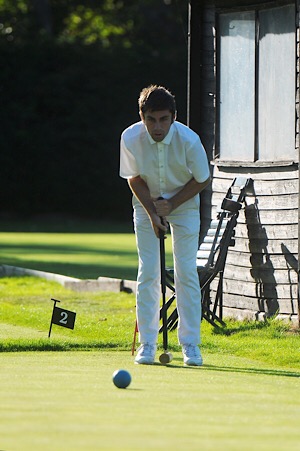 Winner Richard Bilton in action (Photo: Chris Roberts)
by Stephen Mulliner at Sussex County CC
28th September 2018 (
GC - Championships
)
Richard Bilton wins his first GC "major"
The final of the English National Singles Championship for the Ascot Cup is the last major event of the domestic GC season and was hosted by Sussex County CC on 15 and 16 September. The Southwick courts were in excellent condition, complemented by sunny weather over the weekend. The grades of the top four players were only narrowly separated in the 2,500 region which paved the way for close contests. It was anyone's guess who would eventually prevail.
The 16 competitors played best-of-three 13 point games in four blocks of four on Saturday to determine the top two who would progress to the championship KO Stage. In Blocks A, B and C, the top seeds Ian Burridge, Stephen Mulliner and Jonathan Powe each dropped only one game in completing three wins each. Block D was more closely contested with Richard Bilton losing in three games to a resurgent Will Gee. However, Will then lost to Chris Roberts so Richard just won the block on net hoops.
Rachel Gee regained her European GC Champion title at Budleigh this May with a superb display of shooting and hoop running against Pierre Beaudry in the final. She is, as they say, no mug at GC. However, she was comprehensively "mugged" by Richard Bilton in their quarter-final encounter. Richard appeared to have adopted a successful strategy of "not missing" and swept into the semi-finals by 7-3, 7-1. There he faced Stephen Mulliner (to whom he had lost three matches earlier in the season) who had beaten Peter Dowd 7-3, 7-4.
The other half of the draw featured two close encounters. Lionel Tibble was in prime form in game 1 against Jonathan Powe who has become one of the most consistent of the top players in both AC and GC. Lionel's speciality is the controlled centre-ball clearance from any range up to 15 yards which prods the opponent ball away by a dozen yards or more while Lionel's ball hugs the current hoop like a long-lost cousin. It is infuriatingly effective. However, the magic left him during game 2 and Jonathan recovered to win 4-7, 7-4, 7-5.
Will Gee is one of the most entertaining players to watch. He can oscillate between brilliance, the opposite and brilliance in as many strokes. The opponent and the spectators often have no idea what is coming next (and neither, it is suspected, does Will). But he can grind it out as well and duly did so against Ian Burridge after losing a tight opening game, prevailing by 6-7, 7-3, 7-5.
Richard Bilton and Stephen Mulliner ended their first two games at the 13th hoop with Richard hanging on in game 1 by remorseless clearing, especially in the later stages. He made an excellent start in game 3 by roaring to a 5-1 lead with a succession of long hoops. Stephen staged a brief rally but, after a prolonged duel at 10, Richard ran a very angled hoop to clinch his place in the final by 7-6, 6-7, 7-3.
The other semi-final started in the opposite way to the Powe/Tibble quarter-final. Jonathan Powe's consistency made short work of the opening game as Will struggled to hit straight. However, Will upped his game and fought back to take the match 3-7, 7-5, 7-5.
The Gee roller-coaster continued in the opening game of the final where Richard Bilton astonished everyone except perhaps himself by taking the opening game 7-0. When did that last happen at this level? Once more, Will dug deep, fought back and took game 2 with a trademark jump through hoop 12 from 4 yards. This set the scene for a dramatic conclusion with Will bidding for his third Ascot title and Richard seeking his first GC "major". As it turned out, Richard maintained his impressive accuracy in both hooping and clearing and this was enough to develop and maintain an edge that translated into victory by 7-0, 5-7, 7-4. It was a very well-deserved victory and confirms the significant improvement he has made this season and his place as one of the top young players in the game.
The Plate was played as a 19-point single game knock-out. The final was contested by David Dray and Manuel Alvarez-Sala, the youngest of four brothers who make up half of the top eight GC players in Spain, who was able to step in when a player had to withdraw at the last minute. Manuel won a tight contest by 7-4, 7-6.
Warm thanks are due to Sussex County for hosting the event and preparing the courts so well, including having four mown on Sunday morning.
---