GC B-Level Series National Final at Guildford and Godalming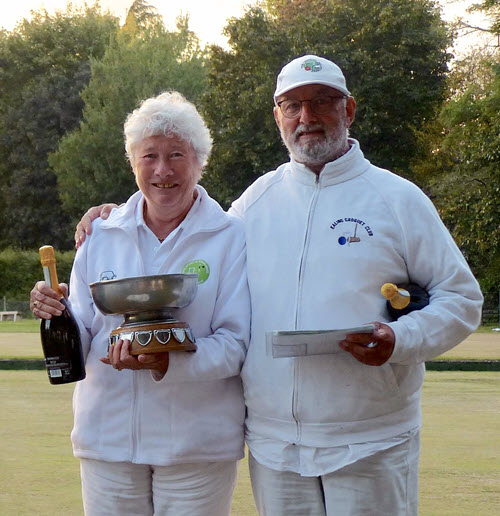 Photo of winner, Andrea Huxley and runner-up Ron Carter (Photo: Mike Huxley)
by Mike Huxley at Guildford and Godalming
10th September 2019 (
GC
)
Not over until it's over.
A field of 16 assembled at Guildford and Godalming by 9am on Saturday 7th September to contest the seventh GC B Level Series National Final. Most of those present had qualified by winning B level tournaments around the country and three by accumulation of points.
Conditions were tricky, with fast lawns and challenging hoops. The decision was made to time-limit the games so that the full all-play-all matrix could be completed in daylight. It was a wise decision, with Saturdays 8 games finishing at 7.40pm (sunset 7.32pm), to the sound of the manager's huge sigh of relief. Sunday's 7 rounds were completed before sunset!
Now to the competition. By Saturday evening, 8 rounds having been completed, the leaders were Ron Carter (Ealing) and Brian McCausland (Nailsea) each with 6 wins out of 8. Five others had 5 wins .
With 13 rounds completed, Mike Bilton (Richmond Park) had just reeled off 5 successive wins to sit on 9 wins, co-leading with Ron Carter. The two qualifiers from Guildford and Godalming, Andrea Huxley and Julie Tremble, were hot on their heels with 8 wins. With 2 rounds to go, if either Mike or Ron won their remaining two games they couldn't be caught. At this point, Andrea beat Ron 7-1 in the crunch game, while Mike lost to Jane Tewson on the 13th hoop. Julie, meanwhile had beaten Rob Chatwin by 7-5, leaving four people tied on 9 wins. So it all hinged on the last round. Julie and Mike each lost their last games, while Ron and Andrea won, Andrea finishing with a run of 5 straight wins. Net hoops came into play, giving the following results.
1st Andrea Huxley 10 wins Net hoops +29
2nd Ron Carter 10 wins Net hoops +10
3rd Mike Bilton 9 wins Net hoops +9
4th Julie Tremble 9 wins Net hoops +2
A hard fought tournament that I thoroughly enjoyed managing.
---