Beyond Expert Croquet Tactics - New Book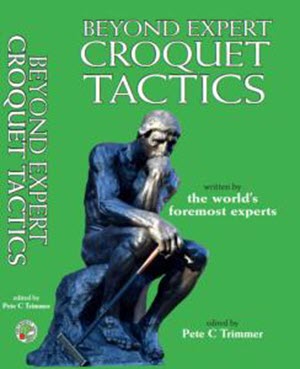 Available to Buy Now - Limited Copies in Stock
by Mark Suter [CA Manager]
20th December 2019 (
CA Official News
)
Keith Wylie's book Expert Croquet Tactics has been the bible for aspiring champions since it was first published in 1985. Top level association croquet has changed a lot since then but no-one has dared to publish a book to update Wylie - until now.
Limited copies available, get your copy here.
It's a few years since the idea was mooted that a team of top-ranking players might author such a publication. Putting such a multi-author book together would have been a considerable challenge for any commercial publisher - and it certainly turned out to be just that for the CA, whose members had not produced anything like this before.
The book not only covers tactical developments in the game since Wylie (including refinements of triple peeling, sextuple peels, super-shot openings, pegged-out endgames, peeling the opponent, and super advanced tactics) but psychological aspects of self-development, match preparation and how to compete most effectively; along with sections on equipment, statistics and a history of top level play.
The book as a whole is designed to help players understand how best to develop their game, and to maximise their potential - including those who will reach the very top of world-class competition.
The authors:
Keith Aiton
Reg Bamford
Paddy Chapman
Chris and Jenny Clarke
Martin French
Robert Fulford
David Maugham
Stephen Mulliner
David Openshaw
William Ormerod
Samir Patel
Pete Trimmer
Chris Williams.
---