Guidelines for Club Opening Updated from 1st June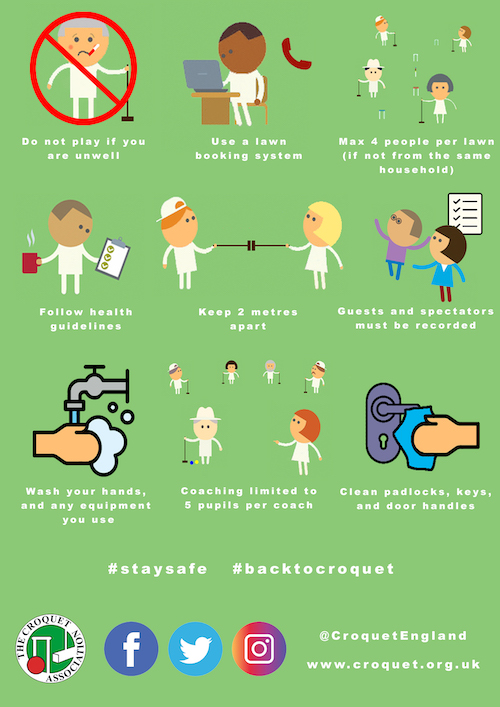 Latest CA COVID infographic. Click link in text for full size version.
by Ian Vincent
31st May 2020 (
CA Official News
)
Following the Government's announcement on 28th May and clarification from the Department for Digital, Culture, Media and Sport, the CA's guidance to clubs and players has been updated, with effect from Monday 1st June in England, as follows:
1. If clubs decide that they can safely accommodate greater numbers, up to 4 people can be allowed on a court at one time to play either a game of doubles or two games of double-banked singles or a single game of singles. All players must keep 2m apart at all times unless they are in the same household. Particular care should be taken in all doubles, including alternate stroke Association Croquet and in Golf Croquet games.
2. In double-banked games players are advised to mark balls from the other game only when necessary and to use their own markers. Balls should be moved and replaced by foot.
3. Up to 6 people can be allowed on a court for coaching purposes i.e. 5 students and one coach. The coach is responsible for maintaining social distancing throughout the session.
4. Guests, visitors and spectators can be permitted so long as they do not gather in groups of more than 6 and they obey the social distancing rules. It is recommended that a record should be kept of who has been at the club to facilitate contact tracing.
Everyone is reminded that it is entirely at the discretion of individual clubs whether, or when, they incorporate this relaxation in their own rules. All other aspects of the CA guidance remain in force. The updated full guidance can be seen or downloaded in MS-Word or PDF format. The infographic has been updated to reflect the changes since the original version.
CA Coronavirus Task Force
---