Ian Burridge Won the Eastern Championship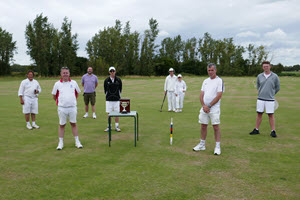 by John Bevington at Wrest Park
29th July (
AC - Championships
)
With a reduced entry, the event was held over two days and was won by Ian Burridge, repeating his win at Wrest Park in 2015. As in 2015, the weather played its part: play on Saturday was abandoned in mid-afternoon due to heavy and persistent rain, which thankfully cleared to allow the semi-finals and final to go ahead the next day with an early start.
Joel Taylor caused an upset by beating David Maugham, while Ian got the better of Rich Waterman with a triple in the third, having won the first game with a triple, which was certainly not straightforward, requiring a substantial promotion and a bravura conclusion when, having peeled partner cleanly, he leapt through rover and over the peelee.
Ian was equally relentless, if less dramatic, in the final bywinning in straight games. The tournament was played to Super-Advanced rules, and in quite a few cases players simply went to 4-back with a contact leave, which usually proved a winning tactic.
The Plate final was between Ian and Debbie Lines and won by Ian. As the trophy was unavailable, the presentation was simulated with a topically inscribed tray.
Our thanks to David Maugham for management, to George Collin for hoop setting and to Eddie Fisher for the use of a large gazebo which came in very useful on Saturday afternoon. And commiserations to Rod Ashwell, who entered at the last minute to find himself outside the already completed draw and (as a retired teacher) was given two Lines in the Plate.
The full results are available on Croquet Scores.
---