Elaine Wilson wins Wrest Park GC C-Level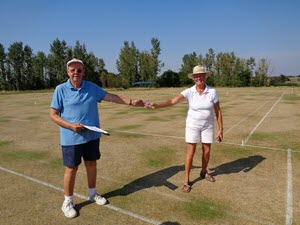 Elaine Wilson wins Wrest Park GC C-Level
by Richard Keighley
14th August (
GC
)
Heatwave conditions and Covid-19 precautions caused the field of 15 players to disperse to four bases established under gazebos adjacent to the four lawns.
This "group" stage produced 3 convincing winners who remained unbeaten after 3 rounds of games. They were George Savage (7) and Terry Collis (7) both of Wrest Park and an in-form Karen Gray (9) of Wingrave. However, the remaining group comprised 3 evenly matched players who each won 2 of their 3 games. Marian Harding (10) of Newport missed out on hoop count, but Elaine Wilson (7) of Lodsworth and Tony Meredith (8) of Wrest Park had identical net hoops. Elaine was pronounced group winner as she had beaten Tony in their game.
To minimise movement of players between lawns, the afternoon session took the form of a mini-league of 3 games between group winners, and similarly for groups comprising the runners up, 3rd and 4th places.
There were some early shocks in the "winners" league. In the opening round, Karen pipped Elaine at the golden hoop (7-6) and George was trounced (1-7) by Terry. However, the next round of games led to a reversal of fortune as Elaine beat Terry (7-2) and George beat Karen (7-3). This meant that all 4 finalists had won one game each so the result turned on who performed best in the 3rd round. Terry beat Karen (7-4) but Elaine's win (7-4) over George and her superior hoop count over Terry led her top be declared the tournament winner.
Manager, Richard Keighley, congratulated all the players on how well they had coped with the challenging conditions and presented Elaine with an engraved glass trophy. He was very grateful to Richard Skidmore for his assistance on the day, to John Bevington and George Collin for mowing and hoop-setting respectfully, but in particular to Peter Aspinall for his meticulous cleaning of hoops, balls and chairs and careful preparation before the day.
Finally, a special mention for Eddie Fisher (10) of Wrest Park who kindly provided and supervised the erection of a giant gazebo for players, but whose efforts caused him to suffer hip problems during the afternoon and to withdraw from competition.
Finishing Order:
Elaine Wilson (7) Lodsworth
Terry Collis (7) Wrest Park
George Savage (7) Wrest Park
Karen Gray (9) Wingrave
---