Surbiton beat Bristol to win the 2020 Inter-Club final 7-1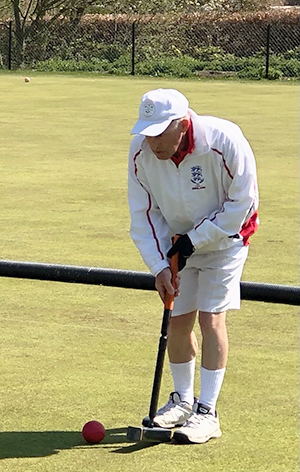 Surbiton stalwart Stephen Mulliner in action (Photo: David Long)
by Sam Murray at Blewbury
24 Apr 2021 2020 (
AC - Inter-Club
)
In October 2020 the AC club finals at Surbiton were washed-out by heavy rain, and the inter-club final between Bristol and Surbiton was eventually rescheduled for 24th April at Blewbury in Oxfordshire, roughly equidistant between the two clubs.
For many of the players, this was a first visit to the club, and they were universally impressed. Fast lawns, well-set hoops, a picturesque backdrop, and friendly hosts made for an excellent venue for the final, with fine weather completing the picture.
The final was played as best-of-nine: two singles for each player with a doubles match to conclude should a tie-break be needed. In the morning games, the top pairs were much quicker to blow away the off-season cobwebs, with Surbiton duo Samir Patel and Stephen Mulliner completing triples against Pete Trimmer and David Goacher respectively. For the bottom pairs, early errors ensured more interactive games. Sam Murray overcame Richard Smith, before Ed Duckworth pegged-out Nick Parish to leave himself peg and 4b against Parish on 4b alone, with his own balls in c2 and c4. Parish duly hit the ball in c2 from the lift, rolled-off 4b, and finished with a two-ball break. Surbiton, therefore, took a 4-0 lead into lunch, although that had not looked likely earlier on.
In the afternoon, Mulliner was the victim of a double-peel and peg-out from Trimmer, but after some interaction, he hit a long shot and finished, securing a fifth successive title for Surbiton. Murray and Parish completed unspectacular wins against Duckworth and Smith, leaving the players to watch a protracted finish between Patel and Goacher. With Patel's shooting form deserting him, Goacher was eventually able to limp home and secure a point for Bristol.
Surbiton, therefore, retained the historic Beddow Cup, first competed for as the forerunner to the President's Cup in 1901. It had been repaired since last season thanks to the generosity of Ian Bond and Stephen Mulliner, who were duly thanked. The members of Blewbury were also thanked for providing a splendid setting for the match.
Samir Patel beat Pete Trimmer +26tp
Stephen Mulliner beat David Goacher +17tp
Sam Murray beat Richard M Smith +13
Nick Parish beat Ed Duckworth +5
Stephen Mulliner beat Pete Trimmer +10
Sam Murray beat Ed Duckworth +17
Nick Parish beat Richard M Smith +16
Samir Patel lost to David Goacher -18
Surbiton beat Bristol 7-1
---