Bernard Neal Trophy (May Advanced)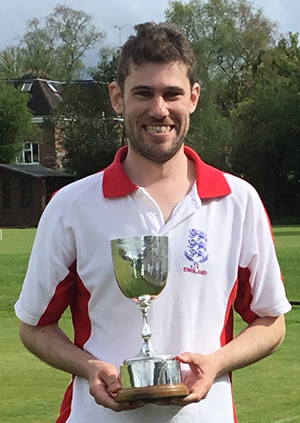 Event winner Robert Wilkinson (Photo: Julia Lowery)
by Sarah Burrow at Cheltenham CC
16 May 2021 (
AC
)
After some torrential rain on Day 2 a delighted Robert Wilkinson lifted the Bernard Neal trophy having disposed of stiff opposition with triple peels in both the semi and final.
After a nail biting Goacher play-off, Richard M Smith beat Rod Ashwell to win the consolation event.
Special mention to both Aston Wade and Neal Bacon who both played excellently over the whole event and ended up playing off for 3rd/4th place which Aston won +11 and was rewarded with an automatic handicap trigger to 0.5. Hope to see both these young men another time.
So well done Robert for a well deserved win.
All results on croquetscores as usual.
---