Tony Elliott won Ealing B-Level (3+) Series GC Tournament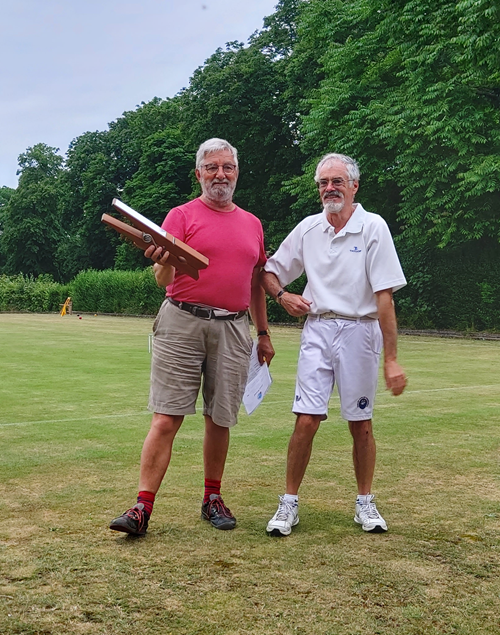 Ealing B Level 17th June (Photo: Ron Carter)
by Ron Carter at Ealing
22nd June 2021 (
GC
)
With a strong field of 12, all of whom entered with Handicaps of 3 or 4, we got off to a
delayed start at Lammas Park's dampish lawns after heavy overnight rain, and the threat of
thunderstorms.
Happily, the overcast conditions were cooler and less humid than the "sweatbox" endured by the C-Level competitors the day before.
Round 1 saw defeats for the top-ranked player in both blocks; Ian Rees bounced past Julie Tremble 7-3, and 2020 winner Tony Elliott lost out 5-7 to Julie's clubmate and chauffeur, John Gosden.
The 2020 event had been John's first ever B-Level as a 5 handicapper, and despite Covid-19 limiting opportunities since then, he entered the 2021 event as a fast improving 3.
Indeed, he ploughed inexorably on, winning all five of his block games, and far from trembling, Julie won her next four on the trot too.
It must have been John's driving, and maybe arriving too late for a full ten minutes "warm-up".
Not to be out done, Tony chased his conqueror with four straight wins at the top of block B, out pacing Des Taylor, who was desperately unlucky to lose 6-7 against both Johns: Gosden
and Richardson.
Back in block A, an East Anglian bandit was stacking up wins, including an impressive 7-4
over the in-form Ian Rees, leading up to a last round showdown between the unbeaten
Simon Draper and Julie needing the win to equal their four.
5-7 to Julie it was, and with equal wins and net hoops, the vital win to push Simon out of the Semi-Finals, was where she faced her unbeaten driver.
John crumbled to a 2-7 defeat, whilst Ian fell 5-7 to Tony Elliott who just kept running hoops!
He did that in the 19-point final too, running away 10-5 against Julie in precisely the final pairing the rankings predicted.
Both Elliott and Simon Draper reduced their handicaps from 4 to 3, whilst John Gosden, who secured third place with a play-off win 7-3 against Ian Rees, became a handicap 2, having only lost one game all day.
Robert Cook picked up the Prosecco for winning the Plate final 7-5 over a deflated Draper,
while all of us enjoyed Isobel's Russian Raspberry Flan as the best dessert.
---