Mark Buckley (Leicester) won the East Dorset GC B-Level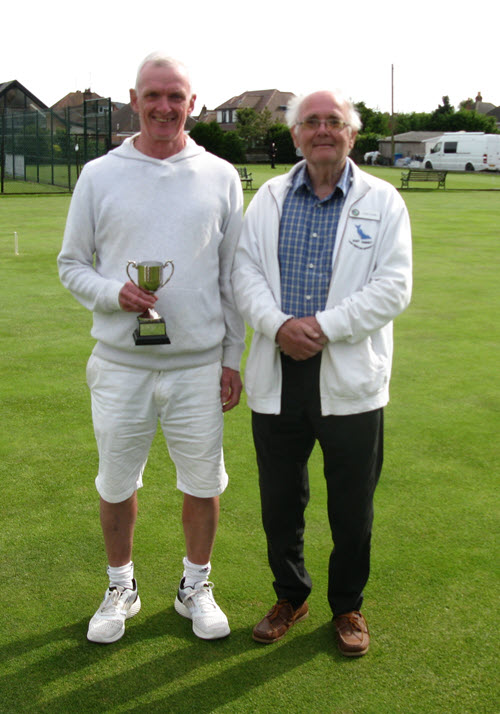 Mark Buckley receiving the trophy from John Clode
by Gary Brennan at East Dorset
24th May (
GC
)
Sixteen players descended upon the East Dorset Club to compete in two
days' worth of games, under what promised to be reasonably good weather, not too hot and not too cold. Clubs represented were Leicester, Roehampton, Guildford, Ealing, Hamptworth, Camerton & Peasedown, Eynsham and not forgetting our own crop of East Dorset members. The format, now having been standardised for the two-day event, made my job as manager, a lot easier.
Day 1 block play produced eight worthy qualifiers to contest the Day 2 knock-outs.
These were from Block A - Mark Buckley (Leicester) 6/7 wins,
David Haddrell (East Dorset) 5/7, Mark Green (Roehampton) 4/7 wins and Maureen Miles (East Dorset) 4/7 wins.
From Block B - Richard Jenkins (Hamptworth) 6/7 wins, Alison Murray (Leicester) 5/7 wins, Robert Scallon (Roehampton) 5/7 wins and Mark Hamann (East Dorset) 4/7 wins.
I began Day 2 qualifiers early so that the single 19-point games would be well underway before the Plate Block started. In the qualifiers Mark Buckley prevailed over Mark Hamann in a close fought contest 10/9; Alison prevailed over Mark 10/7; David beat Robert 10/5 and Richard beat Maureen 10/2. Into the semi-finals and best of three, Mark prevailed over Alison 5-7, 7-3, 7-4 and Richard succeeded over David in two straight games 7-6, 7-6. In the final Mark triumphed 2-0 over Richard 7-6, 7-4 to take the trophy.
Robert took the Shield, prevailing over fellow Roehampton colleague Mark Green 7-3, 7-6 and Ian Taylor (Guildford) won the Plate winning 6/7 games with Johannes Hamann (East Dorset) coming second also with 6/7 games, but with Ian having the better net hoop score.
I would like to extend my thanks to the following: the players for their good company and highly competitive standard of croquet; the groundsman, Kirin, for the excellent courts; Sam and her team in the cafe for the delicious food, to the referee Keith Southern for officiating those... 'difficult moments!'; to Mark Hamann and his laptop, which enabled me to record the results contemporaneously on croquetscores.com and finally to our Chairman, John Clode, for presenting the silverware to the winner and the liquid comforts to the Runner-up Richard Jenkins and the Shield and Plate Winners.
---