James Galpin & Jonathan Powe won the English National GC Doubles Championship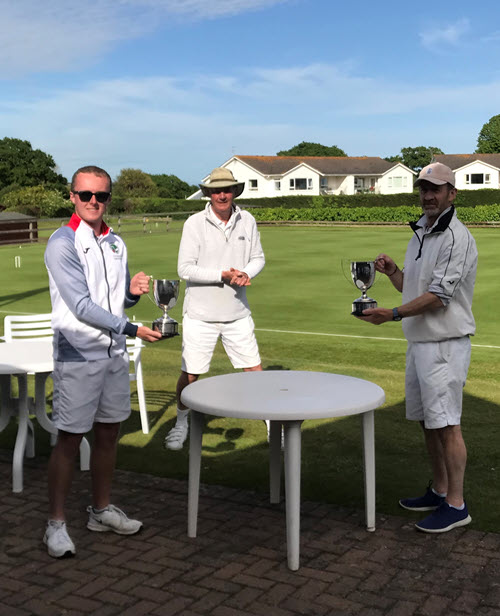 James Galpin & Jonathan Powe receiving the trophies from Lionel Tibble
by Jonathan Powe at Budleigh Salterton
25th May (
GC - Championships
)
Another full entry (16 pairs) gathered in Budleigh on a wonderfully sunny weekend for the English National GC Doubles Championship (Ranelagh Cups). The entry list was weakened slightly by the last-minute and unavoidable withdrawal of Raouf Allim and Tim Jolliff, but there was a good line-up, with a number of previous winners in the field.
The format for the event was pretty standard - two all-play-all qualifying blocks on Saturday (7 rounds) followed by best-of-3 quarters, semis and final on Sunday, alongside the Plate knockout, Bowl and various play-offs.
In Block A, David Cornes & Neil Fillery proved to be a very strong combination and took the top slot, winning 5/7 games and beating the top seeds (James Galpin & Jonathan Powe) along the way. It was tight for the final three qualifying places, with four pairs on 4/7 wins. Tony Butcher & Michelle Leonard took 2nd place, with Peter Balchin & Richard Carline in third. Galpin and Powe were lucky to qualify for the knockout, only scraping through after winning their final block game on the 13th hoop. Last year's winners Louise Smith & Ryan Cabble also struggled; they came 5th in the block, also with 4/7 wins, but were given the fourth slot after Neil Fillery had to pull out for family reasons.
The battle for the top four places in Block B was more straightforward. The 2021 winners, Steve Leonard & Stuart M Smith, were comfortably first with 6/7 wins, followed by Glynis Davies & Jayne Stevens, Jim Field & David Thirtle-Watts and Kevin Connolly & John Taylor who took the other three places, all with 4/7 wins.
The results on Sunday are below. The highlight of the day was the 15-yard jump by Ryan Cabble in the final - a remarkable shot. A couple of special mentions: first to Kevin Connolly & John Taylor (Watford) who reached the semi-finals and then won the 3rd v 4th playoff - an impressive achievement; and second to James Galpin, whose solid centre-ball clearances and consistent hoop-running marked him out as the player of the tournament.
Lionel Tibble presented the prizes and paid warm and much-deserved tribute to Budleigh for their warm hospitality and superb lawns. Many thanks to John O'Gorman (Chairman), Richard Quelch (Groundsman) and the rest of the team for doing so much before and during the weekend.
Interestingly, this is the third year in a row that the holders of the Ranelagh Cups have been beaten in the final.
Sunday results:
Plate Final: Chris Sheen & Dick Strover beat Adam Wimshurst & Andrew Wimshurst 4-7, 7-3, 7-4
Championship:
QF1: Kevin Connolly & John Taylor beat Tony Butcher & Michelle Leonard 7-6, 3-7, 7-4
QF2: James Galpin & Jonathan Powe beat Glynis Davies & Jayne Stevens 7-5, 7-6
QF3: Jim Field & David Thirtle-Watts beat Peter Balchin & Richard Carline 3-7, 7-6, 7-2
QF4: Ryan Cabble & Louise Smith beat Stuart M Smith & Steve Leonard 7-4, 7-6
SF1: James Galpin & Jonathan Powe beat Kevin Connolly & John Taylor 7-4, 7-3
SF2: Ryan Cabble & Louise Smith beat Jim Field & David Thirtle-Watts 6-7, 7-4, 7-4
3rd v 4th Playoff: Kevin Connolly & John Taylor beat Jim Field & David Thirtle-Watts 10-7
Final: James Galpin & Jonathan Powe beat Ryan Cabble & Louise Smith 7-5, 7-3
All the scores are available via Croquet Scores here: https://croquetscores.com/2022/gc/english-national-doubles-championship-ranelagh-cups
---