Colchester Spring Weekend Handicap tournament 20th to 22nd May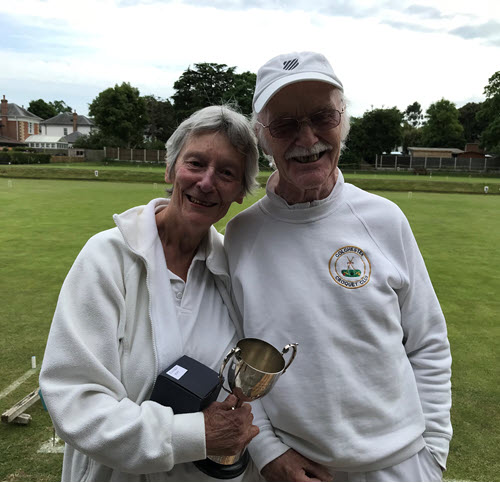 Wendy Spencer-Smith receiving the trophy from Nick Steiner
by Nick Steiner at Colchester
26th May (
AC - Handicap
)
Wendy Spencer-Smith won the singles event (The John Foreman cup).
Mark Homan & David Robinson won the doubles at Colchester Croquet club.
The format was one full day of doubles, followed by 2 days playing singles.
Six pairs took part in the doubles, playing fourteen point games. With a time limit of One and a half hours. Five games were played, each pair playing all others. It was a tightly packed schedule, but we managed to squeeze in a delicious lunch and some cake for tea. A light drizzle started shortly after the start of play, but that didn't interfere with the enjoyment and in the afternoon the sun came out and warmed us all up. A great day with smiles all round. A close run contest with two pairs on four wins, but as Mark Homan and David Robinson beat Hugh Gilbert & Francis Lambert, they won the trophy.
Sixteen competitors entered the singles with handicaps ranging from minus a half to twenty two. The format was flexible Swiss handicap to the base 10. The final was a nail-biting event with Wendy having most of the play with her fourteen bisques gradually disappearing as the time was ticking away. Stephen managed to catch up a bit, but when time was called he was still behind. Wendy was unable to finish, and Stephen missed the final shot leaving Wendy +2 on time.
Results:
Singles
1st Wendy Spencer- Smith 100%
2nd Charlie Martin 83%
3rd Jonathan Toye 80%
Doubles
1st Mark Homan & David Robinson 4 wins 1 loss
2nd Hugh Gilbert & Francis Lambert 4 wins 1 loss
---