Roehampton Summer Tournament : Creyke Cups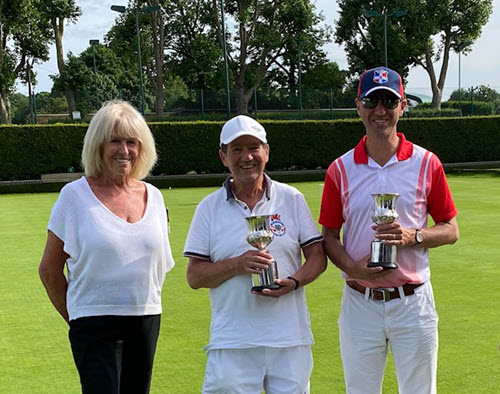 Stephen & Nick Parish receiving the Creyke Cups from Elaine Phillimore
by Elaine Phillimore at Roehampton
27th May (
AC
)
What a beautiful sunny weekend to start the Roehampton Croquet Summer Tournament week 21-28 May 2022.
The Association Croquet Doubles event Saturday 21st and Sunday 22nd May commenced with a full field of 16 players from around the country. On Saturday three matches were played. Father Stephen Parish and son Nick Parish (Surbiton Croquet Club) won all their three matches and by start on Sunday three pairs on two wins were keen contenders for the trophy.
Martin Gilmartin (Carrickmines Croquet Club, Dublin) flew in from Ireland to play in all events of the week and was teamed up for the Doubles event with Andrew Wilson (Cheam Croquet Club). Neither player had met before and were a fantastic partnership. Martin and Andrew won 4 out of their 5 matches to be the Runners Up. The outright and very worthy winners for the Creyke Cups were Stephen and Nick Parish with 5 out of 5 wins. Congratulations Stephen and Nick.
---