Aston Wade won the GC European Championship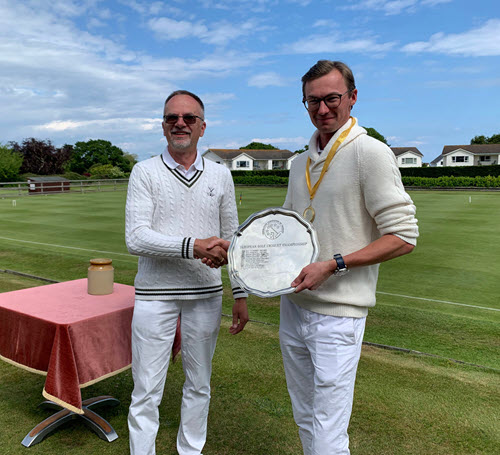 Aston Wade receiving the European GC Trophy
by Louise Smith at Budleigh Salterton
1st June (
GC - Championships
)
Summary
The 2022 European Golf Croquet Championship was held on 26th - 29th May at Budleigh Salterton Croquet Club.
Players from 12 different European countries created an impressive line-up.
UK Players :
ENGLAND : Rachel Gee, Stephen Mulliner, Euan Burridge, Aston Wade, Stuart M. Smith
WALES : Ian Burridge, Chris Roberts
SCOTLAND : Lorna Dewar
Format : 4 blocks of 8 players playing in best of three matches to qualify for the knock-out stages. The knock-out consisted of the Last 16, Quarter Finals, Semi Finals and Final, with a consolation Plate Block and knock-out.
Quarter Final Results :
Rachel Gee (England) v Ian Burridge (Wales) : 7/5, 6/7, 7/2
Manuel Alvarez-Sala (Spain) v Euan Burridge (England) : 7/2, 7/6
Jose Riva (Spain) v Stephen Mulliner (England) : 7/6, 7/4
Aston Wade (England) v Ian Sexton (Switzerland) : 7/2, 7/5
Semi Final Results :
Rachel Gee (England) v Manuel Alvarez-Sala (Spain) : 7/5, 7/6
Jose Riva (Spain) v Aston Wade (England) : 0/7, 7/2, 6/7
Main Tournament Final Results :
Rachel Gee (England) V Aston Wade (England) : 3/7, 2/7
---