Anthony Miller won B-Level Advanced at Middlesborough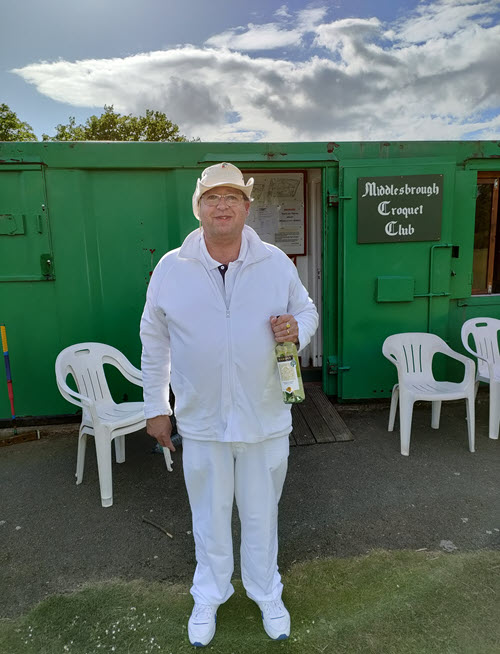 Anthony Miller
by Dennis Scarr at Middlesborough
6th June (
AC
)
The One Day B Level A.C. Advanced Tournament was held on Sat 21st May at Albert Park, Middlesbrough.
We had 8 players from the Croquet North Federation area plus a regular supporter of Middlesbrough Tournaments from Cumbria. Handicaps ranged from 0 to 10 with two players dipping their toes in the water of Advanced Tournaments which is very encouraging.
The tournament is known to be fast moving with quite testing time limits of two and a quarter hours with no programmed break for lunch. We used 3 of our 4 lawns leaving one lawn available for social play which meant one lawn was always double banked. 50% of games went to time.
Those taking part were
Dennis Scarr ( 0 ) and Julian Gibson ( 10 ) - both Middlesbrough
Phil Errington (1.5), Derek Watts ( 1.5 ) Terry Vernazza ( 3 ) and David Millener ( 7 ) from Tyneside
Steve Skelton ( 2.5 ) Ian Hall ( 3.5 ) from Cumbria
Anthony Miller ( 2.5 ).
The weather was dry and improved as the day progressed.
Given we had 8 players and 3 games was the target we used a Seeded Knockout and Plate format.
Only two of the top 4 seeded players progressed from the first round and then only 1 progressed to the final.
RESULTS
Dennis Scarr bt Julian Gibson 26 - 11
Anthony Miller bt Steve Skelton 14 - 13 (t)
Terry Vernazza bt Derek Watts 16 - 8 (t)
Phil Errington bt David Millener 26 - 7
Anthony Miller bt Dennis Scarr 25 - 22 (t)
Terry Vernazza bt Phil Errington 25 - 15
Anthony Miller bt Terry Vernazza 26 - 10
Steve Skelton bt Julian Gibson 14 - 12 (t)
Derek Watts bt David Millener 26 - 16
Dennis Scarr bt Phil Errington 26 - 20
Steve Skelton bt Derek Watts 22 - 14 (t)
Julian Gibson bt David Millener 20 - 11 (t)
Winner - Anthony Miller
Beaten Finalist - Terry Vernazza
Handicap Changes:-
Anthony Miller from 2.5 to 2
Derek Watts from 1.5 to 2
---