Nick Archer wins GC Championship Tournament at Wrest Park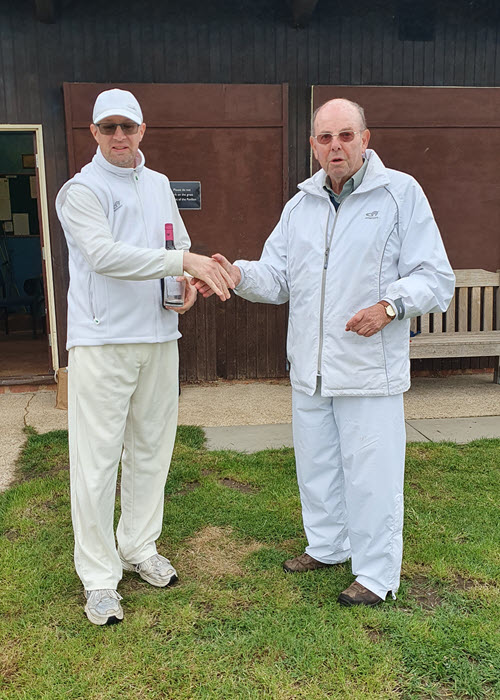 Nick Archer receiving his prize
by Richard Keighley at Wrest Park
6th June (
GC - Championships
)
Sixteen enthusiastic croquet players managed to slip away from the celebrations marking the Queen's Platinum Jubilee to take part in an inaugural GC Championship event at Wrest Park. They included Helen Reeves from New Zealand and David "Hoppy" Hopkins from South Africa.
A grey sky and a strong breeze greeted the players as Block play commenced. In Block A, Lionel Tibble (-3) won all his games except one against Les Heard (-1) who ended with a similar record of wins. Joining them in the Quarter -Finals were Tim Crowdy (1) with 5 wins and Tim King (-2) with 4 wins, narrowly pipping Paul Durkin (0) on net hoops.
Block B found Nick Archer to be on consistently good form and he topped the list with 6 wins. Chris Roberts (-2) progressed with 5 wins, an achievement equalled by Glynis Davies (2) who surprised 4 lower-handicapped opponents with the improvement in her play. Helen Reeves won 4 games to take the final place in the knockout.
A sharp shower had interrupted play on the Saturday but an overnight deluge followed by prolonged lighter rain created a watery landscape on Sunday morning. Fortunately, the puddles disappeared within an hour and play began promptly after a certain amount of groundwork.
Helen took advantage of a slight dip in form by Lionel to beat him 5-7, 7-6, 7-3 and Glynis beat Les 7-3,2-7, 7-5. Nick overpowered Tim King 7-3,7-4 but Chris and Tim Crowdy had a good battle before Chris won 4-7, 7-4,7-3.
In the Semi-Finals, Helen recovered from a shaky start against Chris to take him to the 13th hoop in two successive games but lost the decisive one. In contrast, Glynis surprised Nick by winning their first game 7-3, but Nick recovered sufficiently to win their next games 7-3, 7-5.
The Final pitched Nick against Chris for a repeat of the GC Open Final at this venue a year ago. The result was the same with Nick winning deservedly 7-6, 7-4. The playoff for 3rd and 4th places was predictably close before Helen won 7-6, 4-7, 7-5. Glynis was compensated with a handicap reduction from (2) to (1). The Plate was contested on a Block basis and it was won by Dr Ron Carter with 5 wins.
Prizes were presented to Nick and Chris and thanks expressed to Tim King as Referee of the Tournament, to Ron Carter for kindly submitting results to Croquet Scores and to the Manager and Wrest Park members for their various roles in staging the tournament.
---