Stephen Custance-Baker wins the Sidmouth GC A Level 0+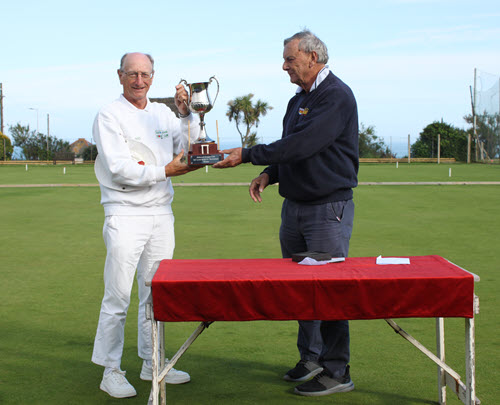 Stephen Custance-Baker receiving the trophy from Peter Nelson (Photo: Ed Dolphin)
by Stuart M Smith at Sidmouth
7th June (
GC
)
With the Sidmouth Jazz and Blues festival serenading us in the background, a full compliment of 16 players contested this year's Sidmouth A level series 0+.
Day One's block format was hotly contested but the two top seeds came out on top and that is a theme that followed throughout the tournament. Colin Britt marched his way through block A winning 6 from 7 and Stephen Custance-Baker followed suit also winning 6/7. Colin was joined in the Knockout stages by Philip Harris 5/7, Anthony Hardwicke 5/7 and Chris Jackson 4/7 from Block A. Stephen was joined by Andrew Loakes 5/7, Steve Pearson 4/7, and Mark Buckley 4/7 from Block B.
Day Two. The remaining 8 players battled it out for the Plate in which Mike Bilton showed strength from the start winning all 6 of his games beating Louise Smith in the Final and looked pleased as punch with his medal.
The main Knockout Quarter finals saw Colin Britt, Andrew Loakes, Steve Pearson, and Stephen Custance-Baker prevail over Mark Buckley, Anthony Hardwicke, Philip Harris and Chris Jackson respectively. Philip would go on to win the Bowl with a 7-5, 7-6 win over Anthony.
Semi-finals. Colin Britt overpowered an up until now impressive Andrew Loakes 7-2, 7-5, whilst Stephen Custance-Baker showed poise to beat Sidmouth's own Steve Pearson 7-5, 7-3.
The Final pairing ended up as no surprise with the top two seeds reaching the Final. Both players showed control and produced tight games. After taking game one 7-5 Stephen then took an early lead in game two at 3-1. Colin fought back strongly and if it wasn't for a superb jump shot by Stephen at hoop 10, Colin would have taken a 6/4 lead at the turn, instead it was levelled up at 5-5. The next two hoops were shared for 6-6, taking us to a Golden Hoop finish which Stephen calmly ran to win the game 7-6 and take the title.
Congratulations to Stephen and thank you to everyone who came to support our tournament.
---