David Cornes won the Pendle and Craven CC Open Series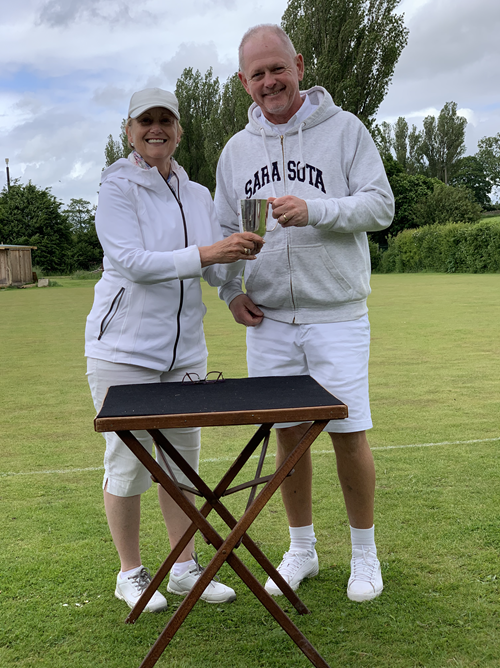 Libby Dixon presents the trophy to David Cornes
by Leigh Dixon at Pendle & Craven
13th June (
GC
)
Held in blustery but mainly dry conditions the Open Series Championship at Pendle was a closely contested tournament with over a third of games going to the 13th hoop.
The lawns were in very good condition and the hospitality very welcoming. At the end of Day 1 there were three players on 4 wins and two on 3 wins.
Day two saw Jane Tewson (Ashby) take the lead with a win against Paul Dowdall (Pendle). By the final round there were three players who could still win. Paul Dowdall and Libby Dixon (Pendle) went head to head with Paul winning 7-4 . In another match David Cornes (Crake Valley) beat Andrea Widdison (Ripon Spa) 7-4 so David and Paul finished on 7 wins out of 10.
David was declared Championship winner with a superior hoop difference (plus 15 to Paul's plus 11) losing his 3 matches 6-7 each time. David also managed a 12 yard jump shot to take a game to the 13th hoop against Paul Durkin (Ashby).
---