Crake Valley A level GC national qualifier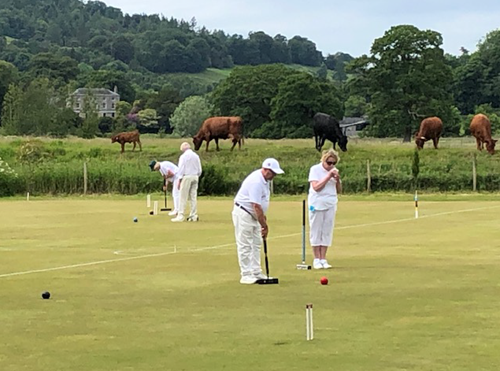 A large crowd at Crake Valley watch the GC action
by David Cornes at Crake Valley
20th June (
GC
)
8 players contested the Crake Valley GC A level National Qualifier over the weekend of 18th & 19th June. A strong field saw "all play all" on day 1 with the top four to qualify for the knockout stage on day 2.
Most games went to the 12th or 13th hoop with home player David Cornes playing a solid game to win all 7 of his games. Glynis Davies (Northampton) showed all her skills that have earned her a place in National Development Squad with delightful play and great hoop running to win 5 games. Mike Bilton (Gainsborough) and Christine Wood (Tyneside) gaining 4 wins each to also qualify for the knockout.
On Sunday 4 players played a best of 19 point block with a 3 way tie on 2 wins out of 3 games. It all came down to the mathematics and Charles Sale (Enfield) with plus 5 hoop finished third. Both Jane Pringle (Auckland) and Tony McCann (Croquet Durham) had 26 hoops scored and 20 conceded so it came down to who beat who. Jane won the final game against Tony 10-6 to take the plate.
In the Semi Finals David proved too strong for Christine 7-1, 7-5, Mike and Glynis battled with Glynis winning through 7-5, 7-5.Christine won the 3rd place play off 10-8 and it was great to see her back on the circuit after a couple of years break.
In the Final David managed to win the tournament with a 7-6, 7-1 win.
All players were impressed with the quality of the lawns and the hospitality offered by Crake Valley members.
---