Rick Lilley won the GC Third Eights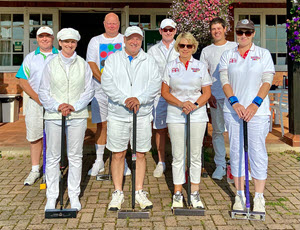 The GC Third Eight players. Rick Lilley (fourth from the left) (Photo: Andrew Wilson)
by Louise Smith at Budleigh Salterton
31st August (
GC
)
The GC Selectors Third Eights was held at Budleigh Salterton Croquet Club over the August bank holiday weekend.
The mixed weather conditions matched the mixed fortunes of the competitors, but it was Rick Lilley from Phyllis Court that prevailed to win the Suzanne Roberts Memorial Trophy.
The results can be found in the link below, and a full report will feature in the Gazette.
---