Stephen Mulliner won the Ascot Cup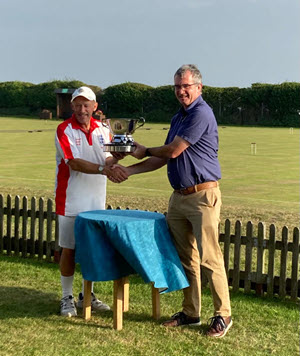 Stephen Mulliner receiving the Ascot Cup from Ian Burridge
by Louise Smith at Ramsgate
18th September (
GC - Championships
)
Stephen Mulliner has added yet another title to his string of successes achieved throughout the 2023 season.
At Ramsgate this weekend, Stephen won the English National Singles Championship Final played against Euan Burridge, with the deciding shot taken at hoop 13 in game 2.
Stuart M. Smith won the Shield after a close game against Andrew Hobbs, 10/9.
The newly donated Plate prize ' The David Widdison Memorial Trophy' was won by Lionel Tibble, beating Steve Leonard in the plate final, 7/4.
A full report will be given in the Gazette, all results can be found here :
---