South of England Championship 2023 report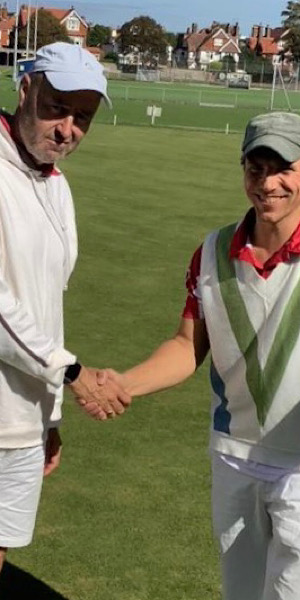 Loser Mark Avery congratulates the champion of the South, Jamie Burch
by Roger Wood at Compton (Eastbourne)
27th September (
AC - Championships
)
Gloomy weather, forecast earlier in the week, failed to materialise and the weekend provided pleasant autumn sunshine throughout. There were no new faces this year which led me to sum the numbers of previous appearances of the 18 players: 186 with David Maugham well ahead of the field at 25, almost twice that of anyone else! In addition, the four former champions present could boast 13 titles between them. Recent heavy rain had left the ground relatively soft and even freshly located hoops did not present as big a challenge as one might wish: 15 players achieved peeling finishes. Regular spectator Keith Aiton was there casting his expert eye over the action.
David Maugham began his campaign in fine style - four triples to win his first two matches without conceding a single point, only to fall to a fluent Mark Avery in a semi-final. All but one of the second-round matches were decided in straight games with Tim Wilkins and Andy Myers defeating seeds Robin Brown and David Goacher respectively. Thereafter results followed the seeding with one quarter-final being a rerun of the final of the 2023 Women's World Championship, this time won by Gabrielle Higgins in straight games. The final was contested by England's two most successful players from the 2022 MacRobertson Shield test matches, Jamie Burch and Mark Avery. Hoops reset to 1/32 of an inch or less still did not seem to give the finalists much trouble. Mark took the first +26tp in the 7th turn. In the second Jamie was first to 4-back, then Mark, having hit and stuck in hoop 1, subsequently continued to 1-back, attempted a crosswire of the opponents at hoop 1 and retired to corner 3. Jamie promptly hit partner and finished +20tp. In the decider Mark did not take croquet and Jamie finished with a turn 6 triple. Remarkably this was Jamie's first tournament since he broke his wrist in April - class indeed! This, his third consecutive win, brings Jamie to 6 wins in total edging ahead of David Maugham and Stephen Mulliner who each have 5.
In the plate, following two days of progressive Swiss, four players qualified for the last three places of the 8-player knockout on the Sunday. Elimination was decided by seeing who could make most hoops, starting at hoop 4, in a 2-ball break starting in corner 4 while the others in contention remained in the clubhouse, out of sight of the lawn. Robin impressed by scoring 9 hoop and the peg well ahead of Debbie and Ian Lines who scraped in just ahead of Craig Oakley. From then on, the Lineses swept all before them. In her semi-final against Robin, Debbie had one ball pegged out (QPO by Robin) but came back to win by 3 and thereby meet Ian in the final. This proved to be a close game of fluctuating fortunes in which Ian was pegged out when his other clip was on rover. He then suffered several millimetric misses in his long shots allowing Debbie to prevail +2.
Jamie Burch completed triples in all the games he won and took the peeling prize. See croquetscores for detailed results of all matches. Thanks are due to John Crisford and his team for the excellence of the lawns and to Hilary Smith and Diane Clarke for lunches and teas respectively.
---