Roehampton beat Nottingham to win the Inter-Club 5-2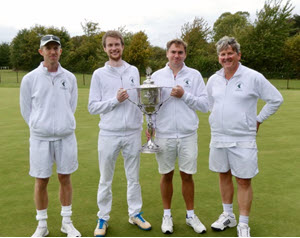 The victorious Interclub team (L to R, Joel Taylor, Mark van Loon, Harry Fisher & Tim Russell) (Photo: Mike Pattison)
by Harry Fisher at Blewbury
2nd October (
AC - Inter-Club
)
Blewbury hosted the 2023 Interclub final, providing two immaculate lawns and a picturesque setting for the 7 players who arrived on Saturday morning. Unfortunately, Joel Taylor was unable to escape his work commitments until lunchtime and so the match started with Nottingham leading 1-0.
Undeterred, Roehampton captain Tim Russell made a fast start in his singles game against Will Gee with a tidy break to 4b. With all the balls in standard peeling position at hoop 3, Tim decided to play the peel with pull to guarantee the rush south on his escape ball. This proved unwise as the peel was unsuccessful and the turn broke down shortly after. The rest of the game became very interactive with Tim pegging out almost 3 hours later.
That interactivity was nothing compared to the incompetence shown on the other lawn, where Harry Fisher and Mark van Loon, playing alternate strokes doubles, took on James Death and Omied Hallam, playing traditional doubles. All four players struggled to hit anything and made multiple mistakes. One spectator commented that it was "not what I was expecting in the interclub final" another added "I've seen less errors in club handicap matches". Eventually, Harry and Mark snuck out as winners to give Roehampton a 2-1 lead at lunch.
The afternoon games were of a higher standard. James laid a supershot but didn't take croquet as Harry won 6th turn. Joel secured the winning point not long after with his own triple having survived a few early false starts. Omied provided the Nottingham support something to cheer about with a solid win against Mark. Playing much better than in the morning he completed three tidy breaks and hit the key shots. Tim played well to beat Nottingham captain John Davis resulting in a 5-2 win for Roehampton.
Many thanks to Blewbury for hosting and Peter Allen for presenting the trophy.
Results (Roehampton names first)
Harry Fisher & Mark van Loon beat James Death & Omied Hallam +13
Tim Russell beat Will Gee +17
Joel Taylor lost to E John Davis -w/o
Harry beat James +26tp
Mark lost to Omied -17
Joel beat Will +26tp
Tim beat John +23
---