High Wycombe beat Hurlingham to win the Mary Rose 5-2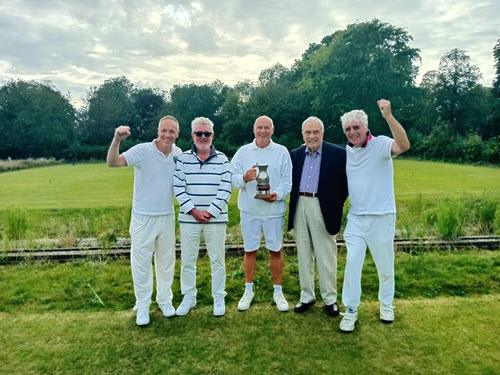 Ed Olhausen, Alan Clark, David Cotton, Quiller Barrett and Richard Peperell
by Alan Clark at Ealing
2nd October (
AC - Mary Rose
)
This year's final of the Mary Rose was contested by the previous year's holders, Hurlingham, and High Wycombe at Ealing Croquet Club. The match started with Hurlingham's Guy Hewitt and David Owen playing singles against David Cotton and Alan Clark respectively and Hurlingham's Andrew Wise and Alan Chance playing doubles against Richard Peperell and Ed Olhausen.
Cotton shot round in record time clocking up a 26-16 victory before Owen had time to find his rhythm. Hewitt had a slow start failing to hit in while Clark managed to get a ball to 3 back and 4 back. Once Guy hit in, he showed his form and quickly took a ball round to 4 back. However, Clark had two more good turns and won 26-10. Meanwhile the doubles were also going HW's way, with Peperell and Olhausen on peg and peg while Wise and Chance were on peg and 1 back. Things were looking grim for Hurlingham. Moments of good supportive doubles play included: an HW player reminding his partner that he was playing black not blue; and a Hurlingham player telling his partner to go for a long angled 4 back hoop as his partner ball was near the southern baulk line and they were conceding a lift. Wise took the advice and by chance ran the hoop. Chance and Wise went on to achieve an impressive 26-24 victory, keeping the holders' chance of winning alive at lunchtime.
Ealing's Lindy Jordan provided a delicious lunch which was enjoyed in a very convivial atmosphere with players from both clubs offering to buy unlimited alcoholic drinks for their opponents. Hurlingham's reserve, the charming Stephen Allen, joined the players for lunch. Only Hurlingham would be so sophisticated as to bring an Eating Reserve.
Such a prestigious English sporting final naturally attracted a discriminating if somewhat small but nonetheless distinguished crowd. ROT Nigel Polhill, QC Hugh Carlisle and his CEO Veronica Carlisle (courageously sporting a healing broken ankle). Several Ealing GC players gazed on from their lawn but were so sporty they didn't actually tear themselves away from their own game.
The afternoon saw Hewitt revert to form beating Cotton and levelling the overall score. However, Olhausen and Peperell each had impressive victories against Wise and Chance respectively, thus clinching the match with an unassailable 4 wins. Meanwhile Owen and Clark were having a grand battle with Owen in the lead for much of the match. Clark's final turn started with both players on 2 back and peg. A gentlemen might have discreetly thrown the last game knowing that it was of no consequence to the overall result. However, no one has ever accused HW players of being gentlemen. Clark finished the close fought game 26-19.
On paper the match favoured Hurlingham, with handicaps of 0, 0, 0 + 4 v HW 2.5, 3, 3.5 and 3.5. Of course, the erudite Hurlingham made the classic mistake of playing the agricultural High Wycombe on grass rather than paper.
Finally, the presentation was made by the distinguished presenter of trophies, Quiller Barrett, ex CA President (standing in for Patrica Duke-Cox). He made the journey in from Berkhamstead to his former club of Ealing. (Quiller had previously divulged to the author that Ealing Croquet Club was once the venue for some nude croquet being part of an advertising campaign). Quiller made an edifying presentation speech recalling the origins of the Mary Rose Trophy before presenting it to HW's captain, David Cotton.
Both teams wish to thank Ealing Croquet Club for their hospitality and generosity, and Quiller for presenting the trophy.
Post script: Quiller would like it known that becoming the ex-president of the CA is in no way connected to the Nude Croquet session at Ealing.
Final scores (Wycombe first):
Cotton (26) - Owen (16)
Clark (26) - Hewitt (10)
Peperell/Olhausen (24) - Chance/Wise (26)
Cotton (3) - Hewitt (26)
Clark (26) - Owen (19)
Peperell (26) - Chance (2)
Olhausen (26) - Wise (1)
Result High Wycombe 5, Hurlingham 2
---