Hurlingham beat Dulwich to win the GC Inter-Club 4-3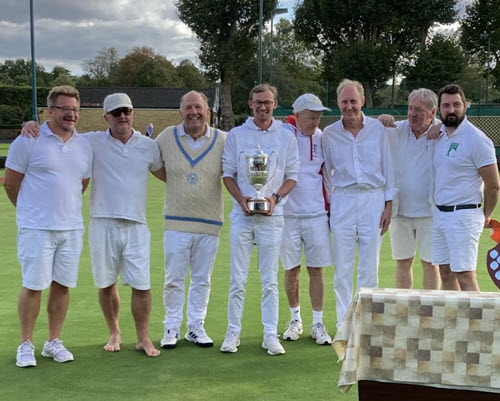 Hurlingham and Dulwich teams, Aston Wade holding the trophy
by Aston Wade at Roehampton
23 Sep 2023 (
GC - Inter-Club
)
Last year's winners, Roehampton, kindly agreed to host the match. As always their hospitality was excellent and their lawns were a pleasure to play on. There was a nice crowd of Roehampton members, joined by several supporters from both Hurlingham and Dulwich.
The morning session saw Hurlingham take a 2-1 lead with a key victory in the closely fought doubles match. After lunch on the roof terrace, the teams returned to the lawns with four singles matches remaining and all still to play for. Aston Wade and Jonny Claxton secured wins for Hurlingham and Dulwich respectively, before Roderick Sheen (much to his surprise) sealed the victory for Hurlingham at 4-2. Hurlingham last won the championship 20 years ago in 2003, with the stalwart Tom Coles helping the team to victory on both occasions.
Roehampton's chairman, Lynn Pearcy, presented the trophy to Hurlingham's captain Aston Wade. Following the presentation, Guy Scurfield and Mark Ormerod completed their match; Guy ensured that Dulwich finished on a win by producing an impressive performance to bring the final match score to 4-3.
Our thanks to Tim Russel and Roehampton for hosting the final, and to Jonathan Powe for directing the tournament.
Full Results:
(Hurlingham names first)
Aston Wade & Tom Coles beat Pierre Beaudry and Jonathan Claxton 7-6, 5-7, 7-3.
Mark Ormerod beat Martin Gill 7-2, 7-4.
Roderick Sheen lost to Guy Scurfield 4-7, 5-7.
Aston Wade beat Pierre Beaudry 7-4, 7-3.
Tom Coles lost to Jonathan Claxton 5-7, 5-7.
Mark Ormerod lost to Guy Scurfield 5-7, 7-6, 5-7.
Roderick Sheen beat Martin Gill 7-6, 7-4.
---