WCF Over 50s Golf Croquet World Championship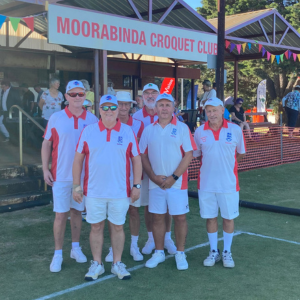 Cornes, Lilley, Custance-Baker, Hills, Leonard and Mulliner
by Alison Maugham at Australia
14th October (
International
)
The Over 50s Golf Croquet World Championship begins today, 14th October 2023, to be played at Moorabinda Croquet Club in the city of Bunbury, Australia.
48 players from 9 different countries will compete, inluding our six players from England:
Stephen Custance-Baker [Taunton Deane Croquet Club]
Stephen Mulliner [Surbiton Croquet Club]
Mike Hills [Northampton Croquet Club]
Steve Leonard [East Dorset Croquet Club]
Rick Lilley [Phyllis Court Croquet Club]
David Cornes [Crake Valley Croquet Club]
Stephen Mulliner, top seed in his block and who will be a favorite to win the event, has been a Golf Croquet World Championship Semi-Finalist three times and has won the Open Championship held in England 10 times.
The top seeds from the other 7 blocks are Ahmed El Mahdy (EGY), Sherif Abdelwahab (USA), Omar Fahmy (EGY), Jenny Clarke (NZ), Yasser Fathy (EGY), Gary Phipps (AUS), Brian Bullen (NZ).
Good luck to the players and enjoy your Championship!
---