Over 50 Golf Croquet World Championship Livestreaming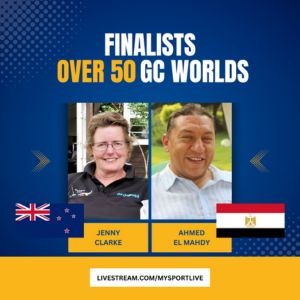 Over 50s GC Worlds - Finals
by Alison Maugham at Australia
17th October (
International
)
Congratulations to Ahmed El Mahdy(EGY) and Jenny Clarke (NZ) who are the finalists for the Over 50 Golf Croquet World Championship.
To watch the event live tune in to MySportLive https://livestream.com/mysportlive/events/10992659 The cameras will be focussing mainly on Lawns 1 and 2 throughout the first day.
It's been a great tournament to watch, the players have shown excellent performances all round.
A little shout out to support our Jenny! Jenny Clarke has been a member of the Croquet Association for most of her Croquet career and has always supported competitive croquet in England.
Good luck Jenny, we know New Zealand are proud of you and we are all behind you too!
---