USA win the Solomon Trophy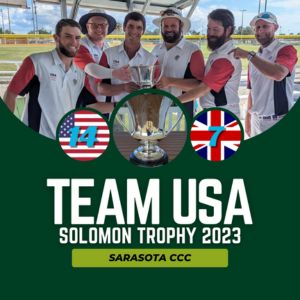 USA win the Solomon Trophy
by Alison Maugham at Sarasota Croquet Club
13th November (
International
)
Congratulations to Team USA who finished the test match with a convincing win against Great Britain. They are the youngest team to have played in the event since the first test in 1985, showing the sport continues to grow in popularity with the younger generation.
The Solomon Trophy was held at The Sarasota County Croquet Club where both teams had the privilege of playing on the quality newly laid courts. Debbie Lines, England Team Captain, commented on the outstanding quality of the lawns and how the team have thoroughly enjoyed their tournament.
Matthew Essick, team Captain of USA, was delighted with his teams success. The tournament was looking close at the mid-way point, and Matthew praises his team in his Facebook announcement "Solomon Trophy Winners 2023! So proud of these guys for stepping up when the test was tight."
The Sarasota Club are proud to announce they will be hoping to host the U21 Golf Croquet World Championship in early 2025. Encouraged by their young national team, USA will no doubt have a strong contingency of young players competing. Although the club is home to over 200 members, they still continue to be open to the public and provide free coaching. Initiatives such as these continue to encourage the growth of croquet both locally and internationally.
---